JACKSON — In a climate of desperation, the Jackson City Council approved the final numbers for the 2016 budget last week, closing out a difficult financial year for the City while rolling over $5.9 million in reserve funds for the next year.
"Anytime that you come out of a budget season that we've had where you are looking at the possibility that your fund balance or reserve is at zero, and we come out with a reserve at 5.9 million, that's a win," Mayor Tony Yarber said after the meeting.
"Much of that credit is due to our finance team and our department directors who were very, very specific about implementing a revised spending plan."
Almost a Million for JPD
The City administration asked the council to approve a transfer of $996,173 for the police department's last set of paychecks, an adjustment that came as the result of JPD accruing increased and unanticipated overtime hours.
Still, Yarber said that his administration is committed to cutting overtime expenditures in the police department going forward.
"Initially, what we have done is ask the chief to provide us not only with the details, but also with a plan of action going into this fiscal year that is due at the top of the fiscal year," Yarber said.
The mayor says he wants the chief's plan to say, "'Here are the reasons that we have seen these issues, and here is what we plan to do about them,' whether it is a vacancy that we plan to make sure that we have filled, so we can cover, or whether it is us deploying services based on needs dictated by data, so we can be more efficient in that regard."
Jackson Police Chief Lee Vance said in a Sept. 30 interview that overtime expenditures for the department are an issue.
"We were given a mandate, during the meeting, by the mayor to come up with a plan," Vance said. "We plan on complying with the instructions given to us by the mayor, and we will come up with a plan hopefully in the next 10 days. Now realistically that's going to require some belt tightening, but we are committed to being in compliance."
Vance said the budget cuts to his department means challenges, including balancing continuing service with fewer resources.
"It hasn't been seamless; it's been difficult. And it's going to be difficult from the jump. I think for us, fortunately we had to get by last year with a lot of positions that were unfilled," Vance said.
"So the savings that we offered up going into the budget process were cutting unfilled positions. So that made up most of the money that we were asked to cut."
As a part of the departmental budget reductions presented to the council in the weeks leading up to the Oct. 1 deadline for the new fiscal year, JPD restructured the department to reflect a drop of $2,121,713, bringing its budget to $33,799,043 from $36,413,341. The department found the $2 million in savings by freezing 28 civilian positions and 26 "sworn positions" for officers. Some of these were the "unfilled positions" Vance mentioned.
For the next year, without the budget from unfilled positions as a cushion, the department is looking to stop staff expansion, particularly civilians.
"There's going to be a minimal amount of hiring. I seriously doubt that we hire any additional civilians, I just don't see that coming," Vance said. "Whatever it is that we have right now, we are going to have to figure out how to make it work for the next fiscal year."
How funding will affect service is still a question.
"It remains to be seen how that's going to affect our ability to provide service. It remains to be seen," Vance said. 
 "But I am not going to sit here and try to paint the picture to be more rosy than it actually is. When you cut that amount of money out of your budget, it's going to affect how we operate."
"I am a police chief, not a magician," Vance said, adding that with the City's budget condition as "desperate," his choices are limited.
"What they give you is what you got, and it's up to us as managers to make it work with what you've got."
JPD and the State Fair
Overtime for police officers during the last month of the budget cycle caused litigious issues for the City last year, but Yarber assured the council Sept. 29 that this year would be different.
"Those officers will be paid directly from (the) fair. It won't impact the police overtime," Yarber said after the city council's Sept. 29 special meeting. "It was a battle that we fought on behalf of the city last year, and I am pleased to say that we in effect won, because we did not have to see our budget impacted by that anymore."
Vance said the funding issues from last year would not affect the security for this year's fair.
"Everything has been ironed out. We have a plan in place where we are going to be providing security on the outside of the state fair," Vance said. "I try to be non-specific about numbers for strategic reasons, but anybody that comes down to the fair will see a very significant presence of the Jackson police."
"There is an agreement in existence from last year where we kick in some, and they kick in some," Vance said. "But our financial commitment does not include any overtime."
Email city reporter at [email protected].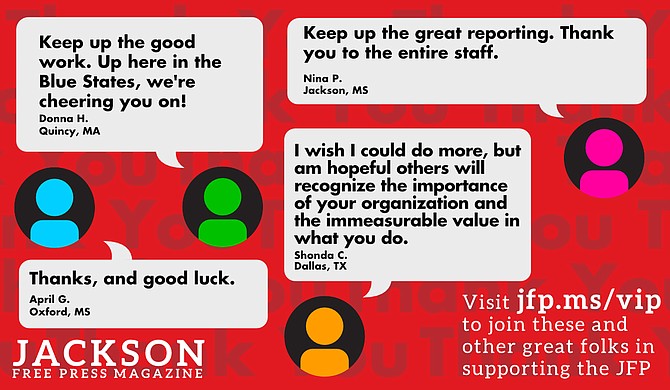 Thanks to all our new JFP VIPs!
COVID-19 has closed down the main sources of the JFP's revenue -- concerts, festivals, fundraisers, restaurants and bars. If everyone reading this article gives $5 or more, we should be able to continue publishing through the crisis. Please pay what you can to keep us reporting and publishing.