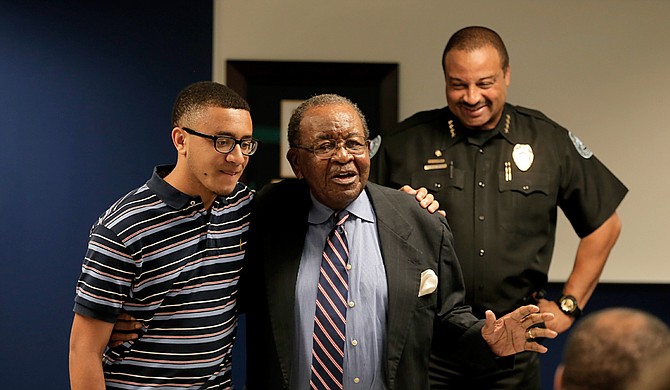 JACKSON — JPD held an award program yesterday afternoon, July 13, before the weekly COMSTAT meeting to acknowledge the Traffic Unit and Direct Action Response Team Unit, formerly known as D.A.R.T., for their performance in the field.
"Your work is largely uncelebrated, everyday, but it is absolutely critical to our liability as a City," Mayor Chokwe Lumumba said yesterday to the Jackson Police Department officers. "It is critical to our survival as a City."
Chief Lee Vance congratulated the D.A.R.T. Unit officers for their dedication despite the low number of officers in the unit. Vance says that other cities such as New Orleans have a separate task force to patrol each precinct; JPD does not.
"Unfortunately, for us, over the years, we have not been able to get enough people to where each particular precinct can have its own task force. So, therefore, D.A.R.T. is the City task force," Vance said.
During the program, JPD presented former City Councilman Frank Bluntson with the lifetime achievement award. The award program is held monthly.
Bluntson, now 81, served as Ward 4 councilman for several years, many of which he led as council president. In 2013, Bluntson also ran for Jackson mayor against Harvey Johnson.
Lumumba said Bluntson has a presence in the Jackson community. Vance added that Bluntson is widely known for raising money for senior citizens to eat during the holidays.
"His name is embedded in the history of our State. He's been around for quite some time and has offered himself in so many ways, providing a service to this City," Lumumba said. "He has displayed a commitment to assisting senior citizens. Some of that work we've even tried to replicate."
During his speech, Bluntson sparked laughter in the room that was flooded with his family, friends and media. He rarely mentioned himself during his speech and instead shifted the focus on his supporters and family, including his grandson Connor Bluntson, whose father, Craig Bluntson, died from a heart attack at the age of 33.
Connor, who was 2 years old when his father passed, is now 18 years old. Frank Bluntson mentioned that he is proud of his grandson's achievements and says that too many youth lack guidance.
"We have so many young people who act like they don't have any guidance at home. ... They look like they don't know what time it is," Bluntson said. "I know somewhere those young people got mothers and fathers, so somebody ought to be there to do something.
"That's why I'm so proud of my grandson. He could've said that 'I don't have no father,' but he has a mother that loves him to death and supports him. I think other folks ought to care about their children just like I care about this young man."
Bluntson added that the future of Mississippi depends on the youth.
"Those young people gone be our future. And it depends on how they do in life and what they have to present in life. ... It's time to get up, get out and get busy," he said.
Some former lifetime achievement award recipients include African American college football Hall of Famer W.C. Gorden; Charles Evers, the brother of civil-rights leader Medgar Evers; Ineva May-Pittman; and former Mississippi Gov. William Winters.
More stories by this author
Support our reporting -- Follow the MFP.