JACKSON — Despite ongoing controversy over his role in Hinds County criminal case, Mississippi Attorney General Jim Hood is bragging this week after several local court wins, including sending a Jackson man to prison for "depraved heart murder."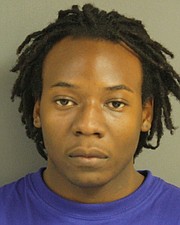 A press statement yesterday from Hood's office announced that Hinds County Circuit Judge William Gowan has sentenced Dennis Pickett, 21, to 20 years in prison, which he must serve day-to-day. Picket pled guilty to killing Destinee Ford, a 15-year-old freshman, outside a Jackson high school on the afternoon of Dec. 5, 2013, after classes had been dismissed for the day.
Ford was shot during a fight between students; Pickett was charged along with two other defendants.
"Our thoughts and prayers remain with the victim's family, and we cannot understate our appreciation to the Jackson Police Department for their persistence and hard work and for making this arrest," Hood said in the statement. "We thank Judge Gowan for the solid sentence bringing this defendant to justice for this senseless murder."
The statement gave credit for the arrest to Hood's investigators Perry Tate and Miller Faulk and the Jackson Police Department. Special Assistant Attorneys General Patrick Beasley and Alison O'Neal McMinn handled the prosecution.
Hood's office sent a press release today announcing that Jack Kirby Waters, 57, pled guilty Thursday before Hinds County Circuit Court Judge Jeff Weill Sr. to one count of auto theft. Weill sentenced Waters to 10 years in prison with five of those years suspended, leaving five years to serve.
Waters misrepresented himself as a wholesale dealer to an employee at Paul Moak Honda in Jackson on Oct. 8, 2014, getting keys to a Honda Accord to test drive it, but didn't bring it back.
The perpetrator was convicted of three felonies prior to this crime, including false pretense in 2002, shoplifting in 2013 and auto theft in 2014, all in Hinds County, Hood announced. The Jackson Police Department investigated the case, and the AG's office prosecuted it.
Property Crime Down, Rise in Violent Crime
The Jackson Police Department's weekly crime report shows that total crime is down overall 22.1 percent and 26.1 year-to-date over 2015. With a recent rise in property crime reported in last week's crime roundup, especially grand larceny-stealing property valued at more than $500 in Precinct 4, JPD happily reports an overall 91.7 percent decline in grand larceny crimes this week over last week
While property crime is declining, Precinct 2—consisting of the west Jackson area—and Precinct 4 (northeast Jackson in and near Fondren) have both seen a rise in violent crime activity in the past week, mostly aggravated assaults and armed robberies.
On Tuesday morning, Aug. 23, JPD responded to a call at Mary C. Jones School in north Jackson where a black Jaguar struck the school's playground fence and came to a stop, a JPD press release states. Rodney Beck, 50, was found dead after the police identified him with a single gunshot wound to his right arm that also punctured his chest.
The press release says the shooting took place at another location where an unidentified witness advised officers that Beck and another unidentified suspect wearing a Cowboys jersey were having a conversation, and the victim fled in his vehicle after being shot.
Batson Children's Hospital 'Champion Child'
On Tuesday, Aug. 23, JPD collaborated with the Children's Miracle Network Coordinators, Batson Children's Hospital and Walmart for a special "patient transport" for 14-year-old Jordan Morgan, a press release from Commander Tyree Jones states. Walmart trucks transported the "Champion Child" from Batson Children's Hospital to the Clinton Walmart on Highway 80 with a JPD motorcade escort.
"From my understanding he wanted to ride in the 18-wheeler and to be sworn in as a police officer," JPD Chief Lee Vance said. "So we came up with a document just for him, and I was able to swear him in as an honorary police officer, and we presented him with a badge."
Vance says Morgan got a chance to talk on the police radio and ordered the officers to arrest anyone who got caught participating in bullying.
"It was a remarkable experience for us. It was the most fun thing I've done in all my years here," Vance said. "Jordan is a very articulate young man, very smart kid, and it was great to be able to spend some time with him."
"Children's Miracle Network has "Champion Children" throughout the United States, so each state has its champion," Annie Oeth, editor of the Division of Public Affairs at the University of Mississippi Medical Center, told the Jackson Free Press.
Oeth says a 'Champion Child' is one who has benefitted from pediatric care in a children's Miracle Network hospital.
Morgan was born with cerebral palsy, also known as CP, which the National Institute of Neurological Disorders and Strokes reports is a "neurological disorder that appears in infancy or early childhood and permanently affects body movement, muscle coordination, and balance. CP affects the part of the brain that controls muscle movements."
"His family was told at one time that he wouldn't walk," Oeth says. "He walks, he runs and roller skates. He plays he piano, enjoys cooking and is a very multifaceted teenager."
Email news tips to [email protected]. Follow the Jackson Free Press on Twitter @jxnfreepress for breaking news and subscribe free to jfpdaily.com for breaking news and events information and invitations.
More stories by this author
Support our reporting -- Follow the MFP.