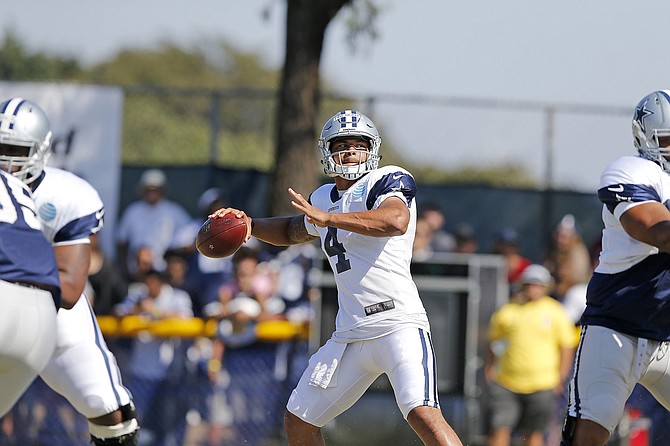 JACKSON — In a few short months, Dak Prescott went from a hopeful National Football League draft pick to rookie quarterback with the Dallas Cowboys, with a strong possibility of seeing playing time in their preseason opener Saturday night.
"It's an opportunity for me to go out there and put the best on the line, the best I've got, show these coaches what I've picked up in this offense and how I can play," he told the Jackson Free Press Thursday afternoon in a phone interview.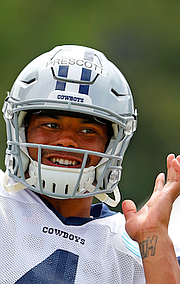 Photo by James D. Smith/Dallas Cowboys
The former All-American Mississippi State quarterback is in Oxnard, Calif., where Dallas goes for their summer training camp. Prescott, along with fellow quarterback Jameill Showers, both rookies, could play on the national stage Saturday in the Cowboys' preseason opener versus the Los Angeles Rams, especially after Cowboy's backup quarterback Kellen Moore broke his ankle during training camp last week.
So far, it seems many Dallas Cowboys coaches and veterans like to say that Prescott, 23, is "poised." At MSU, he always seemed to stay focused under often-tremendous pressure. His secret?
"Every game, every situation, every play, I treat it all the same," Prescott said Thursday. "I think honestly, the key is not to tell myself anything, not to make it seem like all of this is a big moment. ... I just think about the play and what I've got to do to get a first down or help my team, and it doesn't matter what the situation is."
Saturday, Prescott said, will be no different.
"There's so much I've got to know each and every play throughout the game, so I'll just be locked in on all my keys and make sure the other 10 guys around me are all on the same page, and I've got to understand what the other team's doing and go out there and put my best out there," he said.
The Cowboys did not search immediately for a backup quarterback replacement after Moore's injury, which has meant more reps in practice for both Showers and Prescott. Prescott said the number of reps was the only thing that changed when he practiced with first stringers—like Dez Bryant and Jason Witten.
"My mindset was no different, I've got to come in and try to earn these coaches and other players' respect each and every day no matter if I'm with the 'threes,' no matter if I'm with the 'ones,'" Prescott said. "Whoever is out there, my job is to go and be accountable to my teammates."
Transitioning from college-level play to the NFL means a lot more studying, and Prescott said he's getting to the point where he knows more of what he's doing: "I'm reacting more than I am thinking," he says.
Anyone watching practice highlights or in California for camp might have noticed Prescott throwing with Dallas head coach Jason Garrett after practice. He says Garrett and MSU head coach Dan Mullen are similar coaches.
"They demand excellence; they demand relentless effort, and they want you to be the best you can each and every day," he said.
Talking about his alma mater, Prescott said he is excited to see who is going to be backup quarterback for the upcoming season, especially with "a great coach, a great coaching staff and some great leaders on the team."
Prescott was in court in Starkville right before training camp started facing a speeding and DUI charge from March. Records obtained by the Commercial Dispatch show that intoxication tests showed "insufficient" and "invalid" samples. He was cleared of all charges on July 27, however, and made it out to camp.
Prescott said Thursday that he is thankful the whole situation finished the way it did but said it taught him to make better decisions. "I definitely learned a lesson—although I wasn't drunk—is not to put myself in that situation ever again," he said.
The rookie quarterback said he has great memories of his time in Starkville. "The biggest thing I can take away from Mississippi State is all the great people, the lifelong relationships I made: friends that I'll never forget," he said.
It's the same at training camp, he said.
"Being with guys who have been there 14 years to other rookies who may make it, may not make it, it's all about getting to know them as a person, and I just enjoy every second that I'm given," Prescott said.
Read the JFP's fall college-football preview here. Email Arielle Dreher at [email protected] and follow her on Twitter @arielle_dreher.
More stories by this author
Support our reporting -- Follow the MFP.