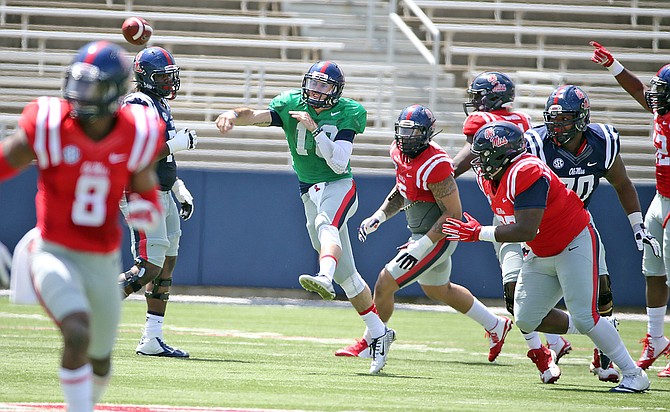 Jackson State University
Head coach: Tony Hughes (0-0 record, first season as head coach)
2015 record: 3-8 overall (3-6 SWAC)
Radio: 95.5 WHLH FM
Stadium: Veterans Memorial Stadium
Last Season Recap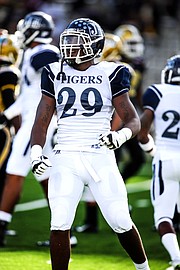 Fans hoped that Jackson State would turn things around after Harold Jackson's first season ended with a 5-7 record. The Tigers had plenty of talent returning and should have gotten better in a second season under the same coaches.
It was a bit of shock that Middle Tennessee State University beat JSU by 56 points in a 70-14 loss. While the Tigers were hardly expected to win, it didn't seem like they would lose by that wide of a margin.
Things didn't get much better for JSU after a 10-point loss to Tennessee State University and a 19-point loss to Southern University, starting the season 0-3. The losing streak ended with a 34-30 win over Texas Southern University.
With a 6-11 record, Jackson was done as JSU head coach during the bye week after a 32-point defeat in a 59-27 loss to rival Grambling State University. Wide receivers coach Derrick McCall was named interim coach for the rest of the season.
McCall lost 22-28 to Alabama A&M University in his first game as head coach. The season turned around for a bit with two straight wins over the University of Arkansas at Pine Bluff and Mississippi Valley State University. JSU couldn't complete a turnaround, as the Tigers lost the final three games to Alabama State, Prairie View A&M University and Alcorn State. This is the first time that the JSU Tigers had back-to-back losing seasons since 2003 to 2005.
This Season Overview
JSU hired Mississippi State University assistant head coach, safeties coach and recruiting coordinator Tony Hughes as the Tigers' new head coach in December. Hughes is the fourth head coach for the program in four years.
The 56-year-old career assistant is finally getting his shot at being a head coach—and possibly his last chance. Because of the quick rate of turnover at the position, Hughes needs to be given time if there are signs of success. He will be playing mainly with players left over from the Rick Comegy and Jackson era. The current coach has only brought in one recruiting class. If he can keep the losses close and win some games, though, it will help keep the rumbling down in year one.
The good news for Hughes is that the Tigers have eight returning starters on defense and nine returning starters on offense, including quarterback LaMontiez Ivy, wide receiver Daniel Williams, and offensive linemen Frank Carter and Markus Cook.
Linebacker and defensive end Javancy Jones is the star of the defense. Last season, Jones had 91 total tackles and nine sacks. Defensive tackle Cornelius Henderson will join him on the front seven.
2016 Outlook
After 31 years as an assistant coach, Hughes is more than ready to take on the challenges of rebuilding the Jackson State program. The Forest, Miss., native had been at MSU since 2009 and also coached at the University of Southern Mississippi, the University of Mississippi and Louisiana Tech University, so he knows the recruiting area as well as any coach.
The Tigers open with two tough road games at the University of Nevada in Las Vegas and Tennessee State University. The team also has a four-game stretch with ones against Grambling State, a neutral-site game against Arkansas-Pine Bluff and two home games against Mississippi Valley State and Southern University. That stretch is going to make or break the Tigers' season. All four should be games that JSU can win.
The rest of the season ends with three road games against Texas Southern University, Alabama State and Alcorn State. Sandwiched in between the road games are two home face-offs against Prairie View A&M and Alabama A&M University.
One thing that could help the Tigers win more games is to get the rushing attack going. Last season, JSU was ninth in the SWAC in rushing with just 101.1 yards per game, barely beating 10th place MVSU, which averaged 100 yards per game. Being able to run the ball will take pressure off Ivy and help the Tigers increase their time in possession. It will also help the defense get rest.
Prediction
JSU needs to score more points on offense after averaging just 22.9 points per game, and the defense needs more stops after giving up 34.4 points per game. The Tigers also need to commit fewer penalties after averaging 86.6 yards per game, the highest in the SWAC last year.
This season will be a success if JSU finds a way to win seven or more games. That doesn't seem likely, but it's not impossible with the returning talent.
A disaster of a season would be to start out 0-3 or 0-4 and finish with only two or three wins, as the fan base will turn after the excitement of a new head coach dies down. It would be a major shock if the season unfolds this way, though.
This feels like a 4-7, 5-6, 6-5 or 7-4 year. The team should reach four wins at the bottom and seven wins at best. The slow process of returning to the top of the SWAC begins now.
Schedule
Sept. 1 @ UNLV; Sept. 10 @ Tennessee State; Sept. 17 Grambling State; Sept. 24 Arkansas-Pine Bluff (neutral site); Oct. 1 Mississippi Valley State; Oct. 15 Southern; Oct. 22 @ Texas Southern; Oct. 29 Prairie View A&M; Nov. 5 @ Alabama State; Nov. 12 Alabama A&M; Nov. 19 @ Alcorn State
University of Southern Mississippi
Head coach: Tony Hughes (0-0 record, first season as head coach)
2015 record: 3-8 overall (3-6 SWAC)
Radio: 95.5 WHLH FM
Stadium: Veterans Memorial Stadium
Last Season Recap
For USM fans, it must have seemed like forever since the Golden Eagles had a winning season. Since bottoming out in 2012, USM won just four games before last year.
In the 2015 season, the team won nine games and the C-USA West title, and went to a bowl game for the first time since 2011.
After the first six games and the team's 3-3 record, it didn't seem like the team would succeed, but USM reeled off six straight wins. The team finished with losses to Western Kentucky University in the C-USA Championship Game and the University of Washington in the Heart of Dallas Bowl. Then, head coach Todd Monken left to become offensive coordinator and wide receivers coach for the Tampa Bay Buccaneers. USM hired Alcorn State University head coach Jay Hopson.
This Season Overview
The good news for Southern Miss is that quarterback Nick Mullens is returning. His development into one of the conference's top quarterbacks is a big reason why USM was able to turn the corner last year.
Now for the bad news: Mullens won't have either of the team's top pass-catching threats this season, as receivers Mike Thomas and Casey Martin are gone. Between the two, they caught 151 passes for 2,316 yards and 21 touchdowns. USM also lost 1,000-yard rusher Jalen Richard. However, fellow 1,000-yard rusher Ito Smith is returning to the team. Both guards and center return this season, but the team needs to find two new offensive tackles. It will be important to get those two positions right so Mullens is protected from edge rushers.
Some key pieces to last year's defense are gone for the Golden Eagles: defensive end Michael Smith, linebacker Brian Anderson and cornerback Kalan Reed. Defensive tackle Dylan Bradley will be the star of the defense this season. Linebacker is the position where USM must find playmakers.
2016 Outlook
The Golden Eagles have seven starters returning on offense and six on defense. As long as Mullens and Smith can put up numbers, the offense should be fine. The defense will have to be slightly rebuilt, but the team should have options.
Last season, the Golden Eagles beat up on weaker opponents but struggled against some of the better teams they played. If this team is going to take the next step, it is going to have to make improvements when challenging those better teams.
The schedule is not daunting but does have some tough games. Opening against the University of Kentucky will tell a lot about this team. A game-seven date at LSU is the only game on the schedule that looks like a certain loss. An out-of-conference game against Troy University could be tough. The final regular game of the season against Louisiana Tech University could be for the West Division title.
Prediction
Unless this team flashes back to 2012, it seems unlikely that USM won't win at least six games. It should actually be easy to win eight or nine games.
Except for the LSU game, the other 11 games on the schedule are winnable. USM plays half their games at home, so defending "The Rock" could give this team enough wins to earn a spot in a good bowl game.
After the last coaching change, if USM fans are holding their breath, who could blame them? But Hopson worked wonders at Alcorn State with limited resources. Expect for this team to go bowling for a second year in a row.
Schedule
Sept. 3 @ Kentucky; Sept. 10 Savannah State; Sept. 17 Troy; Sept. 24 @ UTEP; Oct. 1 Rice; Oct. 8 @ UTSA; Oct. 15 LSU; Oct. 29 Marshall; Nov. 5 Charlotte; Nov. 12 @ Old Dominion; Nov. 19 @ North Texas; Nov. 25 Louisiana Tech
Mississippi State University
Head Coach: Dan Mullen (55-35 overall, all at MSU, entering eighth season)
2015 Record: 9-4 overall (4-4 SEC)
Radio: 105.9 WRKS FM
Stadium: Davis Wade Stadium at Scott Field
Last Season Recap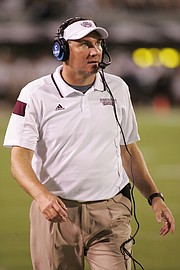 Last season was a swan song for quarterback Dak Prescott and the Bulldogs. The team won nine games and finished with a 51-28 win over North Carolina State University in the Belk Bowl.
The team didn't have any shocking losses or wins last season. MSU beat every team that it was supposed to beat but lost to each ranked team on the schedule.
Several previews and predictions guessed the Bulldogs would slip after their 10-win campaign during the 2014-2015 season. Instead, Prescott willed the team to nine wins, becoming the main offensive force.
Under Dan Mullen, MSU beating the teams the Bulldogs should beat has become the norm each season. The next step will be winning when the odds aren't in their favor.
This Season Overview
Now that Prescott is with the Dallas Cowboys, who will lead this team and become the main playmaker? Prescott isn't the only member of the Bulldogs offense who is gone, either. Wide receivers De'Runnya Wilson and Fred Brown left.
Key departures also hit the defense. Defensive coordinator Manny Diaz went to the University of Miami in Florida. Defensive tackle Chris Jones, linebacker Beniquez Brown, cornerback Will Redmond and others have gone to the NFL or graduated.
Even with the departures, the cupboard isn't bare. Plenty of returning players have experience. The offense returns seven starters, and the defense returns six starters. On offense, the star of the show could be wide receiver Fred Ross. Quarterback Nick Fitzgerald saw some action last season, so that could come in handy if Mullen names him the starter. The defense returns defensive end A.J. Jefferson, defensive tackle Nick James and linebacker Richie Brown. Last season's kicker and punter also return.
2016 Outlook
MSU lost several key players but returns a strong core. The players who haven't started were part of the rotation over the last couple of seasons. If the Bulldogs can match last year's production, they should be able to keep the team in most games. Fitzgerald looks to have the early lead as the starter this season, but Mullen has options if he needs to make a change.
But no matter who starts at quarterback, the Bulldogs must get more out of the running game. Last season, MSU was No. 103 in the nation in rushing. Prescott was the team's leading rusher with 588 yards. If Brandon Holloway, Ashton Shumpert and Aeris Williams can provide more of a running attack, it will help ease the transition to a new quarterback.
Ross leads a receiving unit with Malik Dear, Gabe Myles and Donald Grey returning. They have to produce more this season, as they take on an added roles.
As the team breaks in a new quarterback, taking care of the ball on offense and forcing turnovers on defense will be key. Last season, the Bulldogs had 23 fumbles and lost 13 of those. Add the five interceptions, and the Bulldogs had 18 turnovers. The Bulldogs caused 13 fumbles for their opponents, only recovering one, but they did have 13 interceptions for 14 total takeaways.
Prediction
MSU starts out with the University of South Alabama before facing the University of South Carolina at home and LSU on the road. The Bulldogs can't afford to lose both those games before the schedule gets to a good streak of winnable games at colleges such as the University of Massachusetts and the University of Kentucky. The schedule will end on a tough stretch with Texas A&M University at home, Alabama on the road, the University of Arkansas at home and UM on the road. Getting a split out of that stretch will help with MSU's bowl potential.
This season will be a disappointment if the team bottoms out and loses every SEC game. Still, six wins and a bowl game should be attainable. Seven to eight wins looks likely to be tops in this semi-rebuilding year.
Schedule
Sept. 3 South Alabama; Sept. 10 South Carolina; Sept. 17 @ LSU; Sept. 24 @ UMass; Oct. 8 Auburn; Oct. 14 BYU; Oct. 22 @ Kentucky; Oct. 29 Samford; Nov. 5 Texas A&M; Nov. 12 @ Alabama; Nov. 19 Arkansas; Nov. 26 UM
University of Mississippi
Head coach: Hugh Freeze (64-25 overall, 34-18 at UM, entering fifth season)
2015 record: 10-3 overall (6-2 SEC)
Radio: 97.3 WFMN FM
Stadium: Vaught-Hemingway Stadium
Last Season Recap
Looking back at last season for the Rebels, you have to wonder what it would look like if certain things went differently. That is strange for a team that won 10 games and beat Alabama for the second year in a row. But what if University of Florida quarterback Will Grier had been suspended before the Rebels met the Gators? Florida's offense went into the tank after Grier was lost for the season, and it seems almost a given that the Rebels would have stayed undefeated.
The biggest question from last season has to be how the University of Arkansas beat the Rebels. UM had several chances to get the win, including if the Rebels made a stop late in the fourth quarter while they were up by seven points. Arkansas scored a touchdown, forcing overtime. The Rebels then scored again in the overtime. Facing a fourth-and-25 situation, the Razorbacks used a lateral play to get a first down in overtime. Arkansas later scored a touchdown and got a face-mask penalty, receiving a second shot at the two-point conversion for the win.
UM's loss to the Razorbacks gave Alabama the SEC West title and allowed the Crimson Tide to play for and win the national title. If things had been different, it is easy to believe that the Rebels could have finished the season at least as SEC West champions and possibly stayed undefeated.
This Season Outlook
The Rebels have to replace wide receiver Laquon Treadwell, offensive tackle Laremy Tunsil and defensive tackle Robert Nkemdiche. UM needs to find five new offensive linemen because all the starters of the Sugar Bowl win are gone. The Rebels must also replace last season's leading rusher, Jaylen Walton, and last season's second-leading receiver, Cody Core, among others.
Even with all of the departures, plenty of talent is still left in Oxford. Returning quarterback Chad Kelly is the biggest factor for optimism for this season. Both returning running backs Jordan Wilkins and Akeem Judd saw action last season. Wide receivers Quincy Adeboyejo, Damore'ea Stringfellow, Derrick Jones and Markell Pack return this season but must step up to replace Treadwell's and Core's production. Tight end Evan Engram should be a major force in the passing attack. Highly rated recruit Greg Little is expected to step in right away to help an offensive line that has few players with game experience. Defensive ends Fadol Brown and Marquis Hayes, who tied a school record with 10 sacks, both return. Linebacker DeMarquis Gates will lead a rebuilt unit.
2016 Outlook
In the first eight games, the Rebels will face FSU at a neutral site and will host Alabama, the University of Georgia and the University of Memphis before hitting the road to face Arkansas and Louisiana State University, finally returning home to take on Auburn University. The Rebels finish the season with back-to-back road games against Texas A&M University and Vanderbilt University before playing at home against MSU.
That is a tough schedule for a team trying to rebuild its offensive line.
Prediction
Eight wins is possible with the talent that this team has on its roster. There is no reason, barring an injury to Kelly, that this team won't go to a bowl game.
The opening stretch of games is a cause for worry if the offensive line struggles or if the defense doesn't play close to last season's level, but if the offensive line plays great and the defense is solid, this team could beat the Seminoles, Crimson Tide and Georgia.
A 10-win season seems like a stretch right now, but that would make this year a major success. Eight wins are within reach for this team. Anything less than six wins would make this season a disappointment.
Schedule
Sept. 5 Florida State (neutral site); Sept. 10 Wofford; Sept. 17 Alabama; Sept. 24 Georgia; Oct. 1 Memphis; Oct. 15 @ Arkansas; Oct. 22 @ LSU; Oct. 29 Auburn; Nov. 5 Georgia Southern; Nov. 12 @ Texas A&M; Nov. 19 @ Vanderbilt; Nov. 26 Mississippi State
Read a preview of many of Mississippi's smaller colleges here.
More stories by this author
Support our reporting -- Follow the MFP.