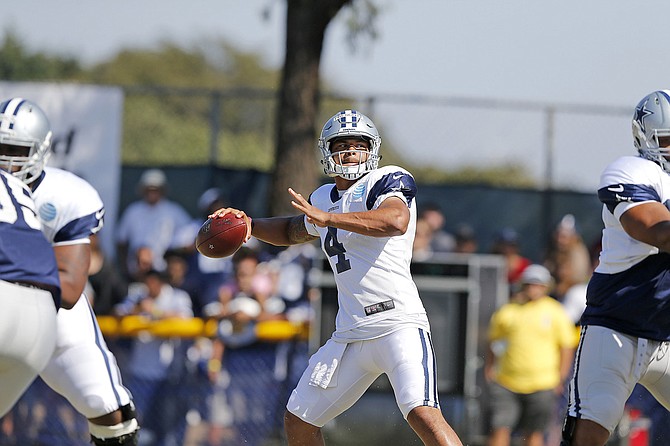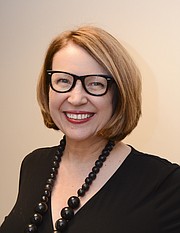 It was that photo of former Mississippi State quarterback Dak Prescott standing on the Cowboys field during last weekend's game against the Miami Dolphins, pointing to his mama in the sky, that just about did me in. My tears proved it.
I didn't well up because I love the Dallas Cowboys. I grew up despising them, in fact. It was a fun game with my stepdad, who taught me to love football and basketball, and who managed to like any good team, and to root for most of the underdogs. Me, I loved the Saints, and resented America's Team because they won so often back then.
The tears weren't even because my undergraduate degree, the only one that really matters here in Mississippi, came from State. Yes, I went to the "cow college," about 40 miles from where I grew up, and I've long had a chip on my shoulder both over college pride and being from this tortured state, both loving and hating my home state throughout my life, often at the very same time.
Yes, Dak Prescott's success has truly awakened my Bulldog love and pride. Do it like a big dawg, indeed. Hail, State.
The tears weren't even completely about Prescott pointing at his mother up in heaven looking down on him during his second remarkable preseason game, although that's closer to why. In many ways, I identify with Prescott's early journey, even if his late mom was closer to my age. I, too, grew up in a trailer park in small-town Dixie, usually without a father. I loved my stepdad dearly, but he often wasn't there for us due to his alcoholism, and we eventually had to go it alone. Then Mama died while I was still struggling to find my place in a world that didn't always welcome a bumpkin like me.
My emotion, and my complete obsession with Dak Prescott's journey at this point, goes even deeper, though. It's about the quest for greatness—the drive and determination it takes to be amazing when every card in the deck is tilted against you, or even hidden out of reach. It's about overcoming expectations due to where you went to school, where you came from and your skin tone (for me, many outsiders have long assumed that white Mississippians are racist or uneducated).
When I looked at that picture of Prescott being where he isn't supposed to be, I felt the possibility on a deep, visceral level. He's the mixed-race son of a poor mother from a trailer park, who went to a state school not known for football excellence, who had to grind for every success. And even when he put MSU on his back and led them to being the first college team ever ranked No. 1 in the new football rankings while clocking the third-highest yardage in SEC history, he still was nearly overlooked in the draft.
Now, many people are surprised and awed by his skill. I've always said that you have to work at least three times as hard if you're a southerner to be taken seriously and respected. And even then you might not be.
But here's the thing I find most powerful about Prescott, almost more than anything he has done to date on the field: his work ethic. I love that the 23-year-old tells anyone who will listen that his success so far is about how hard he works on his craft. It's almost like he is intentionally walking reporters back to the main thing in all the hype of the last two weeks. It's not like it's magic.
"I'm so happy to be doing this," Prescott told USA Today after the Miami game. "I'm not going to say it has been easy because it hasn't. I'm just trying, man. I'm trying to put in that work and ball out any chance I get."
This message is so vital, especially for young people who don't grow up being pushed and assumed toward the hard work and laser focus that excellence requires. Doing great things is never easy and not supposed to be. The fact that "geniuses" get that way through hard work too often gets lost in the hype of what they later accomplish.
Many people expected Prescott to struggle at taking snaps under center in the NFL, but before the draft he worked with a private coach in Orlando to get the mechanics right. He knows the plays because he studies the playbook, like in the car while his brother drives.
"The guy is a student—give it to him," Cowboys superstar Dez Bryant told USA Today about Prescott. "You've got to give it to him. He wants to learn, he wants to be good."
Cowboys veterans and coaches keep talking about Prescott's learning mindset. He doesn't know it all, he's not leading with ego, and he respects and works to learn from those who have been there. He wants to be mentored, regularly talking about what quarterback Tony Romo can teach him. Some folks may be calling, ridiculously*, for Prescott to replace Romo now, but Prescott knows he's not ready, yet. He wants to learn everything Romo can teach him first.
Romo, too, seems thrilled about Prescott's work ethic and attitude in return. "When you have some young guys who take that approach," Romo told the Dallas Morning News, "you can't help but root for them. These are really good guys who are getting better at football."
No surprise: Mentors love nothing better than a talented mentee or staffer who wants to learn, respects others' experiences and is dedicated to continually working on their craft. This is where greatness is born, and this naked dedication to everything it takes to be great—rather than proclaiming that you are and leading with ego—is what is so impressive about Prescott.
Cowboys elders also keep talking about Prescott's "poise." Poise is about a positive attitude, one not prone to drama or blaming others, calmness under pressure that leads to a focus on executing and improving your craft. "There is an energy that comes with him to the field. That same energy, surprisingly, comes with him to the classroom. That same energy comes with him in many different ways. You got to add that up," Dallas Cowboys owner Jerry Jones told media this week about Prescott.
Yes, I'm using football analogies here, but damn, these are the skills needed for any kind of greatness. Performance driven by work ethic. A great attitude. A learning mindset. Prescott is often the first one at practice and the last one to leave. He studies. And he stays positive—giving credit and respect to his teammates and coaches.
My tears over that picture welled up not because Prescott was born great, but because of how hard he has had to work to get to this level. He has mourned his mother and suffered great pain; he was sucker-attacked in a parking lot; he had to apologize publicly for a DUI arrest (even though he was found not guilty). He didn't get the Heisman; he lost to Bama and Ole Miss; he was under-valued because he played for State; he went late in the fourth round.
But none of that stopped him, or squelched his spirit; clearly the opposite, in fact. He faced his demons, and he kept grinding to get better a day at a time, seeking out good coaches who will push him, and using their advice to get better.
So far, he is a model for anyone striving for greatness, especially us trailer-park kids.
Sniff.
After this column went to press, Dallas quarterback Tony Romo was injured in the Seattle preseason game, and Prescott stepped in and did a wonderful job. By the following Saturday, when Romo's injury was understood, it was much less "ridiculous" to me and many others, including Prescott's coaches, that he should become the starting quarterback in game 1 against the New York Giants on Sept. 11. I'm thrilled, and wish him the best this season. He makes us proud.
Donna Ladd is editor-in-chief of the Jackson Free Press. Email her at don[email protected] and follow her on Twitter at @donnerkay.
Support our reporting -- Follow the MFP.