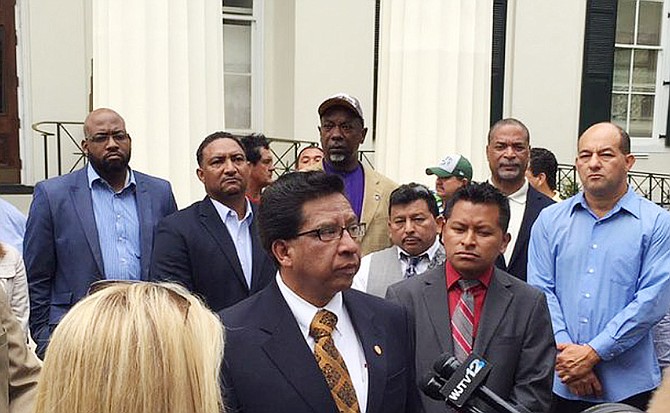 JACKSON — Nearly one month since Daniel Omar Gomez and Eli Nunez were shot and killed while grilling dinner with loved ones in their Westhaven Drive front yard, approximately 15 Latinos have been victims of homicide or violent crimes in central Mississippi.
"All these crimes are robberies," Bill Chandler, executive director of Mississippi Immigrants Rights Alliance in Jackson, said at a press conference in front of Jackson City Hall this morning. "The perception is that immigrants carry a lot of cash because they don't have bank accounts."
Chandler says MIRA has had some real struggles to get banks to allow immigrants to get accounts so families can start to use debit cards, invest and even send money home.
"People are creating gangs because the police are not protecting them," Julio Del Castillo, president of the Latin American Business Association in Jackson, said. "I hear comments about Latinos being vandalized, gang assaults, and when the police arrive (some) Latinos can't explain themselves."
Castillo says Latinos are getting arrested when these are the very people calling in the assaults. Instead, the (officers) will ask about immigration status and ask them "what they are doing here." Some of these victims may not speak English and do not know what is going on. Castillo says that law enforcement ends up handcuffing the person who called in the complaint.
Current legislation like Senate Bill 2306, which prevents Mississippi from establishing "sanctuary cities" for immigrants, is a conduit in rising crime rates and hostility against Jackson's Latino community. Sen. Sean J. Tindell, SB 2306's principal author and a Gulfport Republicans, has admitted that there are currently "no sanctuary cities in Mississippi."
"If (SB 2306) passes, it will make life worse and make people reluctant to call the police if a crime is committed against them," Chandler said. He says the bill redirects local law-enforcement attention from priorities of local issues (education, crime and poverty) to those of federal concerns, which will come at a cost to communities throughout Mississippi forcing citizens to pick up the bill.
Rolando Villalobos, 57, a construction worker and painter, was assaulted for the third time in north Jackson when out of the blue someone held a gun up to his face attempting to rob him. "I said, 'Don't kill me. I'll give you the money,' and I took my wallet out and said, 'But give me my papers back,' and he shouted 'No'. He put the gun back up to my face, and I didn't have an opportunity, so he stole my I.D. card," Villalobos said.
"They say, 'well why did they attack him? He must have done something,' well I didn't," Villalobos said.
Not only will victims of often-violent crimes refrain from reporting local offenses, the same bill will draw monetary resources from taxpayers and protect local law enforcement from liability (of probable cause) when jailing undocumented immigrants for extended periods of time.
"This community (of victims) doesn't believe that justice is fair, and they just want to have guns (to protect themselves from violence)," Castillo said. "So, I can imagine that they develop groups of protection against people who are actually committing these crimes."
To help prevent further violence, Castillo along with other community organizers, have created a small solution to a much larger problem. "We have a soccer league in Battlefield Park to (help) keep people busy," Castillo said. "Easily, we can put 200 people together between soccer players, families and children."
Chandler says MIRA is organizing a system where crime victims can talk to public officials, including the mayor, city council people, chief of police and sheriffs, as to what's going on to help move (victims) in a more positive direction.
"During the time Mayor Chokwe Lumumba was mayor we had a decrease (in crime against Latinos)," Chandler told the Jackson Free Press. "Since he's passed away, (Jackson) has had a slowly growing number of attacks on immigrants, mostly robberies, and in some cases which have resulted in murder."
Jackson Police Chief told the Jackson Free Press last summer that his department isn't in the business of enforcing federal immigration laws on locals. "I'm not the immigration police, right?" he said in an interview with Donna Ladd.
Vance also discussed the problem of serving a community that doesn't speak English. "If somebody calls us and reports a crime or they request police service, we're going to respond," but he added, "obviously a language barrier exists." To alleviate that problem, he said that JPD worked with Jackson State University to do some basic Spanish classes for patrol officers at the training academy.
"We weren't looking to make any of our police officers fluent," Vance said, "but what we were looking for is that hopefully they can capture some basic commands that would help them communicate with a Spanish-speaking person, let's just say, on a traffic stop. Now, if we had to bring one in for extensive detailed interview, then we get somebody from Jackson State or somebody that's fluent that can translate for us. So, that's what we were doing.
Email story ideas about Jackson's Latino/Hispanic community to Onelia Hawa, who is bilingual, to [email protected]
More stories by this author
Support our reporting -- Follow the MFP.