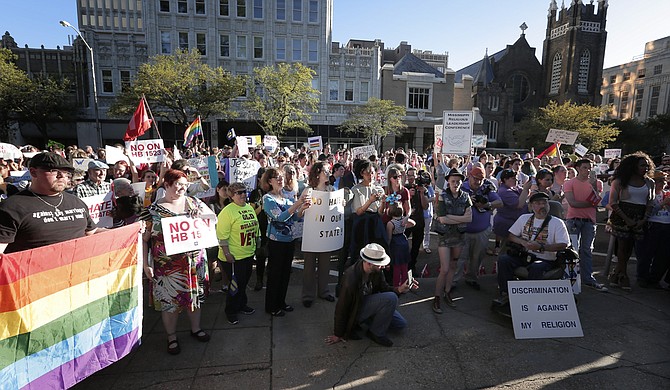 JACKSON — Gov. Phil Bryant signed House Bill 1523 into law early Tuesday, which will allow businesses, circuit clerks and medical professionals to recuse themselves from offering services and not be liable by the state for doing so based on a religious belief that marriage is "between one man and one woman."
Bryant announced the news on Twitter in an "official statement" that said the bill "merely reinforces the rights which currently exist to the exercise of religious freedom as stated in the First Amendment of the U.S. Constitution."
Even before Bryant signed the bill, House Bill 1523 had fostered an outcry from the state's business community as well as advocates and organizations that say it legalizes discrimination. Mississippi Democratic Congressman Bennie G. Thompson released a statement decrying the bill and the effect it will have on the state. He said that business development and jobs would suffer as a result of such legislation.
"Industries that are considering bringing jobs to our state and talented individuals considering bringing their skills to our state could decide to turn their backs on Mississippi just as the Governor and State Legislature have turned their backs on our own citizens and neighbors," Thompson said in a statement just after Bryant signed the bill.
Thompson said the bill will only continue to have a bad effect on the state.
"For example, the NCAA has already placed the state of Mississippi under a postseason ban because the state still flies a flag bearing the emblem of the confederacy. Now, the state has upped the ante and adopted a bill that has the potential of legalizing discrimination. Who knows what penalties and consequences this law will bring from the NCAA and any of a number of other governing bodies with interests in the state?" Thompson said in his statement.
The Mississippi House of Representatives had tabled the motion to reconsider on HB 1523 Monday afternoon, sending the bill to Gov. Bryant's desk. House Democrats used all five minutes of their opposition speaking time against the bill. Longtime Rep. Stephen Holland, D-Plantersville, said there was "zero reason" for a bill like this.
"This is the most hateful bill that I've seen in my career in the Legislature," Holland told the House. "If you table (the motion to reconsider on) this bill, you're doing one thing: you are doing nothing but discriminating."
Bryant had five days to sign the bill into law, veto it or do nothing, but he chose to act less than 24 hours later. Monday evening, organizations, advocates and Mississippians from across the state protested the bill in front of the governor's mansion.
"No hate in our state, no state in our state! Hospitality—not hostility, hospitality—not hostility!" they chanted.
Chad Griffin, the president of the Human Rights Campaign headquartered in Washington, D.C., addressed the crowd at the rally, saying that hate and discrimination is bad for business. Griffin said Monday that Bryant's decision on the bill will mark his career as governor.
"This governor will forever be remembered in history for what he does on HB1523," Griffin said. "He can either go down in history along with a line of other southern governors in the Civil Rights Movement in the '50s or '60s who chose to stand on the wrong side of history, or he can do the right thing," he said.
Griffin pointed to two recent examples of Republican governors in conservative states that have chosen to veto anti-LGBT bills. In South Dakota, Gov. Dennis Daugaard vetoed a bill that would have forced transgender students to use bathrooms that matched their birth gender. Griffin told the crowd that Gov. Daugaard had conversations and met with transgender students and advocates before he decided to veto the bill.
In Georgia, Gov. Nathan Deal vetoed a "religious liberty" bill in March, after big corporations like Coca-Cola and the NFL came out against the bill.
In this state, the Mississippi Manufacturers Association and the Mississippi Economic Council both came out against House Bill 1523. Nissan, Tyson Foods, Levis, GE and other large corporations have released statements that decry legislation that discriminates like HB 1523.
House Bill 1523 will not technically become law until July 1. Southern Poverty Law Center attorney Jody Owens said the bill is unconstitutional on several levels.
"You will see several lawsuits filed before it becomes law if the governor signs it," Owens told the Jackson Free Press Monday.
The bill not only defines a religious belief that marriage should be between "one man and one woman" but it also says "sexual relations are properly reserved to such a marriage." Owens said the bill allows discrimination by landlords, businesses and doctors—all measures that are unconstitutional.
Owens said the bill fits Mississippi's tendency to take things a step further in legislation.
"It's a total infringement on every part of one's life, the body making these judgments can be a school, city, employer or a church," Owens said.
"It's promoting discrimination in that there can be no penalty from the state."
Legal director at the Human Rights Campaign Sarah Warbelow said that HB 1523 pulls language from various pieces of legislation across the country, including specific, more narrow bills that target adoption agencies or the transgender community. Most of these bills have been vetoed or deemed illegal.
"Nothing like this bill (HB1523)has ever passed in any other state," Warbelow told the Jackson Free Press.
Anti-Abortion Bill Heads to Governor
An anti-abortion bill that has already been ruled unconstitutional by courts in Kansas and Oklahoma is on its way to Gov. Phil Bryant. The "Mississippi Unborn Child Protection from Dismemberment Abortion Act" would outlaw what the Center for Reproductive Rights calls the "most commonly used method of ending a pregnancy in the second trimester."
The center released a statement denouncing House Bill 519 and calling on Gov. Bryant to veto it.
"Mississippi women need safe and legal care when they have made the decision to end a pregnancy, not unconstitutional bans aimed at criminalizing their doctors," Amanda Allen, the senior state legislative counsel at the Center for Reproductive Rights, said in a statement.
Felicia Brown-Williams, director of public policy at Planned Parenthood Southeast, said at the Monday rally against House Bill 1523 that her employer opposes the bill.
"Our legislators are playing doctor," she said. The bill would provide protection for injunctive relief and civil damages "against a person who has performed or attempted to perform a dismemberment abortion." West Virginia Democratic Gov. Earl Ray Tomblin vetoed a similar measure last month while courts in Kansas and Oklahoma have rules similar measures unconstitutional.
Follow state government reporter Arielle Dreher on Twitter at arielle_amara.
Bills to Watch
SB 2921: The Transportation Bond Bill, which the Mississippi Economic Council supports to fund the state's crumbling infrastructure, is in the House Ways and Means Committee.
SB 2238: Rhe anti-abortion bill that would restrict Medicaid Reimbursements for any entity that performs non-therapeutic abortions, even if that funding is for birth control or cancer screenings, is going into conference.
SB 2162: The Jackson Airport Bill is waiting on the Senate to concur with the House amendments to the bill before it heads to the governor's desk.
SB 2438: Gov. Bryant has signed the bill that mandates that all local superintendents be appointed by 2019.
HB 1381: Transportation Network Companies, like Uber, can now operate all over the state because Gov. Bryant signed this bill into law.
Read more at jfp.ms/state.
More stories by this author
Support our reporting -- Follow the MFP.