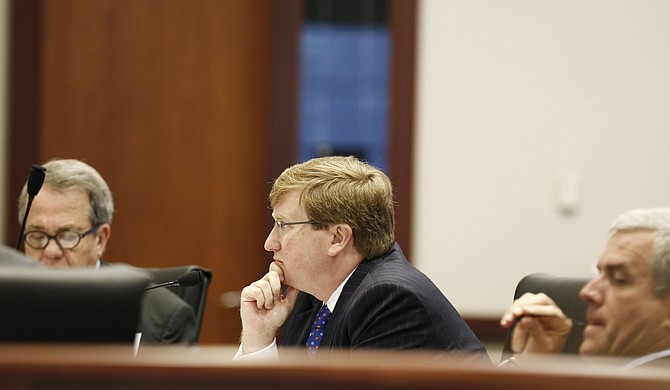 Although legislative opponents to school-funding ballot Initiative 42 have been threatening deep cuts to state agencies—and therefore state jobs—for months, a new front has opened up in the battle for the hearts and minds of state workers.
On Sept. 17, Rana Mitchell, the assistant superintendent for Carroll County School District, filed a formal complaint to the state auditor's office against Jesse Smith, president of Jones County Junior College, and several Republican officials. The complaint cites an email that Smith sent to the community-college presidents asking them to join him to "battle the passing of Ballot Initiative 42."
The email, which Smith sent from his school email address that taxpayers fund, gives the name of an anti-Initiative 42 group called Improve Mississippi Political Initiative Committee, where monetary donations can be sent to fight the initiative. In addition to Smith, the complaint also names Lt. Gov. Tate Reeves; Rebekah Staples, a one-time aide to Reeves; and House Speaker Philip Gunn for violating Mississippi's election laws.
The email claims that Reeves and Speaker Philip Gunn, R-Clinton, created the PAC. Meg Annison, a spokeswoman for Gunn, denied his involvement in its creation; the only commonality between Gunn and the PAC is their shared opposition to Initiative 42, she said. Laura Hipp, a spokeswoman for Reeves, said he has worked to raise money to oppose Initiative 42.
"I'm not surprised that community-college supporters are sounding the alarm that Initiative 42 could bring financial disaster to schools across the state," Hipp said in a public statement.
The allegations boil down to questions about state employees' involvement in political activity while at work. For example, Mitchell's complaint points to a portion of Smith's email that lists Staples as a contact person for the PAC, even though Staples was also employed as a policy director for the lieutenant governor's office. Mitchell said she took a screenshot of Reeves' employees, listed on a state website on Sept. 16. By the next day, Staples' name was no longer on Reeves' website at all. Hipp said Staples is no longer an employee of the office or of Reeves' campaign. Staples could not be reached at the number listed in Smith's email.
Better Schools Better Jobs issued a press release about Smith's email on Sept. 17. The Mississippi Election Code, according to the attorney general's opinion published in 2000 states: "Any employee who engages in political activity proscribed by the statute while at work is subject to disciplinary action."
By press time this week, Mitchell said state Auditor Stacey Pickering's office had not responded to her complaint. Smith did not respond to several phone messages left with his office, but he admitted to sending the email in an interview with Mississippi Public Broadcasting on Sept. 21, saying he did not know that his email was prohibited.
"The email was intended for good purposes, of course, but the state auditor communicated with me that you can't do that. And of course now we're not, and we're fully compliant," Smith told MPB.
Smith thought he could email fellow community-college presidents in his role as chairman of the Mississippi Association of Community and Junior Colleges. He has since stopped using his state-provided email for such communications after Pickering sent Smith notice that what he had done was wrong. It is not clear whether the state auditor's office will take more action than their initial contact with Smith—in terms of punishment.
State and local education officials have been grappling for weeks with how to respond to Initiative 42 politicking. A few weeks before Smith's email surfaced, Initiative 42 proponents said that some school districts were told to remove Initiative 42 information from their websites.
"The issue really is (they're) soliciting campaign donations with state resources to defeat the ballot measure, and we can't even educate parents about the initiative," Mitchell told the Jackson Free Press.
Better Schools Better Jobs spokeswoman Patsy Brumfield said Smith's email is another example of state officials using state-funded methods to try to defeat Initiative 42. Brumfield's campaign filed a public-records request with Reeves' and Gunn's offices on Aug. 11 and were subsequently denied. Brumfield believes that Smith's email reveals why.
"I suspect if we had access to their public emails that we would find something connected to this," Brumfield said.
More stories by this author
Support our reporting -- Follow the MFP.