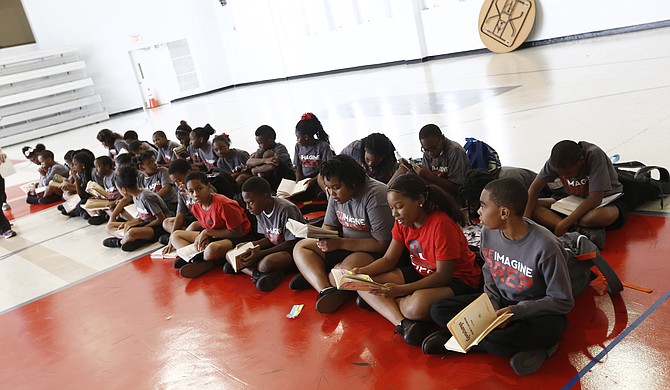 Two new charter schools in Jackson are getting a big boost from a former chief executive officer, philanthropist who donates money to conservative Republicans, including an official who helped write Arizona's controversial anti-immigrant laws.
On Sept. 2, the Mississippi Charter School Authorizer Board unanimously approved an application for the two new charter schools to open in Jackson. RePublic Schools Inc. will run both schools: Joel E. Smilow Collegiate and Joel E. Smilow Prep. RePublic Schools Inc. is the charter management organization that opened one of the first charter schools in Mississippi this year, Reimagine Prep.
Ravi Gupta, RePublic's founding director, told the Associated Press the schools will be named after Joel E. Smilow, the former chairman and CEO of Playtex Products, who pledged $1 million in support.
Smilow Collegiate will serve grades kindergarten through eighth, and Smilow Prep will serve grades five through eight. The schools will grow by a grade level each year until they reach eighth grade. The two charter schools will be on the same campus at Northside Drive on the old campus of Wesley Biblical Seminary. By 2023, both schools could have an enrollment of 1,600 students.
Now a partner of chef and restaurateur Daniel Boulud, Smilow led a billion-dollar management buy-out of Playtex Inc. in 1986 and served as chairman and CEO of Playtex Products Inc. until July 1995. Smilow has also served on myriad philanthropic boards over the years and has given heftily to Republican political candidates and issue groups.
These include the Club for Growth, the National Republican Committee, National Republican Congressional Committee and National Republican Senatorial Committee. Smilow has also given to Republican presidential candidates including former Massachusetts Gov. Mitt Romney and Arizona Sen. John McCain, as well as Kansas Secretary of State Kris Kobach's 2004 congressional campaign.
Kobach advised Romney on immigration policy and is widely credited with helping write laws in Arizona and Alabama to crack down on undocumented immigrants. Kobach also represented the state of Mississippi when Gov. Phil Bryant joined a federal lawsuit against the Department of Homeland Security over the president's decision to stop deporting young undocumented immigrants living in the U.S.
The two newest charters will have to pass all the requirements and inspections as prescribed by Mississippi's charter-school law of the board before officially opening. Any student within the Jackson Public Schools district will be welcome to apply, and applications will go into a lottery only if the number of applications received exceeds the number of slots available.
Both will be located on the same campus and operated by RePublic Schools of Nashville, Tenn. That organization last month opened Reimagine Prep in south Jackson, one of Mississippi's first two charter schools.
"The kids and families of Jackson need more and better options," Gupta told the AP.
Krystal Cormack, who led the board committee that recommended the approvals, said she was confident that RePublic's applications met Mississippi's standards.
"They have assembled a team that has a high level of experience in elementary education in particular," Cormack said.
Both schools will offer programs longer than the traditional school day, focusing recruitment on north Jackson. Both plan to teach computer coding in middle school grades.
The K-8 school would be RePublic's first serving lower elementary grades. Gupta said that by working with students just starting school, RePublic hoped to raise academic achievement levels more quickly. He said that in the organization's middle schools, the need for extensive remediation can crowd out enrichment activities, but that should be less of a problem at younger ages.
"That changes everything," Gupta said. "That means if you have an extended school day you can put in a lot more extracurricular activities. You can get a lot more creative."
Both schools would be located at the site of the former Broadmoor Baptist Church, more recently Wesley Biblical Seminary. A family foundation lead by descendants of the late lumberman, bank investor and civic leader Warren Hood has agreed to buy the sprawling campus, renovate it and lease it to RePublic.
The K-8 school plans to enroll 198 students in kindergarten and first grade next August. The middle school plans to enroll 199 fifth graders. Each school would add one grade a year, with the middle school reaching 458 students by 2019 and the K-8 school reaching 942 students by 2023. Combined with Reimagine Prep, they would give RePublic more than 1,800 students, larger than many of Mississippi's traditional public school districts.
So far, all the charter schools that have been approved have been in Jackson. The board has been holding meetings in other parts of the state to try to build interest but has turned down applications from Columbus and Natchez as insufficiently prepared.
The Associated Press contributed to this story.
More stories by this author
Support our reporting -- Follow the MFP.