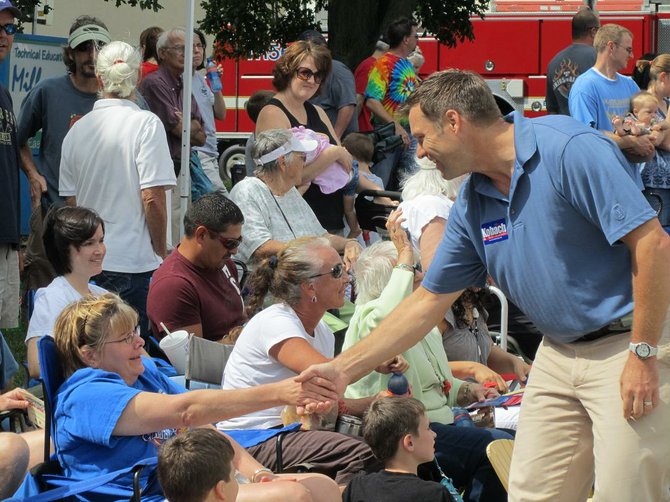 Kris Kobach is a busy man. In addition to serving as the Republican secretary of state of Kansas and an immigration adviser to GOP presidential nominee Gov. Mitt Romney, and representing several groups fighting the presence of illegal immigrants in the U.S., he's now a lawyer for Mississippi.
Gov. Phil Bryant announced Oct. 10 that Kobach would represent Mississippi in a federal lawsuit against the U.S. Department of Homeland Security over President Barack Obama's decision to stop deporting young undocumented immigrants.
In June, Obama issued an executive order halting deportations of individuals who immigrated to the U.S. before age 16, and who are younger than 30, have committed no major crimes, have been in the U.S. for five years and possess a high-school diploma or served in the military. Two months later, Kobach sued on behalf of a group of U.S. Immigration and Customs Enforcement agents who said the administration's policy change could lead to their receiving disciplinary action for just doing their jobs.
Bryant made Mississippi the first state to join the suit, and the governor said he based his action on the significant fiscal costs that illegal immigration imposes on the state. Specifically, Bryant cited a 2006 study he commissioned as then-state auditor concluding those costs to total $25 million based on "significant education, law enforcement and health care costs, as well as substantial lost tax revenues and other 
economic losses."
Bill Chandler, executive director of the Mississippi Immigrant Rights Alliance, in Jackson, called Bryant's report "a vicious attack" on immigrants.
"It's a fallacy to blame the cost of education on undocumented children. They contribute value to our society," Chandler said.
To allay fears about the possible costs of a lawsuit against the White House, Bryant assured taxpayers the state would be represented at no cost to taxpayers by Texas attorney Michael Jung and "immigration law expert" Kobach.
However, Kobach's credentials on immigration issues are more expansive, and controversial, than Bryant acknowledged. Kobach has had a direct role in shaping GOP immigration policy for years as an adviser to U.S. Attorney General John Ashcroft under President Bush and, later, through his relationship with Romney, which has been muddy.
In a January 2012 speech accepting Kobach's endorsement, Romney said: "Kris has been a true leader on securing our borders and stopping the flow of illegal immigration into this country." When interviewed by Spanish-language radio network Univision America in September, Romney demurred when asked about his ties to Kobach, saying that he had never met the man, CNN's Peter Hamby reported. Later, the Romney campaign told Hamby that Kobach and the Romney had met at campaign events but that Kobach only "contributes informal advice periodically" and doesn't sit on policy briefings.
Additionally, Arizona's controversial anti-illegal immigration law SB 1070, which Kobach assisted in drafting, served as a model for similar measures in Alabama and Mississippi. Obama hinted at Kobach's connection to Romney and SB 1070 at the Oct. 16 presidential debate against Romney during a testy exchange over immigration policy.
"Governor Romney says he wasn't referring to Arizona as a model for the nation. His top adviser on immigration is the guy who designed the Arizona law, the entirety of it--not E-Verify, the whole thing. That's his policy, and it's a bad policy," Obama said.
This summer, as a member of the Republican National Committee's Platform Committee, Kobach offered amendments to restore language previously in the GOP platform promoting the completion of a U.S.-Mexico border fence, ending in-state tuition for unauthorized immigrants and ending "sanctuary cities," which Kobach asserted "has resulted in the death of American citizens." In 2010, the Jackson City Council Johnson passed an ordinance that prohibited police from asking individuals about his or her citizenship status.
Kobach, who did not return a phone message left on his voicemail Tuesday afternoon by press time, has been embroiled in a number of other legal battles against municipalities and other government bodies over immigration policies in Kansas, Missouri, California, Pennsylvania and Texas. Many of the suits Kobach filed were on behalf of the Immigration Reform Law Institute, the legal arm of the Federation of American Immigrant Reform, or FAIR, which calls itself as a 250,000-member national "organization of concerned citizens who share a common belief that our nation's immigration policies must be reformed."
The Montgomery, Ala.-based Southern Poverty Law Center views FAIR as something more nefarious.
Heidi Beirich, director of the SPLC's Intelligent Project, characterized FAIR as an "anti-immigrant hate group" with a "racialist agenda." The SPLC, which tracks hate groups, calls FAIR's founder, John Tanton, "the racist architect of the modern anti-immigrant movement." Meanwhile, Tanton's wife, Mary Lou, is president of a political action committee called U.S. Immigration Reform PAC (USIRPAC) that contributed $10,000 to Kobach's failed 2004 congressional campaign, according to federal campaign-finance records from the Center for Responsive Politics.
Beirich, who described Kobach as "the single most important anti-immigration legislator out there," said that Alabama's 2011 immigration law modeled on Kobach's Arizona measure has been disastrous for the state's economy, driving away immigrant workers and casting the state as unwelcoming of diversity.
"You don't want to follow down the path Kris Kobach has led Alabama," Beirch warned Mississippians. "It's been nothing but bad. Kobach just leads you to a bad place."
More stories by this author
Support our reporting -- Become a JFP VIP.
The news business has changed dramatically in the past year, and we need your help more than ever to keep bringing you important stories about Jackson and the Metro. Become a JFP VIP with an annual membership or you can Sign up as a monthly supporter. Thanks for anything you can do to empower our journalism!