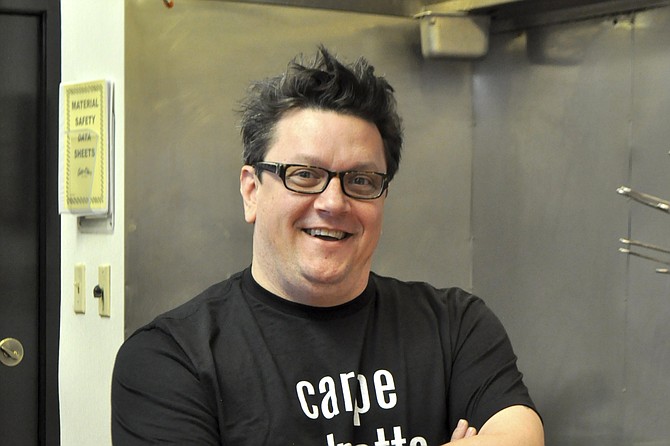 Anthony Ritter, owner of GLO Design Studio in Fondren, is bringing a new dessert option to Jackson in the form of Fondren Fro-Yo, a frozen yogurt shop under construction in a space Ritter rents down the hill at the Woodland Hills Shopping Center.
A few months ago, Fondren Renaissance Foundation Executive Director Jim Wilkirson approached Ritter about bringing in a fun, family-oriented business to fill an empty storefront. Ritter looked at the local businesses in the area and found that Jackson lacked any kind of self-serve yogurt destination, despite the suburban areas having many.
"We don't have a lot of things that many suburbs do," Ritter said. "Something like this in Fondren would benefit from the foot traffic we already have while also increasing that traffic in a positive way and adding great things that nobody else in Jackson has."
Ritter learned about the frozen yogurt business from Laurie Dahlam, who owned the now-closed Millie D's inside the Belhaven building. She sold Ritter her equipment and will continue to train him through the shop's first days.
Once complete, Fondren Fro-Yo will offer 15 flavors, including cookies and cream with Reese's Peanut Butter cups and hot fudge. The shop will also have seasonal flavors such as eggnog and weekly special flavors like California tart, a Greek-style sour yogurt.
Ritter hopes to open by Nov. 19, in time for the annual Fondren Unwrapped event. If that date falls through, he will open by January 2016 and time the opening with a neighborhood event, such as Fondren's First Thursday.
Ritter will continue to run GLO and has hired a full-time manager to oversee Fondren Fro-Yo. Hours of operation for the shop are still undecided. For more information, contact Ritter at GLO at 601-368-9755.
Farewell, La Finestra
Even though it's only been around for two years, Jackson chef Tom Ramsey's Italian restaurant, La Finestra (120 N. Congress St., Suite 3), managed to make its mark on Jackson, becoming a finalist in multiple Best of Jackson categories, including Most Innovative Menu, Best Local Brunch, Best Vegetarian Options and Best Italian. Sadly, it seems Jackson will have to say farewell to the restaurant. La Finestra's lease recently ran out, and Ramsey has chosen not to renew it. The restaurant will serve its final meal on Sunday, Oct. 18.
"We had a great two-year run, but all things must change," Ramsey said. "I've enjoyed the support of the community and my customers, but it's time for me to take it easy for a while and see what I want to do next."
One thing Ramsey is interested in doing is continuing to host pop-up dinners in Jackson, such as his ongoing Stäge series at Taste of the Island Caribbean (436 E. Capitol St., 601-360-5900, tasteoftheisland.net), which is continuing throughout October. Ramsey is looking into doing pop-ups at more local Jackson restaurants, as well as the possibility of taking things on the road and bringing his cuisine to restaurants in other states.
"I love pop-ups because running a fine-dining restaurant is a really hard job, especially in a small space," Ramsey said. "I really love mingling and getting to know my guests, but I don't like the everyday grind. Pop-ups let me entertain people and get paid for it without the grind of it."
Though Jacksonians will surely be sad to see Ramsey's restaurant go, the restaurateur assured his loyal customers that this is not goodbye.
"I'm a cheerleader and a supporter of Jackson," Ramsey said. "I'm not going into the ground; I'm just closing a business. I want to thank the city of Jackson, the downtown neighborhood, our employees, our loyal guests, our farmers and our vendors who all made this two-year run really cool. The best way to describe how I feel right now is with an old (Ernest) Hemingway quote about how the world breaks us all, but makes us stronger in the broken places. La Finestra's final dinner is going to be a celebration, not a funeral."
Fondren Guitars School of Music Expands
On Oct. 1, Fondren Guitars (607 Fondren Place) celebrated its ninth anniversary with the opening of a new expansion of its music-lesson service, Fondren Guitars School of Music. The guitar shop opened a state-of-the-art facility across from Fondren Corner Underground, beneath Rooster's and La Brioche in what was once a disused basement storage area. The business completely remodeled the space, from putting up new sheetrock to redoing the electrical and air-conditioning systems.
Fondren Guitars' new facility features four new lesson rooms and a waiting area. The shop offers a full music-instruction program that covers piano, vocals, drums, guitar, bass, full-band instruction and more. The store will continue to host music lessons and offer repairs in its main shop, as well. Fondren Guitars currently has 200 students split between seven teachers, and the new expansion will allow the owners to hire more instructors and take in even more future musicians.
"Our instructors work one on one with each and every student and build a lesson program around them," Fondren Guitars employee and instructor Carson Braymer said. "We teach everyone from 3-year-olds to seniors at all skill levels. Students can learn the songs they want to learn, as well as the basis behind those songs."
Fondren Guitars offers lessons for $100 Monday through Friday from 10:30 a.m. to 7:30 p.m., at both the main store and the Fondren Underground facility. The main store is open Monday through Thursday from 10 a.m. to 6 p.m., Friday from 10 a.m. to 5 p.m., and Saturday from 11 a.m. to 3 p.m. For more information, call 601-362-0313.
Email metro-area openings, closings, menu changes and other business news to [email protected].
Support our reporting -- Follow the MFP.