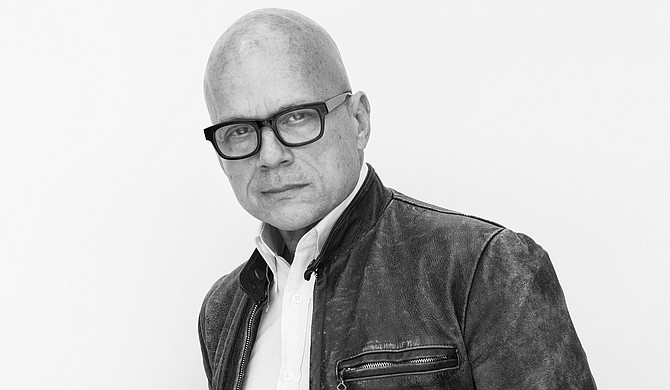 In 2007, Kevin Sessums' "Mississippi Sissy" (St. Martin's Press, $24.95) became a best seller. The book opened our eyes to the life of a boy touched by tragedy, feeling like an outsider in an ultra-conservative southern state, and his molestation at the hands of a trusted minister.
When a teenage Sessums escaped to Jackson, I, like most readers, assumed he had made it to safety. Surely with Frank Hains, Eudora Welty and the burgeoning New Stage Theater community, and the Jackson literati of the day, Sessums could blossom.
"Although I was only 16 at the time, I had immediately been accepted into their fold," he wrote in the book.
In the end, though, tragedy struck again in the form of a brutal murder. The book ends with Sessums taking in an afternoon matinee in New York City, searching for solace in the way he always has: being alone.
I've followed Sessums on social media and read his interviews from Vanity Fair, Parade and Interview Magazine. I especially love when he posts photos from after-parties or star-studded openings with memories about whatever A-list celebrities he rubbed shoulders with. Since finishing "Mississippi Sissy" all those years ago, I have wondered just how that world-weary teenager full of promise became a celebrity journalist. Enter "I Left It on the Mountain: A Memoir" (St. Martin's Press, 2015, $25.99).
I caught up with Sessums over the phone. He was in New York City, launching the book, and said it was freezing there. When I jokingly commented that it was a "balmy 57 degrees here in Jackson," he replied, "Yeah, well, f*ck you."
Whether in conversation or in his writings, Sessums is unflinchingly forthcoming with his feelings, thoughts and the way in which he shares them.
"I hope people don't think it's vulgar. I mean, not just the sexual parts, but it being too open," he said. "I think I'm the only person who's ever gone to a shrink to shut down."
It's to our advantage that Sessums tends to overshare. When he started writing his latest book, he pitched it as a "sort of celebrity, fast-lane, glamour book," but early on, he realized part of the story was his journey to sobriety.
"Even though I was using and working on the book, I realized that I was going to have to write through the narrative of sobriety," he said. "So, being a writer saved my life in a strange way."
In his brutally honest fashion, Kevin juxtaposes his downward spiral into addiction—"I only knew I was ironically growing to depend on such panic to feel alive"—with the heady glamour and seemingly serendipitous stories of limousine rides with Jessica Lange after the Oscars or luncheons where Diana Vreeland of Harper's Bazaar and Vogue, and Jackie O.'s fashion adviser, flanked him.
Sessums said that several of the celebrities he wrote about had seen the book before it went to press. "I let Jessica see it. It was such a love letter to her, I assumed she'd be OK with it," he said "... Although some of the stuff I used wasn't in the interviews I published, ... it was all on the record. ... So, I didn't speak 'out of school.'"
In a recent interview with Huffington Post Live, Sessums said he thinks celebrities are comfortable with him because he is "never judging, always discerning."
"I don't even think of myself as a journalist, really," he told The Huffington Post "... I'm a writer, un-intimidated by fame, who can write a narrative."
I confessed my amazement at how he'd fled Mississippi and happened to land amidst the jet-set crowd of writers, artists and the Hollywood elite. I asked how much of that he thought was divine intervention or simply his ability to will it into reality. He paused, then spoke about the tragedy of losing both parents, growing up during the civil rights struggles of the '60s and feeling innately "other" as a gay man.
"I've always looked at life as the narrative, and I'm just along for the ride," he said. "I see myself as part of a story, and maybe that's the way it manifested. ... That world needs a peripheral, and I'm very aware that I'm right outside of it."
In addition to understanding his place in "that world," Sessums likens his job as a very "blue-collar" type of work. He's just a truck driver hauling glamorous cargo, and his ease in the presence of fame is easy to explain.
"Once you've sat at a kitchen table with Eudora Welty ... listened to her talk, let the liquor loosen her tongue a little bit, hangin' with Madonna is nothing," he said. "If you can sit ... with a bunch of talkative women in Mississippi and keep up, keeping up with famous people is easy."
Kevin Sessums signs and reads from "I Left It on the Mountain: A Memoir" 5 p.m. Monday, March 9, at Lemuria Books (Banner Hall, 4465 Interstate 55 N., Suite 202, 601-366-7619), and 5 p.m. Tuesday, March 10, at Square Books (160 Courthouse Square, Oxford, 662-236-2262).
More stories by this author
Support our reporting -- Follow the MFP.