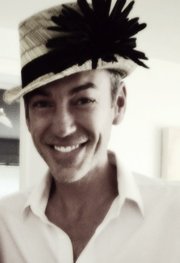 When marriage equality became the law of the land the morning of June 26, I kissed my husband and went right back to work. Earlier in the year, I'd vowed not to be at the salon when the news came, but there's no way of predicting when the U.S. Supreme Court will hand down a decision. So, just as it was two years before when the Defense of Marriage Act and Proposition 8 were struck down, I was standing side-by-side with Justin, slinging hair and hugging supporters.
As soon as I finished my last client, I rushed downtown, threw on a Mississippi Pride T-shirt and helped finish setting up for our Pride weekend at the Mississippi Museum of Art. We, of course, had no way of knowing the landmark same-sex marriage decision would happen that Friday, but it was perfect timing.
As the crowd grew, Knol Aust, Duane Smith, Jenni Smith, Robbie Fisher and I watched with our own sense of pride. We'd pulled it off, but there was no time to celebrate. Instead, we rolled up our sleeves and kept the Pride events happening throughout the weekend.
On the following Monday, still hungover from the Big Rainbow Brunch at Julep and the Pride Wrap Party at JC's, I made a pot of coffee and started reading the posts on social media and various news outlets. It wasn't long before the news broke that the stay on CSE v. Bryant (the Mississippi same-sex marriage case) had been lifted, and I watched tearfully as Knol and Duane were granted a license and married, which was captured in a series of photos shared on Facebook. I couldn't help thinking back to a Sunday afternoon at La Cazuela filled with frozen margaritas and conversation full of hope for the future of marriage equality in our country and our state. Knol and Duane, through their tireless efforts with Unity Mississippi, have inspired many to expect more from Mississippi and to speak out, myself included.
I watched with pride as so many couples married throughout the state over the next few days. Each picture of them holding their newly issued licenses brought a tear to my eye. I recalled how wonderful it felt to hold mine when Justin and I married almost two years ago in California. Our marriage is now recognized here in Mississippi, and I didn't have to lift a finger.
The following Wednesday night, as I was packing for a short cruise to Cozumel out of New Orleans, the news broke that the Episcopal Church had voted to perform same-sex marriages. I knew the church had been laying the groundwork for marriage equality, but I didn't expect it to happen so soon after the SCOTUS decision.
My mind wandered back to a time many years ago when I had a church to call home, a congregation to call family, and it occurred to me that Justin and I might finally be able to find a new church family, that we might not be just welcomed, but affirmed as a married couple. I'm not ashamed to tell you that I cried myself to sleep that night thinking that if one of our lives is cut short, the other would have the support of a loving congregation.
The next day, we boarded Carnival's Elation to celebrate our dear friend Whitney's birthday. For the next three days, it was nothing but sunshine, fruity drinks and all the frozen yogurt I could shovel into my face. We ended the first day in the casino bar listening to a band cover classic R&B hits. Couples of all ages packed the dance floor as we sang along from our bar stools. Justin, grinning from ear to ear, turned to me and said, "In 50 years, nobody will think anything of a gay couple dancing out there."
On the last evening, we landed back in the bar, and the band was covering '80s hits. It was a raucous return to my teen years as we belted out one hit after another. When the band started playing a Tears for Fears classic, "Everybody Wants To Rule The World," I turned to Justin and took his hand. "Dance with me," I pleaded. We walked onto the empty dance floor, embraced each other and began to sway in circles, while everyone looked on. It felt like we had dared to climb the ladder, then stepped carefully to the edge and, taking a deep breath, jumped feet first from the high-dive for the first time at summer camp. As we hugged, my heart was in my throat, and tears filled my eyes, and we just laughed and swayed as the band sang: "Holding hands while the walls come tumbling down / When they do, I'll be right behind you."
The next morning, we stepped off the boat and back into the real world once more. Now, it's a world where I stand back-to-back with my husband and sling hair, hug supporters and, hopefully, dance every time we get the chance.
Eddie Outlaw is the co-owner of the William Wallace Salon in Fondren and spends most of his time trying not to embarrass his sweet Delta mother on eddieoutlaw.com.
More stories by this author
Support our reporting -- Follow the MFP.