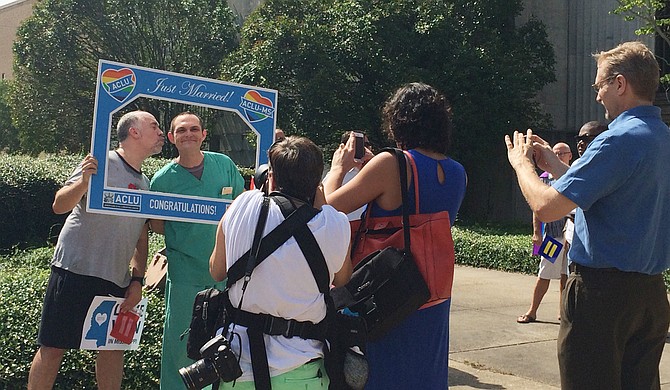 The U.S. Supreme Court ruled in favor of same-sex marriage in a 5-4 ruling on Friday. In Mississippi, small celebrations broke out on the steps of Hinds County Courthouse, as other couples went to the basement to try to get their marriage licenses.
Jason and Scott Crutchfield-Rogers got married in New York but live in Jackson. They are planning to have a wedding ceremony here in Mississippi now that the state legally has to recognize their marriage.
Jason was at work when he heard the news, but he left and met his husband, Scott, in front of the Hinds County Courthouse.
"I didn't think it was going to happen in our lifetime," Scott said. "I never thought it would be legal across the board. I started crying, and then when he got here, he started crying."
In the basement of the Hinds County Courthouse, however, couples were denied marriage licenses. Hinds County Circuit Clerk Barbara Dunn said she was unable to issue marriage licenses to same-sex couples.
"The attorney general (Jim Hood) has not lifted the stay. They may not. They may, in fact, issue an order. And this might take several days, maybe a week, or a month," she said.
One longtime couple, Knol Aust and Duane Smith, was trying to get their license.
Squinting in front of the SCOTUS Blog at home, when the ruling came out, Aust told Smith to get dressed. The couple ran down to the courthouse to seal the deal.
"We came down and got half a license," Smith said.
The couple filled out the paperwork, and Dunn is holding on to it until the stay is lifted from Federal Judge Carlton Reeves' ruling that gay marriage should be legal in Mississippi.
Attorney General Jim Hood said the Supreme Court's decision is not immediately effective in Mississippi. In an emailed statement obtained at the Hinds county clerk's office, Hood wrote:
"The Supreme Court's decision is not immediately effective in Mississippi. It will become effective in Mississippi, and circuit clerks will be required to issue same-sex marriage licenses, when the 5th Circuit lifts the stay of Judge Reeves' order. This could come quickly or may take several days. The 5th Circuit might also choose not to lift the stay and instead issue an order, which could take considerably longer before it becomes effective."
The Supreme Court's decision in this case nationally will not take effect immediately, according to an Associated Press report that said the court gives the losing side roughly three weeks to ask for reconsideration. This might give hesitant states some time to stall; however, in Mississippi, lifting the stay in Judge Reeves' case might be all it takes because a court case is already pending the ruling.
Joce Pritchett and Carla Webb, one of the couples who are plaintiffs in Campaign for Southern Equality v. Bryant, were also at the courthouse with their family this morning. Pritchett and Webb were in the kitchen for a campaign meeting—Pritchett is running for state auditor—when they found out. Pritchett said it means that her family is now complete.
"When we travel, no matter where we go, we'll be a family," Pritchett said.
According to 2010 census data, 3,484 same-sex couples live in Mississippi. The state also has the highest percentage of same-sex couples raising children (26 percent) in the country. While some couples in Mississippi have flown out-of-state to get married, only now will the state be forced to recognize their marriages legally.
Beyond marriage, however, members of the LGBT community can be fired, denied housing or discriminated against with no legal repercussions in the state.
Todd Allen, advocacy coordinator at the ACLU of Mississippi, said there is a larger conflict to be addressed with marriage and employment in the LGBT community.
"How can you get legally married one day and fired the next? That's still the issue. That's what matters," Allen said. "It's a class issue because if you have a job and you are self-employed, you won't get fired, but if you are working like the rest of us for institutions and especially government institutions, there are no protections."
Progress is progress, however, and this weekend the Mississippi LGBT community will be celebrating with a weekend-long celebration, Mississippi Pride 2015, kicking off tonight at 6 p.m. at the Mississippi Museum of Art.
Smith is helping Aust, who is a chair of the event, prepare for this evening's kickoff.
"I took the day off work just so we could get ready and get all this stuff done, then all this stuff happened," Smith said.
Smith said the Supreme Court's decision could make the Mississippi Pride 2015 event "blow up," and he's hoping that more than the 500 people who have RSVPed show up.
"This has been one of my favorite days ever," Smith said.
For more information on Mississippi Pride 2015, visit mspride.org.
Zachary Oren Smith contributed reporting.
Support our reporting -- Follow the MFP.