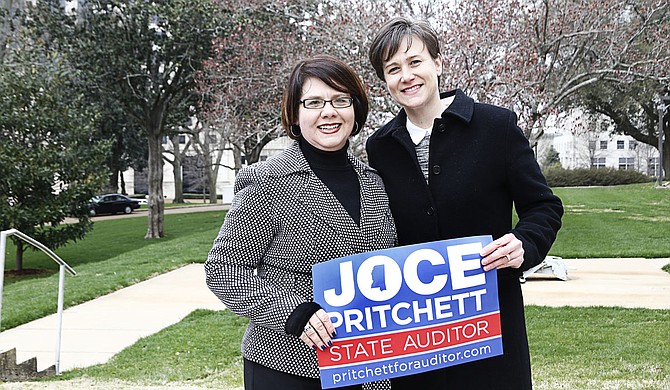 The civil engineer and businesswoman helping to spearhead the fight for marriage equality in Mississippi is running for state auditor and hopes to bring transparency to the office that holds the state accountable for its spending.
Joce Pritchett announced her candidacy at the Capitol today on a chilly Friday morning. Her supporters braved the cold as she spoke about her qualifications, as well as current state auditor Stacey Pickering's poor performance.
"The state auditor has been asleep at the wheel. Mississippi deserves better," Pritchett said. "I finally realized that if I wasn't willing to step up and run for office and fight the corruption, then I didn't have a right to complain."
Pritchett and her wife, Carla Webb, are among plaintiffs currently fighting against Mississippi's same-sex marriage ban. Pritchett and Webb married in Maine in 2013 and have two children, but their marriage has not been recognized under state law.
The 5th U.S. Circuit Court of Appeals is currently deliberating on the case.
Pritchett, who owns Pritchett Engineering and Planning, said she has worked under state and county contracts her entire career.
"I know the laws and rules required for appropriating contracts legally and fairly. As a small business owner, I have to carefully watch spending and balance the books each month. I believe in honest budgets and fiscal responsibility, not gimmicks or political maneuvering," Pritchett said.
Pritchett told the Jackson Free Press she will put the focus on agencies that have been in trouble in the past like the Mississippi Department of Corrections and the Mississippi Department of Environmental Quality. "There's no reason why the FBI should have to come down here and clean up our state agencies," she said. "... If the state auditor had been doing his job the whole time, none of this would have happened."
She recognized Republican complaints that education spending does not reach the classroom, to which she responded, "I will find out."
Pritchett said that an "old guard establishment" has been running Mississippi and has lost sight of the interest of their people and have created a system in which the money is controlled by a select few. This, Pritchett said, is why Mississippi continues to fall behind the rest of the nation.
"Why not just say what's true?" Pritchett said after announcing her candidacy on the Capitol steps. "If we candy coat it, we're going to keep getting what we've got."
This seems to be the sentiment of the Democratic women running for office this year. Among Pritchett are Madison attorney Vicki Slater, who is running for governor, and Cristen Hemmins, an Oxford businesswoman running for Mississippi Senate against Sen. Gray Tollison, R-Oxford.
"I'm tired of seeing our legislators break their promises to fund our schools in Mississippi," Hemmins wrote in her announcement. She was instrumental in the campaign to strike down the Personhood amendment, Initiative 26, in 2011.
Slater says the problems of the state are the fault of "Mississippi's failed leadership."
During her candidacy announcement, Slater spoke about Republican Gov. Phil Bryant's failure to meet his obligations in regards to education, health care and job creation.
"Since Phil Bryant became governor, America has created over 8,000,000 new jobs, but Mississippi has lost over 40,000 jobs," she said.
Mississippi Democratic Party Chairman Rickey Cole said at Slater's announcement that he believes she will receive support from first-time donors. He told Pritchett at today's announcement that a projected 800,000 Mississippians should be showing up at the polls in November, and she would have to secure around 450,000 of those votes.
Cole also told Pritchett not to worry about the 300,000 or so others.
"They're going to vote the other way if you gave them a gold monkey," Cole said.
More like this story
More stories by this author