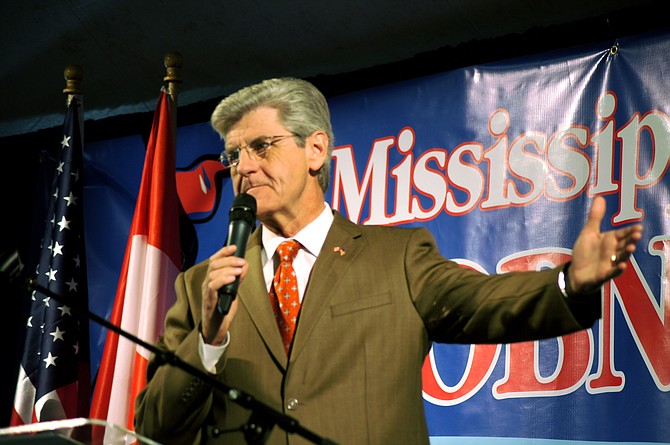 First-term Gov. Phil Bryant picked up a Republican primary challenger Thursday, the day before candidates' deadline to qualify for statewide, regional and legislative races.
Mitch Young of Lamar County filed papers with the state Republican Party to challenge Bryant. Details about Young's background were not immediately available. While Young has not filed a campaign finance report, Bryant had $2.4 million in campaign cash at the end of 2014.
Two Democrats, attorney Vicki Slater of Madison and Robert Gray of Jackson, have filed to run for governor.
All eight current statewide elected officials are running again, as are most regional officials and most of the 122 House members and 52 senators.
First-term Lt. Gov. Tate Reeves was unopposed for the Republican nomination heading into deadline day. Two tea party-supported Republican state senators who had been mentioned as possible candidates for lieutenant governor, Chris McDaniel of Ellisville and Michael Watson of Pascagoula, filed Thursday to run for re-election.
Two Democrats have filed to run for lieutenant governor. They are former state Sen. Tim Johnson of Madison and Jelanie Barr of Greenwood.
Attorney General Jim Hood, a Democrat, had no opponent from either party by Thursday. He is seeking a fourth term.
Party primaries are Aug. 4, and the general election is Nov. 3.
Some former lawmakers are trying to regain the seats they once held. Among them is Democrat Eric Powell, who's challenging the Republican who unseated him from the Senate four years ago, Rita Parks Potts. Both are from Corinth. Powell held the seat one term.
Barbara Blackmon, a Democrat who served in the Senate from 1992-2004, filed Thursday to challenge two-term Sen. Kenny Wayne Jones in the party primary. Both are from Canton. Blackmon was the Democratic nominee for lieutenant governor in 2003, losing to Republican incumbent Amy Tuck.
Five-term Sen. Gray Tollison, who switched from Democrat to Republican after the 2011 election, is being challenged by Cristen Hemmins, chairwoman of the Lafayette County Democratic Party. She filed qualifying papers Thursday. Both are both from Oxford.
"I want to build on the successes that I have worked for in the Legislature as chairman of the Senate Education Committee, including raising teacher pay, increasing funding for our public schools, increasing teacher training and focusing on the education achievement level of all Mississippi students," Tollison said in a statement Thursday.
Hemmins criticized Tollison and other lawmakers for not fully funding a school budget formula that is designed to give schools enough money to meet midlevel academic standards. The Mississippi Adequate Education Program has been fully funded only two years since it was put into law in 1997.
"I am tired of seeing our legislators break their promises to fund our schools in Mississippi. Education is the key to better jobs, increased wages, and a higher quality of life for our state's citizens," Hemmins said in a statement Thursday.
Other announcements of local interest include:
Bruce Burton of Jackson has qualified to run for the Central District seat on the Public Service Commission; Democratic state Rep. Cecil Brown has been actively campaigning for the seat for months. Additionally, Brent Bailey will run as a Republican for PSC from the Central District. Bailey studied biological engineering at Mississippi State University and is a former member of the Bulldog football team.
Robert Amos, who has run for Jackson City Council and mayor, will compete for the Mississippi Department of Transportation's Central District post.
Stan Alexander, a former Hinds County prosecutor now with the attorney general's office, has qualified to seek the Hinds County district attorney's seat. Current DA Robert Smith has also filed to run for reelection to a third term.
Plavise Patterson, a businesswoman and community activist who ran for Jackson city council's Ward 5 in 2013, has qualified to run in Mississippi House District 69 along with incumbent Alyce Clarke. Corinthian Sanders, another perennial name on local ballots, will run for House District 72 against incumbent Kimberly Campbell.
Jocelyn "Joce" Pritchett of Jackson and Charles E. Graham, also of Jackson, have qualified to contend for state auditor in the Democratic primary. Republicans in that race include incumbent Stacey Pickering and Madison Mary Hawkins Butler.
Santore Bracey, a member of the Hinds County Election Commission, says he will run for Hinds County tax collector. Bracey says he has been employed for more than 10 years in the county tax collector and chancery court offices.
Henry D. Fuller, a former aide to Hinds County District 5 Supervisor Kenneth Stokes, will run for his former boss's seat on the county board. Stokes vacated the seat to return the Jackson City Council.
Copyright Associated Press. All rights reserved. This material may not be published, broadcast, rewritten, or redistributed.
Support our reporting -- Follow the MFP.