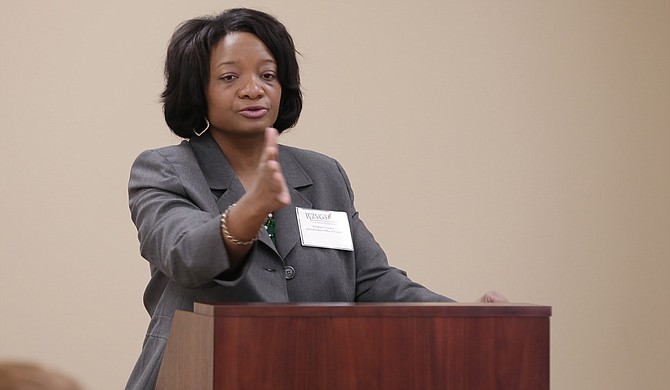 Desiree Henley knew Mississippi's guardianship and conservatorship laws were outdated, ineffective and likely stripping elderly and disabled citizens of their basic human rights.
The problem was and still is that few people know that.
Henley, an associate law professor at the University of Mississippi, took action last year and helped the Mississippi Administrative Office of the Courts apply for a grant to establish a committee to raise awareness and work to change Mississippi's antiquated guardianship and conservatorship laws.
Guardianship laws allow—and, in some cases, require—the courts to appoint guardians for people deemed no longer able to make decisions for themselves, usually elderly people diagnosed with illnesses or people with disabilities. When a person is deemed incompetent to perform self-care, he or she becomes a ward of the state, and under Mississippi law, a court appoints a guardian to take care of their personal affairs.
Mississippi's conservatorship laws allow for the appointment of an individual to handle the assets and finances of a ward of the state. But in Mississippi, a guardian or conservator can handle both a ward's assets and personal affairs at the same time.
Therein, Henley says, lies the problem.
"The conservatorship and guardianship (laws) require an annual report about the money but not about the person (the ward) themselves," Henley said. "There's no requirement to report to court about how the person is doing, where they're living, whether they are getting an education—the court has no idea what's going on with the actual 
person."
The guardianship laws in Mississippi, in essence, fail to safeguard and protect the ward's personal well-being, requiring reports about their assets that sometimes disappear with mismanagement or a guardian taking advantage of the person, Henley said.
Organizing for Change
The Mississippi Working Interdisciplinary Networks of Guardianship Stakeholders Committee formed this past summer after Mississippi received a $7,000 grant largely due to the work of Henley and Ta'Shia Gordon, a deputy director with the Administrative Office of the Courts in Mississippi, who has seen how difficult it is for courts to track cases in her time working in three different chancery courts.
The committee, called WINGS for short, had its second official meeting Dec. 11 to discuss problems with the current law and public awareness. A group of lawyers, advocates, students, judges and state department officials met the full day to form sub-committees and develop strategies.
Kim Duffy, an attorney with the ARC of Mississippi that advocates for people with disabilities, presented her strategies. She says so many cases go awry due to a "one size fits all" way the legal system treats guardianship cases.
Mississippi's guardianship laws do not embrace the "person-centered" approach necessary when thinking about making an individual a ward of the state, Duffy said.
"It's been a one-size-fits-all approach instead of realizing people with disabilities are just as unique as you and I," Duffy said. "(People with disabilities) are likely to have different levels—yeah, they might need help in a real-estate transaction, but in day-to-day life they can make sound decisions on their own with a little bit of support."
Making a person a ward of the state takes away their rights as a person, and guardianship should really be a last resort only, Duffy said. She agrees with Henley that the law needs to be changed. To help move the WINGS committee's research forward, Henley enlisted the help of six law students in her legislation and policy course to help research what laws in other states, as well as what data are available in Mississippi.
Henley and her students found that plenty of other states have problems ensuring that guardians do not violate people's rights.
However, many states have updated their laws. This year, Florida began overhauling its guardianship statutes to require guardians to act in good faith, as well as explicitly prohibiting the abuse, neglect and exploitation of wards. Florida's legislation also create a new office to conduct investigations and take disciplinary action if needed.
"Mississippi is kind of behind," Henley said. "We are a decade or more behind in a movement to make these 
reforms."
When Guardianship Goes Awry
Henley studied the case of a young man who fell at his job when he was a young adult and suffered a brain injury. His father became the guardian, but the son began to recover and heal.
He eventually got married and had his own family and was able to lift his father's guardianship over his personal well-being. But when he tried to lift his father's power over his assets, the court refused because his estate had gotten smaller after he'd changed parts of his home and had an encounter with law enforcement.
The young man was deemed to still have mental weakness, and his father's guardianship remained. Duffy has seen this happen to clients before. At ARC of Mississippi, she advocates for those who have their rights taken away or not restored. WINGS will help bring awareness to stakeholders including judges, attorneys and advocates of how important it is to share ideas and efforts of people who "see the weaknesses in our system."
Access to data is one weakness Gordon looks forward to addressing in the Mississippi court system. Mississippi law only require the ward's asset reports, which are due annually.
Some counties know the number of guardianship or conservatorship cases within their boundaries, but the total number of cases is not aggregated statewide because the court system hasn't finished going electronic, and some districts are still sending paper records to her 
office.
Gordon said WINGS is a long-term project and that changing guardianship laws will help everyone involved in the process.
"It would help judges and the community—and really it will help people who need it most," Gordon said.
Comment at www.jfp.ms. Email news tips and story ideas to Arielle Dreher at [email protected]
More stories by this author
Support our reporting -- Follow the MFP.