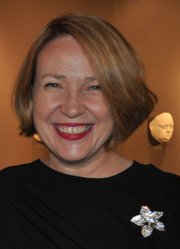 It was a gorgeous day in Jackson for an outdoor luncheon; my stepdad would have lovingly called it "football weather." I was blessed to be part of a group of folks the Kellogg Foundation had gathered on the northern balcony of the Mississippi Archives building, with the city's skyline as a backdrop to the west. We looked into a construction zone immediately off the side of the balcony, filled with huge cranes and the flotsam and jetsam of an active work site.
It was also loud. At points we all strained to hear Mississippi giants of change—Myrlie Evers-Williams, William Winter, Fred Banks and Reuben Anderson, among them—not to mention the president and CEO of the Kellogg Foundation board, La June Montgomery Tabron, when she spoke to us.
But, for once, the racket was welcome. You see, we were literally looking down into, and listening to, the construction of two Mississippi history museums. One of them is our long-awaited civil-rights museum that, the speakers promised, would not minimize the reality of our state's difficult past in a glossed-over version that makes it easy to blame someone else for "all that." Instead, the museum is designed to be a place of learning, pilgrimage and reconciliation, as Ms. Tabron described it, adding that it would "illuminate a common path forward."
Ms. Tabron, who is an unassuming-yet-powerful woman who grew up in a family of 10 children in inner-city Detroit, announced that the Kellogg Foundation was giving a $2.3 million endowment in honor of Ms. Evers-Williams and former Gov. Winter for educational, racial equity and civil rights programs in the civil-rights museum. Winter is a former self-professed segregationist who, well, changed—showing that anyone can change backward, hateful attitudes with the right information, inspiration and willingness to question our upbringing.
The most touching moment occurred when Ms. Evers-Williams told the audience that the former governor had inspired her to return to Mississippi, the state that killed her husband, Medgar Evers, and didn't bother to prosecute his known killer for so many years. 
 After years away, it was Winter's passion and efforts to heal racial division that brought her home. It was "through this man that I made a determination to come back to Mississippi ... to forgive, not forget," Ms. Evers-Williams said, calling for the "ability to put negatives behind us and move forward."
Of course, Ms. Evers-Williams didn't mean it in that sugarcoaty way that so many Mississippians are told to "get over" the past, stop talking about our shared history and "move on." This embrace of history as a tool for the future is a more intelligent approach to healing division, solving problems racism created and building a stronger future.
On an afternoon filled with quotable inspiration, though, perhaps my favorite came from Fred Banks, a black attorney who helped make the civil-rights museum happen in the first place. He quoted his unnamed high-school teacher: "He who knows nothing of the past has no understanding of the present and no conception of the future."
You could amend that statement to say that those who ignore the lessons of the past—even the victims—may turn around and repeat similar offenses, and maybe toward an entirely new group of people.
Despite the positivity of the luncheon and the presentation, everyone there knew we still have a tough row to hoe. That was no more apparent than in the foundation's following town-hall meeting at Cade Chapel on West Ridgeway Street. I co-moderated the discussion about the need for adequate public-education funding and the difficulty of getting state lawmakers to follow the law and provide the funding, which would help our state with everything from having a better-educated workforce, to lowering our poverty rates (and reliance on public assistance), to decreasing crime (and thus prison costs), to basic economic-development progress.
In other words, adequately funding public education in Mississippi would benefit everyone in the state, including state and personal pocketbooks. But, somehow, we're on an arc of history where too many of our lawmakers (and voters) aren't willing to address the disparities that our racist history created—unequal school funding due to forced, ingrained poverty—and aren't willing to say out loud what many of them actually know intellectually: that quality public education is key to Mississippi's future. This, right here, is the frustrating part of being a Mississippian. We end up with elected officials who won't do the right thing out of fear of losing elections. What I don't get is why anyone would want to win an election if you can't use your brain and your knowledge to help the state move forward. Why bother?
That, of course, brings me to Democrat Travis Childers, who is challenging long-time U.S. Sen. Thad Cochran—a Republican who has made plenty of political deals with the devil in his own right (like refusing to vote to apologize for lynching or to honor the memory of three civil-rights workers the Ku Klux Klan killed in 1964 for trying to help black people learn to read and vote).
As we too often see with many "Democrats" running for office in our state, Childers seems to be trying to outdo Cochran's disturbing votes. Childers signed a pledge developed by a known hate group, FAIR, agreeing that he would oppose efforts to help immigrant children, who did not choose to come to the U.S., find a smart path to citizenship—immigration reform that benefits us all.
This is the kind of disgusting political move that keeps Mississippi on the bottom and looking like we deserve to be there. I've written about this kind of backward chicanery many times: We cannot expect outsiders to not think the worst of us when we give our leaders a pass for wink-wink bigotry, and we will struggle to keep our brightest young people here, or get them to run for public office, if this is how we run our politics.
I've heard the excuse many times: Don't worry, he will vote for public education and improve health care when he gets there, so go on ahead and hold your nose and vote for him. It's what we have to do to win.
No. For one thing, I've seldom seen it work. Dems keep trying to out-wingnut the far right here and keep losing. As they do it, they, too, are spreading seeds of hatred, whether against people of color or, regularly, our LGBT neighbors, and thus keeping progressive people out of the voting booth.
I thought of Childers' nonsense as I sat on that balcony amid all that construction noise. Did the people we will honor in that museum get disrespected, beaten, spit on, disparaged and even killed so that our leaders could keep hawking hate and playing political games with our residents' lives and livelihoods? I don't think so. We can do better than this, Mississippi. It's time we conceive that better future all our people deserve.
Disclosure: Donna Ladd is a Kellogg Foundation Community Leadership Network fellow. Opinions expressed here are her own.
Support our reporting -- Become a JFP VIP.
The news business has changed dramatically in the past year, and we need your help more than ever to keep bringing you important stories about Jackson and the Metro. Become a JFP VIP with an annual membership or you can Sign up as a monthly supporter. Thanks for anything you can do to empower our journalism!