TAYLOR—I've seen Bible-wagging Pentecostal Holiness preachers at revival time who couldn't match rock 'n' roller Jimbo Mathus for fire in the belly.
"Music is the original peacemaker, the original desegregation tool! That's what set America on its ear! When you get down to the nitty-gritty about race, music is the pioneer. It worked magic before the government could come in. Good golly, Miss Molly, whole lotta shakin' going on!"
Mathus takes another sip from his can of Busch beer, then pulls back his blond locks. He grins, flashing a gold tooth Dr. Sanchez got him in central Yucatan to replace the original he lost working on a barge in the Mississippi River.
The Reverend continues his sermon. "It hadn't been that long ago that rock 'n' roll changed the world. That's still the thing. All the blues, gospel, honky tonk, everything leads into rock 'n' roll. You can still blaze a new trail!"
The 47-year-old musician, songwriter and roots-music evangelist says life is good these days. "Dark Night of the Soul," the latest effort by him and his band, the Tri-State Coalition, on Fat Possum Records, has been called by one reviewer "closer to the bone" than any of his earlier eight albums, a "search for redemption" that also can "rejoice like a Saturday-night-into-Sunday-morning-house-rent party."
The music ranges from Old Testament anger in "Burn the Ships" to the dark seduction of "White Angel" and the love rock-ballad that is "Shine like a Diamond." Despite the CD's title and some of its themes, "I'm actually very happy right now," the artist says. "I'm happily married. I love what's going on in my life, the artistic support I'm getting." Gaining some distance from past darkness helped him write about it. "You don't feel so close to it. I've seen the ups and downs of life. On purpose. I didn't want to shield myself from life."
His landmark 2009 CD "Jimmy the Kid" has also just been re-released. This is the one that got my attention. Mathus takes you into lonely hotels, honky tonks for fallen angels, on the run from the law among "the sage and prickly pear" out West, and along a dark highway somewhere in America in search of "a little room to rest." Echoes of Duane Allman, Keith Richards and Webb Pierce are in the air, but the music is still a Jimbo-special, roots-rooted "new trail."
To many, Mathus is still best-known for being co-founder of one of the top alternative bands of the 1990s, the Chapel Hill, N.C.-based Squirrel Nut Zippers, which did hot jazz, gypsy swing, New Orleans marches, and old vaudeville numbers and scored a major hit with the Calypso romp "Hell." The band performed on "The David Letterman Show" and at President Clinton's 1996 inauguration.
Mathus grew up in a music-loving household in Corinth that included a nanny who also happened to be daughter of blues great Charley Patton. "She didn't talk about him a lot. Blues was the devil's music. He was a player in bootleg joints, whorehouses, gambling joints. That was nothing she would ever discuss. It was something not to brag about but to hide.
"Along about '94 it came out she was the child of Charley Patton. At that time, I was of age. She was like family to me. One day I realized, holy-moly, Rosetta is Charley Patton's daughter! It emboldened me in the blues field to pursue it even harder, to learn the guitar parts, every note."
Even before he learned of the Charley Patton connection in his household, he was playing rock 'n' roll. An early effort was a punk band in junior high school named Johnny Vomit and the Dry Heaves. "We made a helluva racket. I was on a mission. I wanted to upset the applecart. I was not playing by the rules," he says.
Mathus considers himself a student of philosophy—he majored in philosophy at Mississippi State University—and he still probes the mysteries of Eastern and Middle Eastern as well as Western thought. The South itself is his greatest study. "I had more than my plateful to know where I'm from.
"It's important to know where you've been to map out where you're going," he says. "Not everybody cares about it. The majority of people could care less, but to me it's important to feel a part of a bigger picture." Amen, preacher.
More like this story
More stories by this author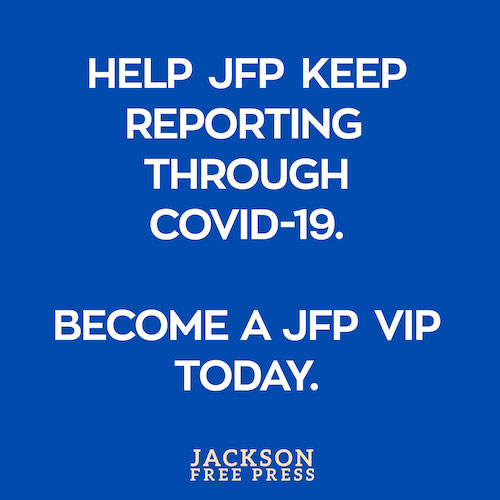 COVID-19 has closed down the main sources of the JFP's revenue -- concerts, festivals, fundraisers, restaurants and bars. If everyone reading this article gives $5 or more, we should be able to continue publishing through the crisis. Please pay what you can to keep us reporting and publishing.