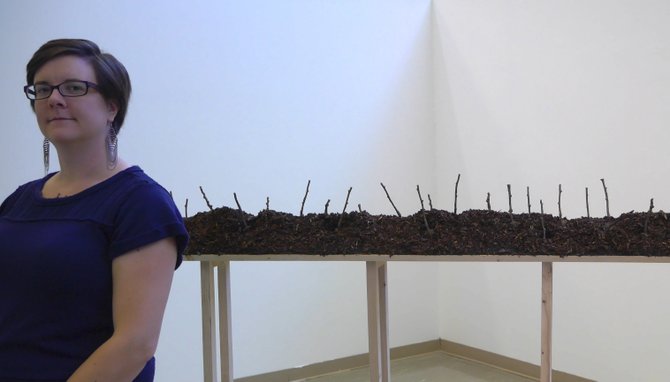 Kristen Tordella-Williams has an affinity for dirt. Not the stuff that gathers under the couch, but the blacky-brown soil that gets under your nails, and the mound scraped away to construct something new. Earthy colors fill her art, as does her connection to that thin layer that covers our planet and sustains life.
"The earth is universal. Although I create personal experiences with the earth, I think everyone can relate to having it on your hands or between your toes," she says. "... It's where things come from and where we go to."
Tordella-Williams, 26, is a newcomer to Jackson and to the teaching staff at Millsaps College, where she accepted a position beginning this fall. She grew up in Massachusetts and holds a 2010 bachelor's degree in sculpture from the University of Massachusetts Dartmouth, and a 2012 master's degree in sculpture and dimensional studies from New York's Alfred University. Her art ranges from handmade paper, prints, innovative sculptural pieces, to performance art and video.
Among the art in "Excavations"—her exhibit at Millsaps—is a video of "Grave," a performance Tordella-Williams did in 2013. On a hill overlooking Vermont's Green Mountains, she confronted mortality, digging her own grave in the rocky soil, then experiencing a ritual burial in the dirt she dug. She lay motionless for five and half hours, symbolically re-emerging into new life, reborn.
"What was challenging, mostly, is that I was so cold," she says. "... It was on the summer solstice, and in the mountains, it gets chillier at night. As it got darker, it got colder and colder, and it was really a struggle" between conflicting desires to stay and leave, she says. "The solstices are a time of reflection and renewal," adding to the theme of rebirth. The question that remains is "into what?"
"It took away the past me and allowed me to resurface," she says.
Looking beyond our natural fear of death and revulsion for the bone-chilling grave, the work also dealt with the gender-bending issue of women in manual labor.
"The purpose of my performance was not to die. That would be stupid," she says. "It doesn't mean that I don't push my body and show the strength of the female body, to show the beauty of labor."
It's still uncommon for a woman to heft a shovel or power saw and get paid for it. It's not foreign to Tordella-Williams, who paid her way through school by working in construction.
"My least favorite thing would be going to Home Depot," she says. "... It wouldn't even be the people who worked (there); it would be just men who were there, who were of a certain generation" who would interject to "help" a woman who looked so out of place in "their" world of pipes and nails, she says. She's made her beat-up old work boots into art, memorializing every hard-earned scuff and splatter.
As an example of her sculpture, "Excavations" will display a plethora of miniature cast bronze shovels. To create the molds for the work, she combined toys and sticks, a mix of artifice and nature. She again bends a norm: bringing tools—those substantial guy things—into the perceptually daintier realm of women and children.
"People are very attracted to them because they are so precious," Tordella-Williams says. "They have twigs for handles, so there's a little bit of a nod to the earth and the moving of the earth, and what earth can be to promote growth."
Similar to many modern artists, Tordella-Williams' work defies genre. The only art she hasn't explored is painting and ceramics, and the genre ambivalence is provocative. Is the work sculpture or a book? A performance or a video? A wood-block print or a photo montage? Beautiful mistakes make for a profusion of images in a photographic print. Making paper provides a deeper exploration where paper undergirds her art.
"Ultimately, they're all just different ways of communicating," she says.
Visit cargocollective.com/kristentordellawilliams to see Tordella-Williams' work. "Excavations" runs from Sept. 22 through Oct. 28 at the Millsaps College Lewis Art Gallery (1700 N. State St., 601-974-1762). Admission is free.
More stories by this author
Support our reporting -- Follow the MFP.