Johnnie Mae Maberry, associate professor of art at Tougaloo College, and art students from Tougaloo and Jackson State University will announce the launch of an outdoor art project in the Farish Street Historic District on Wednesday, Nov. 14, at 10 a.m. The project will take place at the Scott Ford Houses (136 and 138 E. Cohea St.), which were built from 1891 to 1892, 25 years after the end of slavery.
The two houses belonged to Mary Green Scott, a former slave who became a maid, and her daughter, Virginia Ford, who worked as a midwife. Scott, Ford and their families were among the first African Americans to build homes on Cohea Street, and their descendants owned the properties for more than a century. Dorothy Dobbins donated the houses to Scott Ford Houses Inc., a nonprofit established to preserve the story of the homes and the families, in 1996.
Alferdteen Harrison, a retired Jackson State University professor and president of Scott Ford Houses Inc., is leading an effort to restore the two houses. After restoration, they will become a museum and interpretive center for the history of midwives in Mississippi, the Civil Rights Movement and the Farish Street area. Scott Ford Houses Inc. is also gathering artifacts from the period in which Scott and Ford lived to put on display, Maberry told the Jackson Free Press.
The three students taking part in the art project are Tougaloo sophomore Tizon Matthews, Tougaloo freshman Xavier Carroll and JSU sophomore Lauren Scott.
The students' interpretive art project will feature portraits of the Scott Ford family and other black women who worked as midwives in the Farish Street neighborhood, along with paintings of midwives at work, Maberry says. The paintings will go on display inside the houses after the restoration is finished.
"When it comes to preserving African American history, especially in Farish, I want to do whatever I can to help," Maberry told the Jackson Free Press. "That district was the place for African Americans to visit doctors or go to the theater. It was the place to go for our culture. I was also delivered by a midwife myself and grew up in the '60s in Farish, so there is a deep connection to the Scott Ford Houses for me."
Alferdteen Harrison will be present at the announcement with Safiya Omar, chief of staff to Jackson Mayor Chokwe Lumumba, and Ward 7 Councilwoman Virgi Lindsay. For more information, call Harrison at 601-953-4060.
Millsaps Art Professor Giving Guest Lecture at USM
Kristen Tordella-Williams, an assistant professor of art at Millsaps College, will give a visiting artist lecture at the University of Southern Mississippi on Friday, Nov. 16, at 5 p.m. in USM's 3D Arts Building. Her lecture is in conjunction with the outdoor sculpture exhibition, which the university hosts every two years. This year's exhibition features four sculptures from artists around the U.S. and will remain on display until March 2020.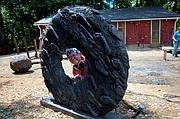 Tordella-Williams' sculpture for the exhibition, "Eudora Welty Wreath," is made of cast iron and features castings of handprints that the artist got from patrons of the Eudora Welty Library in Jackson, as well as cast-off books from a sale at the library.
"The Eudora Welty Library is Jackson's flagship library and an important gathering place in Jackson for people of all ages and backgrounds," Tordella-Williams says. "I was able to get a wide variety of handprints for the project, and each one represents the person it's from, their labor and what they've been through in their lives. I also got to meet and chat with the people who volunteered about my passion for sculpture and involve them in the creative process, which let me make them feel special in my own way."
To make the sculpture, she collected library patrons' handprints and made plaster molds of them in spring 2016. She then arranged the plaster handprints and books on a wooden frame, and brought it to a foundry at Sculpture Trails Outdoor Museum in Salisbury, Ind., where she made a hollow mold of the wreath's entire structure and then filled it with molten iron.
Tordella-Williams' lecture will take place after the semester iron pour, which starts at 10 a.m. and runs throughout the day. The iron pour features students pouring molten iron into molds made prior to the event. The iron pour is free to observe, and visitors can purchase a scratch block for $15, which allows them to make a design for an iron tile to be poured at the event.
"My lecture will be on different iron castings I've made and my process for making them," Tordella-Williams says. "The lecture series is part of being an artist and a part of sharing your work with the public. It's a great way to garner interest in the work you do among students and talk with them."
Tordella-Williams teaches drawing, digital arts, sculpture, performance art and papermaking at Millsaps, and has been on the faculty there since 2013. She is also a member of the Mid-South Sculpture Alliance and is one of the founders of the annual VergeJXN arts festival in Jackson.
Miss USM Pageant Takes Place in Hattiesburg
The annual Miss University of Southern Mississippi Pageant will be on Saturday, Nov. 10, at USM's Mannoni Performing Arts Center on the Hattiesburg campus. The pageant is a qualifying event for the Miss Mississippi Pageant, which will take place in Vicksburg on June 19, 2019.
Miss Mississippi 2015 Hannah Roberts Badon and Mike McDaniel of WDAM-TV will be the masters of ceremonies for the event. The pageant will also include performances from The Southern BelleTones and Spirit of Southern, the university's two a cappella ensembles, as well as Miss USM 2018 winner Macy Mitchell.
The Miss USM pageant contestants for this year are Madalyn Oglesby, a freshman from Brookhaven, Miss.; Katelyn Brown, a junior from Richton, Miss.; Kylie Hungerford, a junior from Ocean Springs, Miss.; Macken'z Smith, a senior from Philadelphia, Miss.; and Felicity Slater, a sophomore from Lucedale, Miss.
The doors open at 5 p.m., and the pageant will begin at 6:30 p.m. Admission is $5 for USM students with identification and $7 for nonstudents. For more information, email the Southern Miss Dean of Students Office at [email protected].
Support our reporting -- Follow the MFP.