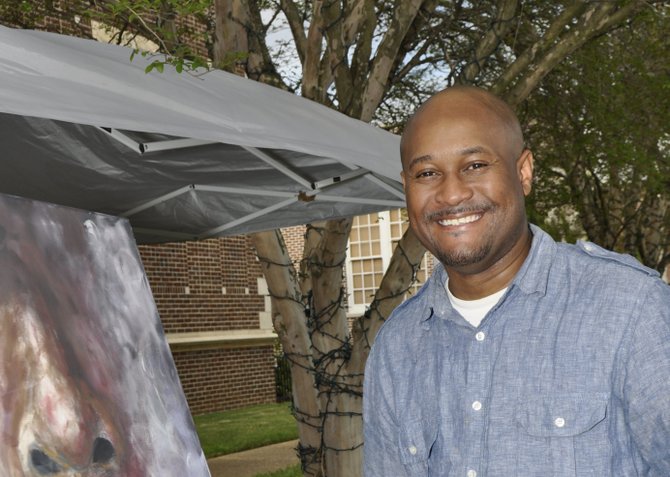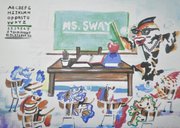 Samuel Jalapeno-Pepperoni Finn is a fish—a beta, to be exact—and he's about to start his first day at the Crystal Coral Fins Academy. Sam is the star in Shaydrienne N. Calvin's book, "The Adventures of Samuel Finn: Fish School is Cool" (Trafford Publishing, 2013, $21.88).
Illustrating Calvin's whimsical tale was a first for Tony Davenport, a Jackson artist best known for his colorful portrayals of Mississippi's African American musicians, dancers and everyday people. His paintings often depict church life and scenes of downtown Jackson.
Davenport, 37, is also an educator. He has taught art since graduating from Jackson State University in 2002 with a degree in fine art, and teaches in Jackson Public Schools. Since 2012, Davenport has been an artist-in-residence at the Mississippi Children's Museum and an instructor for the 21st Century Summer Program at Wingfield High School.
He has seen art open his students' worlds and give them the freedom of honest self-expression. "You can learn a lot from kids," he says. "You learn a lot about yourself."
Illustrating "The Adventures of Samuel Finn" took Davenport back to his roots of drawing and family. He discovered that Calvin is his cousin. They both attended Vicksburg High School, and Calvin reached out because she remembered him as the guy who was always doing art around school. "She looked me up on Facebook," Davenport says.
The project, which took more than a year to complete, allowed him to explore new mediums and forms. Instead of people, he was drawing fish. And while he uses oil and acrylic paints for his canvases, the illustrations incorporate tempura paints, colored pencils and pastels. "I used a mixture of some of everything," Davenport says of the process, which he characterized as an evolution. "It gives it a different dimension."
The book also had Davenport working as a collaborator. Painting, he says, is a usually a solitary endeavor: his concepts and execution come from within. But Davenport gave the lead to Calvin to bring her vision to life.
"The characters have to be in sync with what she wants," Davenport says. "The essence of that character, I had to draw them to fit their personality. ... She knew what she wanted." Calvin sent Davenport photos of the different types of fish in the book, and he provided drafts until they satisfied Calvin. It was fun, he says, but demanding.
"That was a lot of drawing and redrawing," Davenport says. "How do you like this? How do you like that?" he remembers asking about her many characters, including a petite orange frog with green spots and swooping lashes.
"Initially, she was brownish," and big, he says of Afrika Dwarf. "I had one that was yellow."
Though Davenport's teaching career has focused on middle-school kids and some high school, he drew on his experience with children to provide the engaging illustrations for Calvin's book, which she wrote for kindergarteners and first graders, aged 5 and 6. "They're going through the transition of not being around mom and dad all day, every day," Davenport says, but even older kids are still in the process of learning social skills and communicating. They're also learning to accept each other's differences.
"There are a lot of Samuel Finns out there," he says.
Davenport expects to start work soon on a second Samuel Finn book, which he is anticipating with a mixture of excitement and trepidation. "These books are tough," he says. Other illustrators have told him that it's never easy. "If you're working with a writer, you want to meet their expectations. ... I had to step outside of a comfort zone to do this. You're dealing with a character that is not 'your' character."
Davenport says he typically has many canvasses in different stages of completion, which he attributes to his short attention span. Recently, he's started to paint on site during events and using the outdoor "plein air" method, which is a favorite of Wyatt Waters, one of Davenport's inspirations.
"I'm never bored," he says. "It keeps me active as an artist; it keeps me loose."
For more information, visit tonydavenportimages.com, and the Samuel Finn Facebook page. "The Adventures of Samuel Finn" is available on Amazon in paperback and Kindle formats. You can also order from Lemuria Books.
More like this story
More stories by this author
Like independent media outlets around the world, the Jackson Free Press works hard to produce important content on a limited budget. We'd love your help! Become a JFP VIP member today and/or donate to our journalism fund. Thanks for considering a JFP VIP membership or one-time support.