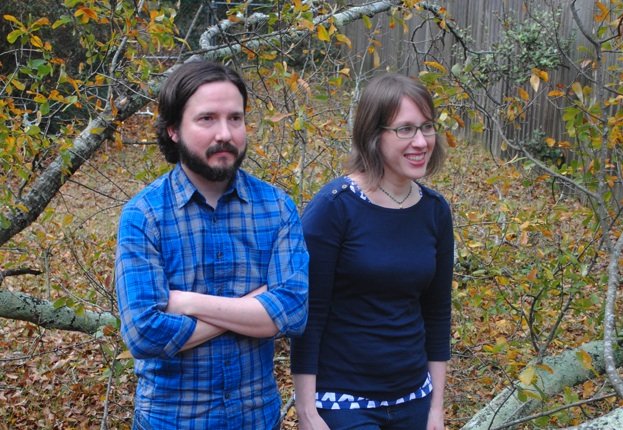 While the domestic life may seem like it has no place for rock 'n' roll, Gordon and Joy Garretson dig into their experiences as a couple and as parents to create memorable music. The Jackson couple performs together as The Delicate Cycle, a band that brings together Joy's folk sensibilities with Gordon's indie-rock roots. After recording their own music at home for several years, they released their self-titled debut album in early January.
Gordon is the primary instrumentalist for the duo, handling guitars, drums and bass on the recordings. Although he played music in high school while growing up in Jackson, Gordon did not become an active performing musician until he moved to Starkville in the early '90s to attend Mississippi State University. The city's lively music scene gave him the chance to play in a number of bands, including the Britpop-influenced Emma Peel as well as John Black Attack, a more indie rock-focused group. He credits much of his musical development to the inclusive environment in Starkville.
"It was not competitive (among bands)," Gordon says. "They all had very different styles of music, and everyone supported each other."
Joy plays guitar in The Delicate Cycle and is the group's main songwriter and vocalist. While growing up in a religious home in Birmingham, she had to keep her interest in contemporary music under wraps. Friends supplied her with tapes of The Beatles and other groups, but Joy couldn't be open with her fandom at home.
"My parents were not OK with that at all," she says about her love of pop music. "So I'd listen to things, but I had to pretend that I wasn't or just turn it down really low."
She took the folkie route when she started college at Mississippi State in 1999, performing at open-mic nights around town. Joy met Gordon in Starkville, and they began dating in 2002. While they played music informally together, they did not begin to seriously write songs and record them until after marrying in 2005 and moving to Jackson the following year.
The duo's creative process begins with Joy writing a song. Then Gordon works on it and expands the sound as they record at their home.
"After I get a certain amount down, I sort of let him make it sound different," she says. "It would be a folk song on acoustic guitar, and Gordon soups it up a bit."
Joy's voice is at the center of the songs on the new release. Her singing is unadorned but has a strong presence that brings to mind the focused vocals of The Breeders' Kim and Kelley Deal.
Gordon adds simple arpeggios and melody lines on guitar that intertwine with Joy's singing. They propel the songs, such as on the tracks "Biology" and "Little Blue Thing."
The couple is not afraid of brevity. While most of the tracks on the album are standard pop-song length, some clock in at less than two minutes. Joy believes that this is a result of how her songs naturally develop rather than a conscious strategy.
"If (a song) happens, and it's short, it's just short," she says. "If I have to strain to come up with some kind of bridge or chorus, then I just don't."
"The Delicate Cycle" is the first release on the Gorjus Rex record label, a project of Jackson artist and attorney David McCarty. Like Gordon, McCarty was active in Starkville's music scene during the '90s and wants to promote musicians who were part of it.
"It's that awesome Mississippi weirdness where you have people who create music and have been doing it for decades, but not enough people have heard it." he says. "... I'm focusing on finding things I really care about made by people whom I respect and love, and trying to get other people to listen to them."
McCarty also created the lettering and photography for "The Delicate Cycle" physical CD package. He includes unique handmade elements in each copy of the disc, such as notes, photographs and hand alterations to the cover. McCarty hopes that these additions will reinforce the spirit of the music.
"I think the songs have loving fingerprints all over them, and I want the physical package to be like that, too," he says.
In celebration of the release, The Delicate Cycle is planning live performances with its full band—Gordon and Joy plus bassist Bobby Anderson and drummer Woody Conwill.
To listen to, download or order copies of "The Delicate Cycle," visit delicatecycle.bandcamp.com and find the band on Facebook.
More stories by this author
Support our reporting -- Follow the MFP.