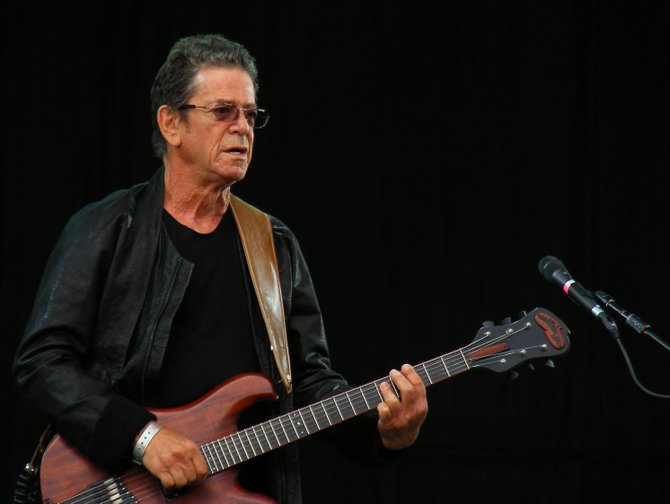 The late New York rocker Lou Reed and his street-wise songs might seem worlds away from music made in Mississippi, but many Jackson musicians cite the musician as an important influence. Following Reed's death last October at the age of 71, musicians around the world produced tribute performances. A number of Jackson artists and groups will get their chance to pay homage March 30 at "Perfect Day," a concert at Duling Hall celebrating Reed's music. More than a dozen performers will play songs from throughout the songwriter's nearly 50-year career.
The show is the brainchild of James Patterson and Ron Blaylock, two photographers who share a studio space in Fondren. After hearing about a Reed tribute concert in Knoxville, they began brainstorming a way to stage a similar show in Jackson. Patterson believes that Reed is the perfect artist to bring a variety of musicians together.
"Everybody's influenced by Lou Reed one way or the other," he says. "Either the pop side, the punk side, or another part of his music."
Reed's career took many unpredictable turns. His first major group, The Velvet Underground, was a seminal late '60s band that brought together avant-garde art concepts and rock. A 40-year solo career followed, which included forays into glam, noise rock, as well as straight-ahead rock 'n' roll.
Patterson remembers the ubiquity of Reed's early solo records. "I could have gone to any of my friends' houses in high school and found (Reed's) 'Transformer'," he says.
He floated the concept of the tribute show to some musicians, and the response was immediate. Several bands quickly agreed to perform and began picking songs. The show will feature multiple genres, including punk (Overnight Lows), progressive/psychedelica (MOSS) and garage rock (Used Goods, Los Buddies).
Songwriter Josh Little will explore Reed's years with The Velvet Underground at the show, performing "Jesus" from the group's third album. Little was heavily into punk music as a teen, but a box set of The Velvet Underground's albums locked in Reed as a strong influence.
"I saved up to buy it and just devoured it," Little says. "I studied it like it was a holy book or something."
Each artist will perform a short set, allowing the stage to turn over quickly. Blaylock, whose band Electric Hamhock is on the bill, feels that the brief performances will make the show more enjoyable for the musicians and the audience.
"It's nice to be able to do two or three songs and not have the pressure of pulling a whole show off," he says.
The Union Jackson, which includes veterans of several local bands, will make its debut at the concert. Bassist Jakob Clark says the group came together through a mutual love of British rock, but they also have deep respect for Reed's music. He remembers how, when he was a teenager and looking for a birthday present for his brother, one of his current bandmates, Denny Burkes, steered him to The Velvet Underground.
"I told him I wanted something '60s—but not bubblegummy or hippie—something avant-garde," Clark says. "He picked out (The Velvet Underground's) 'Loaded.' It was pretty typical of me to buy (my brother) a CD, pop it open, listen to it, then re-wrap it. I ended up going back and getting another copy. ... I liked it right away."
Josh Little echoes the excitement of his fellow participants on being part of the show, but he's also interested in hearing how each group will interpret Reed's music.
"I really like how diverse the show is going to be," he says. "The bands are going to make the songs their own. It's not going to be a Lou Reed cover show."
"Perfect Day: The Music of Lou Reed" is at 6 p.m. March 30 at Duling Hall (622 Duling Ave., 601-292-7999). Doors open at 5 p.m. Admission is $8 in advance and $10 at the door. Ticket holders under age 21 must pay a $3 surcharge at the door. Visit ardenland.net.
More stories by this author
Support our reporting -- Follow the MFP.