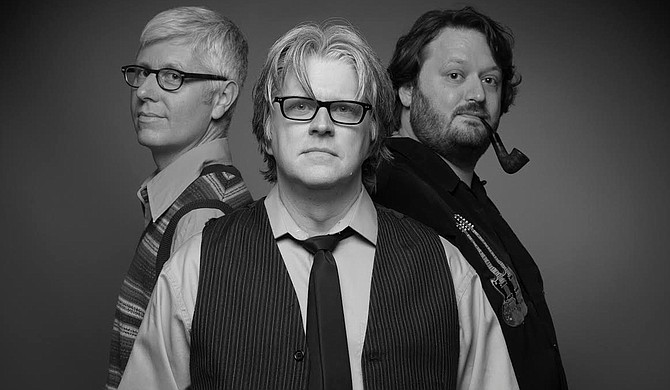 Steve Deaton went back to his musical roots for his newest record—roots wrapped around loud car stereos and ZZ Top on an eight-track tape. The Madison-based guitarist and singer applied his allegiance to the sounds of '70s FM rock radio to his latest project, the Steve Deaton Three. Along with his band mates, bassist Adam Perry and drummer Denny Burkes, Deaton displays a variety of styles on the group's self-titled album, which hits iTunes, Amazon and other digital retailers Wednesday, Nov. 18.
Deaton grew up in Decatur, Miss., in a musical household. Both his parents were musicians—his father, Alford, played guitar, and his mother, Barbara, played piano—and fans of country and southern gospel. They often took him to picking sessions out in the country.
When he showed an interest in the guitar in fifth grade, Deaton's father bought him a cheap Sears guitar and amp, telling his wife, "If he is serious enough (about playing) to realize that that guitar is terrible, by next year, I'll get him something else."
Deaton worked at learning the instrument and was soon playing a sturdy Peavey electric. He became interested in the rock world through his older brother, Phil, who had a job at Hooper's Sound, a stereo store in Meridian. Phil also invested in a quality stereo and a steady supply of Led Zeppelin and other rock records that Deaton coveted.
"I'm sure he got tired of me commandeering his stereo and record collection," Deaton says. "I spent more time in his room than I did in mine."
The guitarist played different styles of music over the years before forming the Steve Deaton Three with Burkes and Perry in May 2014, and the band's new record showcases a number of those, moving from chiming power pop to boogie rock to rockabilly. While all these styles on one record might seem like a lot for the modern era, Deaton recalls that you would hear many of them while listening to rock radio in the '70s.
"If you were listening to the radio in 1978, this record will make sense to you," he says. "There was a lot of variety on the radio then. I like records that have that variety. My favorite Beatles records are the ones that are all over the place."
Deaton singles out one specific '70s rocker for special tribute on the record. In the track "Derringer Lays It Down," he details the long career of Rick Derringer, who is best known for the classic-rock radio staple, "Rock and Roll, Hootchie Koo."
"I thought he needed a tribute," Deaton says. "To me, he's the epitome of '70s rock. He produced and played on so many records. He was just in the middle of it all. If you wanted rock guitar done right, you just called that guy."
The band members' work and family commitments will limit the number of out-of-town shows they can play to promote the record, so Deaton has been working on Internet promotion, connecting with the now worldwide network of music blogs and Internet-radio shows that focus on power pop. While he enjoys getting recognition for the work, the record has been a way for Deaton to expand his songwriting methods.
"I'm trying to go back and turn up the volume a bit but still keep the sound of those great rock records," he says. "The songs are so well put together. I'm still trying to improve and mature as a songwriter but get some of my rock 'n' roll demons out at the 
same time."
The Steve Deaton Three's record release party is at 7:30 p.m., Wednesday, Nov. 18, at 119 Gallery in Fondren (3017 N. State Street). For more information, visit stevedeatonthree.bandcamp.com.
More stories by this author
Support our reporting -- Follow the MFP.