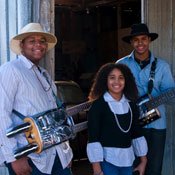 The drummer bobs her head as she keeps steady, brassy time, giving the cymbals a lot of love in just the right places. The bass player strums his six-string bass with an air of relaxed comfort, as if he could play the bass in his sleep. And the guitarist, casual in a T-shirt and jeans, plays his double-necked guitar with soul as he sings the blues about his "alcoholic woman."
I chuckle to myself. What does a 17-year-old know about having an alcoholic woman?
This Tupelo-based trio plays blues music as if they have been doing it their whole lives, and they nearly have. Homemade Jamz' Blues Band is guitarist Ryan Perry, 17, bassist Kyle Perry, 15, and drummer Taya Perry, 10. The group has been playing together for over four years.
Taya picked up the drums at age 7 after playing the tambourine for a year.
"I already had a little rhythm going," she explains.
When brothers Ryan and Kyle found themselves without a drummer, Taya boldly stepped in.
"I asked if I could play along, (and I) sat down and started playing," she says matter-of-factly. Taya says that formal training was not her style. "I took lessons for two months. … (They) were teaching the same thing over and over," she groans. She has been using her ear and her gut ever since. This becomes a recurring theme with each member of the band.
Kyle began playing bass at age 8. "My brother was playing the guitar, and I decided to join him," he says, making it sound as simple as joining a game of Go Fish. When it comes to songwriting, Kyle's bass grooves are often the starting point for a new tune. "I'll just be sitting around and hit on something, and my dad or my brother will say, 'Hey, keep that,' and (they) will join in," he explains. Proud patriarch of the family, Renaud Perry writes all the lyrics for the group's original songs.
Inspired by a trip to Clarksdale where he saw a guitar made out of a gas can, Renaud developed the unique guitars that have probably helped to make Homemade Jamz' famous. Like something out of a ZZ Top design book, both instruments are made from chrome-plated mufflers, complete with Ford emblems and twin tailpipes. The guitar straps are made from seatbelts, and while it is a cute trademark, the instruments have a great sound as well.
"I just started playing slide," Ryan says during a live performance last month at Steam Room Grille. But the audience can't tell the difference. Using the second guitar neck for slide, Ryan played effortlessly on the original tune he called "Bamboozle," a fun number with a raunchy, "Fat Bottom Girls"-esque beat.
The eldest member of the group, Ryan plays with the skill and old soul of blues legends like B.B. King and John Lee Hooker, adding his own personal flair into the mix with the energy that youth brings.
Ryan picked up the guitar as a hobby, "But then it became more exciting," he says with enthusiasm. He tried lessons for six months, but the classical style that is typically taught to beginners was not for him. "All you need are a few good musician friends to show you the ropes," he says. His father and other family friends taught him what he needed to know to take off on his own.
The group has gained international fame in the few short years they have been playing together, appearing on late-night television shows and performing at blues festivals around the world. Each band member agrees that their favorite "perk" so far about being in the band has been traveling to Europe. "Europeans appreciate music so much more," Ryan says. Homemade Jamz has traveled to Holland, Norway, Switzerland and Romania where, believe it or not, blues lovers abound.
Because of their hectic schedules, the three siblings are home-schooled and see their friends whenever they get free time at home. "We can take school on the road with us," Taya says.
Since these musicians are young with their whole lives ahead of them, I had to ask what they hope for in the future. The group was unanimous in wanting to stay together as a band.
"I hope to be still playing the blues," Kyle says. "I hope for this to go as far as it wants to go, to be up there with the big blues-rock artists. I love traveling, seeing and trying new things," Ryan says.
Finally, reminding me that these talented musicians are still children, Taya says: "Hopefully, I will still be in (this) band, but if not, maybe in another band. (And) if I gave up, I would be an animal doctor."
Look for Homemade Jamz on MySpace at http://www.myspace.com/homemadejamzbluesband or at their Web site, http://www.hmjamzbluesband.com.
More stories by this author
Support our reporting -- Follow the MFP.