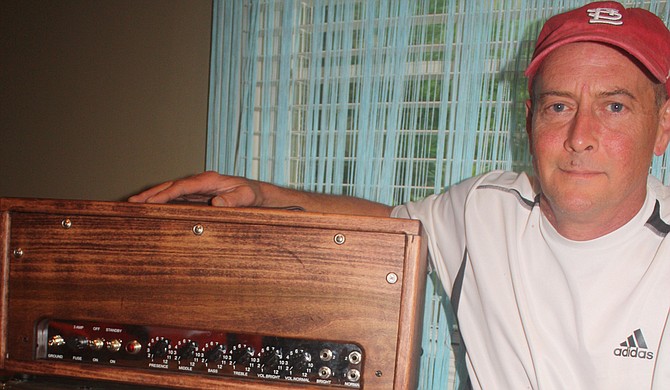 Bob Bratton went looking for a sound, but he ended up creating it himself. The Madison resident has been building custom guitar amplifiers for the past year, but has only sold them under the moniker C2 Guitar Amps since March.
The idea came about five years ago, when Bratton, who has played guitar for a decade, began looking for a new amp. A fan of classic blues and rock, he wanted to find a tube amp—a vintage-style amplifier with a series of vacuum tubes in its circuitry, which many blues and rock legends have used.
"You get a cleaner tone out of an all-tube amp. It's just so smooth," he says. "Once you get one overdriving, it's just fantastic—a gritty, growly sound."
Bratton soon found that most of the amps that he could afford did not measure up.
"I started looking for a tube amp, but nothing really struck my fancy. I bought and sold them and never could find what I liked," he says. "So I decided to build one myself."
Unlike some do-it-yourselfers, Bratton has the professional experience to take on this type of project. He has worked in aircraft maintenance for the Air National Guard for more than 30 years, giving him a solid understanding of electronics. Before working for the Guard, he spent several years doing trim work in home construction and other carpentry work.
Bratton starts a project by picking a classic amp sound that he wants to emulate. He finds circuitry plans for older models online and uses them to order the parts and lay out the circuit. Bratton starts with a blank circuit board, then attaches the different parts, carefully soldering them together. He also makes small modifications to the circuit to make the sound of his amps distinctive.
While the circuitry in his amps is based on that of classic amplifiers, though, Bratton doesn't stick with the past when designing the cabinets. He wants them to blend into a living space.
"When I started, I really wanted to make something that could fit on a bookshelf or in the family room and not stand out like a sore thumb," he says. "I wanted it to look like it belonged there, like a piece of old furniture."
Rather than covering his cabinets with the rough, black vinyl that most amp manufacturers use, Bratton leaves the wood exposed. He stains them and seals the cabinets with coats of lacquer. The craftsman finishes off his amps with a grill cloth (the cover that protects the speaker) made from burlap, a call-back to his family's roots as cotton farmers in the Mississippi Delta.
While Bratton hasn't sold many amps thus far, he's currently planning on placing some of his products in local music shops. He would especially like to connect with active musicians and have his amps be used in local clubs.
"If somebody has an amp in mind that they can't find or something they've dreamed up, I'll put anything in the world together for them," he says. "I want to get them into players' hands who will use them, abuse them and enjoy them."
For more information, call 601-238-5205 or find C2 Guitar Amps on Facebook.
More stories by this author
Support our reporting -- Follow the MFP.