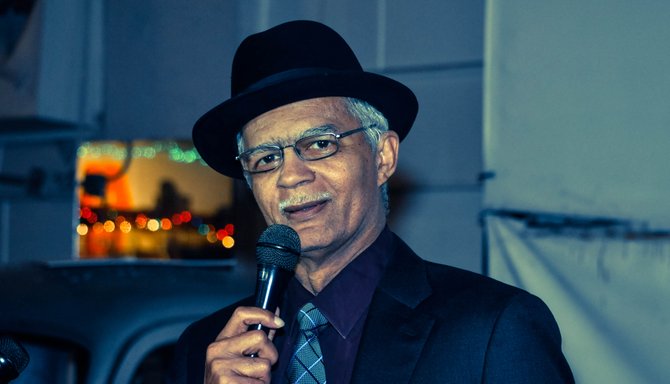 Jackson Mayor Chokwe Lumumba had plenty of reasons to be happy when he took to the podium at The Room Tuesday night—700,000 reasons, to be exact.
Fresh off a landslide win for the local-option sales tax he had pitched for two months—arguably his most ambitious move since taking over the reins at City Hall in July—Lumumba called the vote a win for all Jacksonians.
"This isn't a victory for one politician or one candidate," he said. "This is a victory for the people."
That may be true, but it's also a big win for Lumumba, who leveraged the goodwill he generated with his mayoral victory to add $700,000 in new revenue to the city's budget since he came into office through sewer and water rate hikes and Tuesday's referendum.
With it, he said, the city can leverage the new funds to rebuild the infrastructure of the city and set the table for the construction of a new economic structure.
"We call it the new economic frontier; that's an infrastructure frontier that we're building in order to expand our economy and give people more jobs," Lumumba said. "We want to create more homeowners, create more businesses. It's what we're about in Jackson. We're going to set an example for the rest of Mississippi, the rest of the country and, if necessary, the rest of the world."
And it wasn't just the fact that the measure won at the poll; it was how it passed, with a resounding "yes" from Jacksonians.
While not official, the final numbers available at press time tell the story: 14,388 votes for, 1,581 against—a 90.1-9.9 percent split in favor with 86 of 89 precincts reporting.
That turnout may seem low—only 15,990 of Jackson's 108,957 registered voters came out—but proponents of the tax say it was higher than expected without a candidate of any kind on the ballot.
"At one time, we thought, because it wasn't a candidate selection, we thought it was going to be a light election," Greater Jackson Chamber Partnership President Duane O'Neill said. "Then when we started seeing the numbers come in this afternoon, we realized it was a pretty heavy vote. It shows the people knew what was on the ballot, and they were interested, and they want to see this community be a better place to live, with better water and better streets, and that's what they're going to have."
Starting today, the next goal is for O'Neill, the city leadership and state figureheads to come to a consensus on the members of a 10-member committee that will oversee the disbursement of the funds, which the city will start collecting two months from Tuesday, on or around March 14.
Lumumba said he'd like to see the commission in place within 30 days.
O'Neill, in his capacity as head of the chamber, must appoint four members to the commission. Lumumba will appoint three members, and Gov. Phil Bryant, Lt. Gov. Tate Reeves and Speaker of the House Phil Gunn will each appoint one member, although Gunn's selection will not have voting power.
The GJCP has had time to prepare, O'Neill said, adding that he believes having the commission in place in the next month shouldn't be a problem.
"I'm confident. So far, the mayor and ourselves have had great working relationships. I know there will be some compromises along the way. We hopefully will continue that spirit of cooperation and answer any questions that come along. We're just looking for folks who are willing to serve on an oversight committee who know they are going to need to really watch where the money goes."
More stories by this author
Support our reporting -- Follow the MFP.