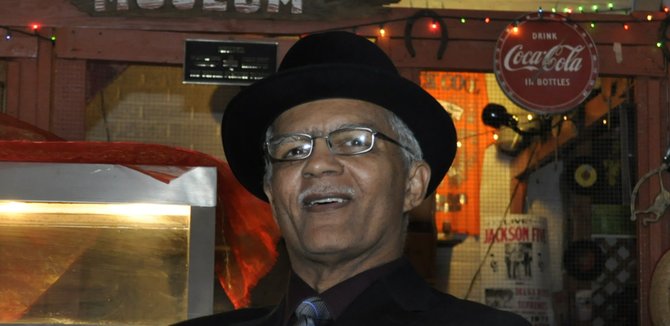 The topic was forming cooperatives when community leaders met with Jackson citizens Thursday night at the Jackson Roadmap to Health Equity center on Livingston Road. The meeting was the opening salvo in Mayor Chokwe Lumumba's plan to empower the people of Jackson to create a grassroots cooperative economy in the city.
Jackson Rising organizer Iya' Falola H. Omobola began the meeting, attended by roughly 40 to 50 people, by admitting that economics isn't the most exciting subject.
"I came to Jackson on a whim, and I fell in love with the city. Why? Because there is so much potential that is here," she said. "There are so many phenomenal people here. There's so much work that has been continually done in Jackson."
Omobola indicated that by forming cooperative businesses, Jacksonians can become part of a fundamental shift in the city's revitalization—not one driven by big businesses and big developers, but by people pooling talent and resources, and networking to build a stable, bottom-up economy.
"We are looking at a model that is going to set a new motion and direction for Jackson," she said.
The audience attentively watched three videos highlighting successful cooperatives across the country to understand what she was talking about. The first was about the Evergreen Cooperatives in Cleveland, Ohio, where Omobola once lived.
"Cleveland's Evergreen Cooperatives have emerged as a beacon of hope for civic leaders around the country searching for grassroots solutions to the crisis of poverty and hopelessness that has taken down their inner cities," wrote the Greenwich, Conn., based Capital Institute in a case study on the profitable and self-sustaining organization.
Evergreen organizers stressed that offering tax incentives for businesses to open shop does little to stabilize communities. When the incentives disappear, the businesses frequently look to relocate. Cooperatives, on the other hand, which are employee-owned, stick with their cities because the owners live, work and shop there, keeping important assets circulating in the local economy.
One of Evergreen's businesses is a large commercial laundry with 21 motivated employee-owners. The coop provides job training in all facets of running a successful business, including finances and marketing, and everyone rotates between jobs to learn the operations.
"It's not just a job," one employee said. "It's not just a paycheck."
WAGES—Women's Action to Gain Economic Security—based in Oakland, Calif., provides housekeepers stability and security in a historically unstable field. The coop members can count on living wages, skills development and benefits that include adequate time off to care for their families without fearing a loss of income.
"It might not make us rich, but it will make us independent," said a Spanish-speaking WAGES member.
Equal Exchange, with locations in Massachusetts and Oregon, partners with small farmers worldwide to sell fair-trade coffees, teas, chocolates, bananas and other foodstuffs. Its business model is proving that business can thrive and still have a strong social mission and conscience. Like other cooperatives, Equal Exchange employee-owners each have one vote in business decisions, but that doesn't mean individual owners always get their own way. What they do have is "skin in the game," as one member put it.
"Our company won't be sold out from under us," another said.
Audience members offered several ideas for the types of cooperatives Jacksonians could start, from food production and housing to bicycle repair and rentals. A financial cooperative offering affordable alternatives to corporate banking is key, attendees acknowledged, because business startups will need cash and banking services.
Three panelists also offered their perspectives on cooperatives. Melbah Smith, director of the Coalition for a Prosperous Mississippi, has worked for years to change Mississippi's laws concerning cooperatives. Currently, the state allows only agriculture cooperatives.
State Sen. John Horhn, D-Jackson, sponsored a bill to expand the definition of co-ops in Mississippi this year, but Smith has been pushing for a version of SB 2231 for several years with disappointing results, so far. She didn't express much hope for the bill's passage this session, but she vowed to keep up the fight.
"We're battling against unknown people," Smith said.
Derrick Johnson, president of the Mississippi NAACP and an attorney, offered that cooperatives could simply be partnerships from a legal standpoint. He also pointed out that Mississippi already has numerous utility cooperatives, including electric companies and rural water associations.
"Any group of people can have a partnership," Johnson said.
Monique Davis owned Lumpkins BBQ on Raymond Road with her husband, Melvin. She suggested a feasibility study to determine what it would take to get the people engaged and invested in a cooperative movement. Any business opening in Jackson will have challenges, she said, including location, perception, crime and isolation from the surrounding community. It takes commitment to work through tough spots.
"It's not going to come out of air," she said. "... We don't tolerate inconvenience well. We need to toughen up a little bit."
Johnson emphasized that the cooperative model is familiar, but could offer a viable alternative to the economics that have decimated cities such as Jackson in the past.
"For those who are interested in doing something different, this is the opportunity," he said.
"Jackson Rising: The New Economies Summit" is scheduled for May 2-4 at Jackson State University. Email [email protected] for information.
2/6/2014. This story reflects a correction. A previous version suggested that Rainbow Co-op is an example of an agricultural cooperative allowable under existing state law. Rainbow is not organized as an agricultural cooperative; it was incorporated as a consumer cooperative in Wisconsin and is permitted to conduct business in Mississippi by the state secretary of state.
More stories by this author
Support our reporting -- Follow the MFP.