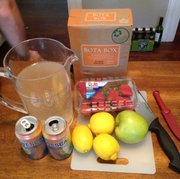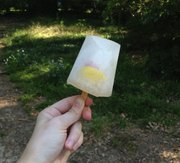 For a thirsty 5 -year-old, a popsicle is more precious than gold. As we get older, we sometimes forget the simple magic they hold, though. This summer, rediscover your inner 5-year-old by pairing an adult favorite, Sangria, with that childhood standby, the popsicle.
Sangria is a great hot weather beverage, because it is endlessly customizable. You can add virtually any fruit combination, switch out the soda for another flavor or even add vodka for a more potent popsicle. I kept half of my batch in the fridge to drink and made popsicles out of the rest.
Don't worry about using expensive wine for this--as it sits, it will mellow regardless of the price point.
Sangria Popsicles
Ingredients
1 ½ to 2 bottles of white wine
2 to 3 cans of peach soda
1 large Granny Smith apple
2 lemons
8 to 10 strawberries
Pour the wine and soda into a large container. Slice the fruit and add to the liquid, then refrigerate for at least an hour (and up to 24 hours) to allow the flavors to marry. Pour the Sangria into small cups or popsicle molds, and add a few fruit bits to each. Insert popsicle sticks and freeze.
Note: After the mixture has turned slushy, stir it to re-mix and continue to freeze until hard. This helps reintegrate the alcohol, which begins to separate during freezing. Otherwise, you will end up with parts that are watery and parts with high alcohol burn.
Serves 10-15 depending on size of popsicles.
More stories by this author
Support our reporting -- Follow the MFP.