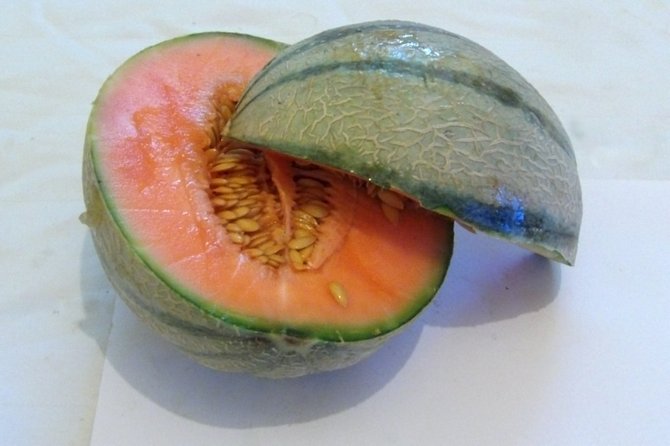 With cantaloupes in season in Mississippi June through September, you will find them a frequent feature as a produce sale item and prime for selection. This recipe for cantaloupe bread is a perfect and unexpected use of everyone's favorite melon, but has an understated taste more reminiscent of apple. Much like ripe bananas, cantaloupe adds flavor and moisture while replacing fat in this sweet, spicy, fruity bread—but no one will believe it's cantaloupe.
Buy your melons while on sale and in season, then puree and freeze in pre-portioned bags to make cantaloupe bread year-round. Additionally, the bread itself freezes well. It's one of my 7-year-old's favorite sweets, so I cut it into thick slices and freeze individually in snack bags. This makes for a quick snack or dessert to toss into his lunch bag straight from the freezer. It's thawed by snack or lunchtime, and helps keep his lunch cool, too!
Healthy and Light
Canteloupes are a great healthy summer snack. Here are a few of the vitamins and minerals you're getting when you add the sweet melon to your plate.
• Folate—a water-soluable B-vitamin micronutrient that maintain's the body's cells
• Carotenoids—a yellow, orange or reddish pigment that can decrease risk of cardiovascular disease and improve proper eye function
• Vitamin C—a vitamin and antioxident that helps tissues grow and repair, as well as helps prevent early aging
• Potassium—an electrolyte that conducts electricity within the body and is essential for gastrointestinal function
Source: livestrong.com
Cantaloupe Bread
Ingredients
3 eggs
1/4 cup vegetable oil
2 cups white sugar
1 tablespoon vanilla extract
2 and 3/4 cups cantaloupe, peeled, seeded and pureed*
3 cups all-purpose flour
1 teaspoon salt
1 teaspoon baking soda
3/4 teaspoon baking powder
2 teaspoons ground cinnamon
1/2 teaspoon ground ginger
*Extra cantaloupe puree replaces more fattening oil in this recipe, but you can also substitute applesauce for up to 3/4 cup of the cantaloupe puree.
Preheat oven to 325 degrees Farenheit. Lightly grease and flour two 9-inch by 5-inch bread pans.
Beat together eggs, oil, sugar, vanilla and cantaloupe in a large bowl. In a separate bowl, combine flour, salt, baking soda, baking powder, cinnamon and ginger.
Gradually stir flour mixture into cantaloupe mixture. Pour batter into prepared pans.
Bake for one hour, or until toothpick inserted into the center of a loaf comes out clean. Cool on wire racks.
Support our reporting -- Follow the MFP.