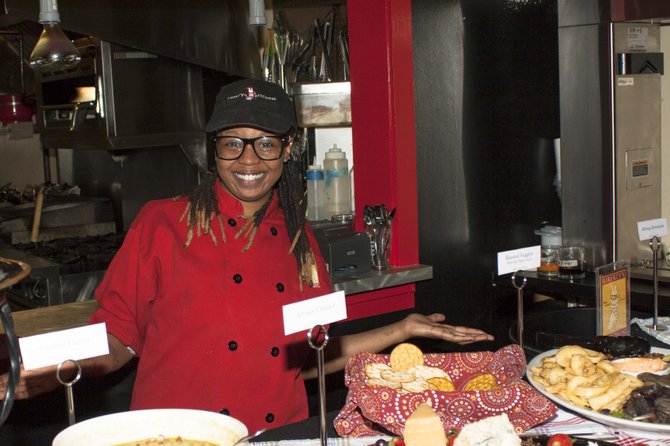 Syrena Johnson never thought anyone evaluating scholarship applicants would even give her a second look. That all changed in the summer of 2011, though, when the New Orleans native received the first-ever Chefs Move! Culinary Scholarship.
The scholarship paid for room and board, a laptop and 9 months at the International Culinary Center in New York City, where Johnson learned from some of the greatest chefs in the world. While in New Orleans, she also trained under chef and TV personality John Besh.
"It sounded too good to be true," Johnson told a crowd at Underground 119 March 3.
Johnson, 22, owes the scholarship to the people at Liberty's Kitchen, she said, and she's paying every bit of it back. A non-profit organization, Liberty's Kitchen takes in at-risk youth in New Orleans, and puts them through a 12-to-15-week program that teaches them life skills and the ins and outs of running a restaurant. It also provides employment assistance after they graduate.
The educational process includes running a cafe, providing fresh, from-scratch lunches to 1,000 public-school children five days a week, catering events and in-class instruction. If participants haven't already earned a high-school diploma, the program provides tutoring to help them earn a GED.
In 2010, Johnson was one of those young people. She entered the Liberty's Kitchen Youth Development Program with some kitchen experience, and competed the program in just seven weeks. After graduation, Liberty's Kitchen hired Johnson to work on the school-lunch program. She was working there when Liberty's Kitchen directors pushed her to apply for the Chefs Move! Scholarship.
"I was just like, 'Nah--I couldn't possibly win that," Johnson said. "Everybody from Liberty's Kitchen was like, 'Come, Syrena, you really have to do this. You have a chance."
Johnson applied. She didn't really believe she had a chance until she made it to the second round of the selection process. One round and an interview with Besh later, Johnson had a scholarship to one of the best culinary schools in the country.
Now Johnson is back at Liberty's Kitchen as an instructor, providing the same education she received to other New Orleans' young people.
Though she is a success story of Liberty's Kitchen, she certainly isn't the only one. Liberty's Kitchen started in July 2009 with just two students. Since then, the school has served 200 students out of an applicant pool of more than 800.
Janet Davas, co-founder and director of Liberty's Kitchen, said that the organization is not satisfied. That's why Liberty's Kitchen is raising funds to move from its current 1,800-square-foot location into a brand-new 10,000-square-foot facility where they will be able to provide vital education and skills to more at-risk youth in New Orleans.
Sunday night, they hosted a gathering at Underground 119 to help raise awareness of Liberty's Kitchen and gauge response to opening a branch in Jackson. Representatives from Liberty's Kitchen, including Davas, Johnson, Chef Alec Gibson, Program Manager Dennis Bagneris, as well as current students attended and shared Liberty's Kitchen stories with the crowd.
Organizer Susan McAllister said the response was great, as several attendees offered to do whatever they could to help bring Liberty's Kitchen to Jackson.
Liberty's Kitchen generates 55 percent to 60 percent of its income through its cafe and catering jobs, Davas said. The rest comes from government grants and donations. The W.K. Kellogg Foundation, which has a regional office in Jackson, is the organization's biggest supporter, Davas said.
In November 2010, while Johnson was applying for the opportunity of a lifetime, a Jackson native was helping change the fate of Liberty's Kitchen in his death.
Wynn McAllister, a culinary student, told his mother, Susan, that he wanted to move to New Orleans and teach cooking skills to teens after he finished school. That's when Susan told him about Liberty's Kitchen, a place she'd heard of about a month earlier that was doing exactly what he wanted to do.
Four weeks later, a Toyota 4Runner crashed into the driver's door of Wynn's green Toyota Camry just outside Starkville. Police announced Wynn McAllister dead on the scene.
Susan and Sam, Wynn's brother, asked family and friends to donate to Liberty's Kitchen in Wynn's honor. The donations quickly piled up, funding several new appliances for Liberty's Kitchen, including a cooler that bears a plaque with Wynn's name.
Susan and Sam have worked with the organization ever since.
Davas said Liberty's Kitchen is focused on expansion in New Orleans, but hinted that a Jackson project is already in the works.
"We have been approached about a specific project in Jackson. I'm not at liberty, yet, to say what it is, but we're very interested in being able to do that," Davas said.
Comment at www.jfp.ms. Email Jacob D. Fuller at [email protected]
Correction March 7, 10 a.m.: An earlier version of this story stated that Johnson spent 13 months at the French Culinary Institute in New York. The program totaled 9 months, over a 12-month period. She studied at the International Culinary Center, which Dorothy Cann Hamilton founded under the name French Culinary Institute in 1984. We apologize for the errors.
More stories by this author
Support our reporting -- Follow the MFP.