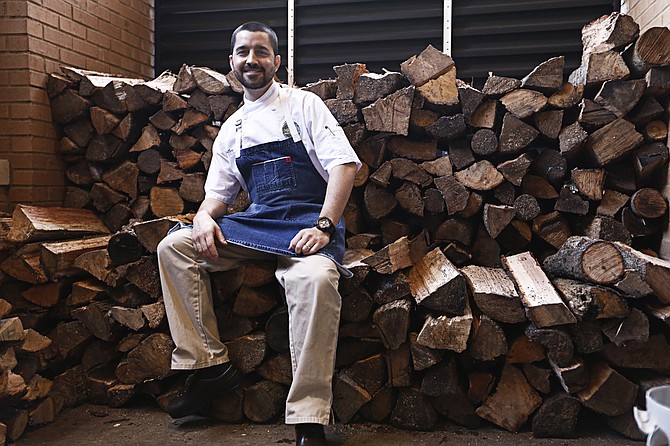 Local chef Alex Eaton, who co-owns The Manship Wood Fired Kitchen, will compete on Aug. 6 in New Orleans in the Great American Seafood Cook-Off.
Eaton graduated from Mississippi State University with a bachelor's degree in business administration in 2007. At the age of 21, he helped open a pizzeria in Boulder, Colo., and says, "That's when I knew I wanted to be a chef." Eaton then attended a culinary program at Johnson and Wales University in North Carolina. After earning his associate's degree in culinary arts in 2009, Eaton traveled the United States to perfect his craft at different restaurants. He came to Jackson in 2011 and opened The Manship in 2013.
Before the Great American Seafood Cook-Off, Eaton competed in the Mississippi Seafood Cook-Off in Gulfport. There, 10 chefs from around the state vied for the crown, cooking six dishes within a limited time frame. Eaton won and is now going to represent Mississippi in the national competition. Jackson Free Press recently spoke with him over the phone to talk inspiration, seafood and strategy before the cook-off in New Orleans.
How did your mentor, Chef Ramon Taimaglo, inspire you?
Coming from Jackson, I went to Jackson Prep, then I went to Mississippi State. I was a punk kid that was basically treating my cooking career like a summer job. When (Ramon Taimaglo) hired me (at Jim Noble's Roosters Wood fire Kitchen), he told me if I had a good attitude, he could teach me how to cook. One day, I tried to call into work, and I was waiting on him to respond to the text, when the huge text comes in that said, "You need to respect the craft of cooking. This isn't a summer job, and if you can't respect your craft, you need to get the hell out." Ever since then, I looked at it completely different and watched how he treated people and how he dealt with farmers. That had a lot to do with who I am today.
What is the hardest thing about your job?
A lot of people think being a chef is about just sitting here cooking, but you are wearing every kind of hat imaginable. You are a psychiatrist, you're a mathematician, a community organizer, and you do a lot of philanthropy work. You have to be a husband and a father, and unfortunately, (my restaurant is open) from (6 a.m. to 10 p.m.), which gives me just over (16) hours worth of problems that can happen throughout the day.
Are you teaching your son how to cook yet?
Yes. (He has) a little stool that he can use to stand and watch while I cook, and he has a kitchen that he plays with. But I am definitely not going to push him to become a chef because it's really tough work, and it's a lot of hours with low wages. Very few people make it to where they are happy not making a lot of money.
What advice would you give to any aspiring chefs who want to break into the culinary industry?
Be prepared to sacrifice a lot. You have to plan to work in restaurants while you're in school and have a plan of where you want to end up. You need to put your head down and work hard to achieve that final goal. It is a long ride.
What is your strategy for the seafood cook-off in August?
Were going to go at it the same way that we did the last one in Mississippi and do things that we do in the restaurant. We are doing a trio of shrimp, which are three different types of shrimp from regions that I have either cooked in or lived in. A Mediterranean shrimp, a barbecue shrimp from New Orleans and a little (royal) red shrimp.
Which of the other chefs do you think is your biggest competition?
Any of the Southern states are my competition, even though we are competing against people from Alaska all the way to Maine. I feel like any of the Southern states are the hottest thing going right now.
For more information on Great American Seafood Cook-Off, visit greatamericanseafoodcookoff.com.
UPDATE: Alex Eaton was crowned King of Seafood at this year's Great American Seafood Cook-Off.
Support our reporting -- Follow the MFP.