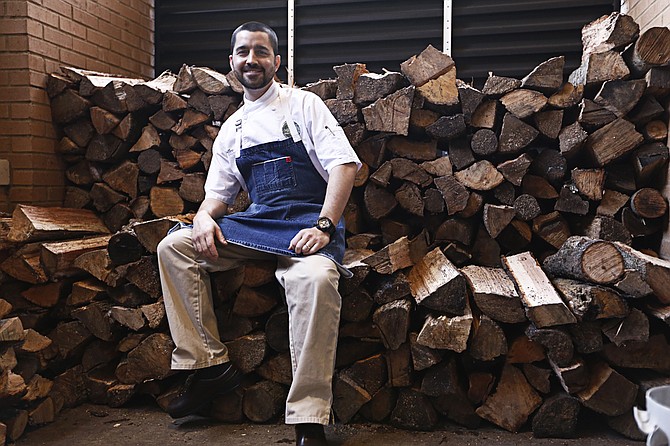 JACKSON — Alex Eaton, executive chef at The Manship Wood Fired Kitchen (1200 N. State St., Suite 100), won the Great American Seafood Cook-Off, held in New Orleans on Aug. 6. To earn entrance into the competition, Eaton first won the Mississippi Seafood Cook-Off in Gulfport, where 10 chefs from around the state cooked six dishes within a limited time frame. For the national competition, Eaton competed against 11 chefs from across the United States, but this time, each chef was only required to cook one dish. Eaton, however, won the New Orleans contest by preparing three separate dishes in the time he had available.
"It came down to the wire, and I almost didn't finish, but in the end, I managed to pull it all together and win it with a trio of shrimp dishes that each highlighted a different type of shrimp found in the gulf," Eaton told the Jackson Free Press. "I did a French-style royal red shrimp dish, a New Orleans-style barbecue gulf white shrimp dish and a Spanish Serrano wrap with gulf white shrimp and an artichoke topping."
On the Friday before the competition, Eaton and the other participating chefs attended a party that Lt. Gov. Tate Reeves hosted, during which they all drew numbers to determine the order in which the judges would taste their dishes. Eaton drew No. 9, meaning his entries were among the last to be tasted. The judges at the contest included Jamie Adams, an Atlanta chef who has made a number of appearances on the Food Network; Jennifer Cole-Ruiz, who has competed in and won the Food Network series "Chopped;" Emmy Award-winning food reporter Jason Derusha; Steve Green, a food writer and founder of social-media company Foodiechats; Disneyland Executive Chef John State; and Brian West, head chef at Smoke restaurant in San Antonio.
Chef John Munday of Samantha's Tap Room and Wood Grill in Little Rock, Ark., was the runner-up. Chef Peter McCarthy of EVOO in Cambridge, Mass., was the third-place winner.
Eaton said the amount of attention he has garnered over the past few days from his win has been quite surprising.
"I've been getting calls from all over ever since I got back, and it's honestly been a little overwhelming because I'm not really used to that kind of attention," he said. "I didn't try to do too much for the competition, just three to four components to each dish and sticking to what I do at The Manship. That, more than anything, is what helped me win—just sticking to my own style."
Eaton will now go on to compete in the World Seafood Championship this November in Orange Beach, Ala. The competition will feature 50 of the best seafood chefs from around the world competing for a $10,000 prize. For more information, visit https://worldfoodchampionships.com/competitions/2016/world-seafood-championship.
For information on The Manship, call 601-398-4562, visit http://themanshipjackson.com/ or check out the restaurant's Facebook page. Learn more about the Great Seafood Cook-Off and all the chefs who competed at http://www.greatamericanseafoodcookoff.com/.
Boccado's International Cuisine Coming to Ridgeland
Mildred Lebron, who has owned and operated her restaurant, Boccado's Divino Internacional Cusine, in San Juan, Puerto Rico, for five years, recently decided to expand her business to Jackson with the help of Gustavo Salazar, who has lived in the city for about three years and will co-own the new venture.
The restaurant will offer dishes originating from Puerto Rico, Spain, France, the Dominican Republic, Venezuela and many other countries around the world, with special menu items that change every week. The couple plans to open the restaurant by the middle of September and will hold a ribbon cutting and grand-opening celebration with the Ridgeland Chamber of Commerce, city Mayor Gene McGee and Gov. Phil Bryant.
"Our goal is for our restaurant to be a family place that makes people feel comfortable, like they are eating in their own home," Lebron said. "We have three chefs who specialize in all sorts of international styles and can prepare anything (including) pasta, lamb, steak, lobster, stews and more."
Boccado's International Cuisine will be located at 870 Avery Blvd. in Ridgeland. The restaurant also has an app available on the Android and iPhone app stores that will show the current menu each week. For more information, visit Boccado's Facebook page.
New Sombra Mexican Kitchen Coming to Flowood
Sombra Mexican Kitchen (140 Township Ave., Suite 100, Ridgeland) will open a second location in Flowood in November 2016 inside the former Cheddar's Scratch Kitchen location at 111 Market St.
Sombra has been in operation at The Township at Colony Park for four years and specializes in fresh-made Mexican cuisine. The new Sombra will be 8,400 square feet, including an outdoor patio, and will have seating for 225 guests.

The new location will be open for lunch and dinner seven days a week and will offer the same traditional Mexican and Southwest dishes, including made-from-scratch tortillas, tamales, burritos, fajitas, baby-back ribs, blackened redfish and more.
Business partners Ben Brock, David Conn, Doug Hogrefe and Paul Schramkowski of 4-Top Hospitality own and operate 11 restaurants in Mississippi and Tennessee, including Sombra and its sister restaurants, Saltine Oyster Bar, Amerigo Italian Restaurant, Char Restaurant and Anjou.

For more information, contact Sombra's home office at 601-321-6024 or visit sombramexicankitchen.com.
Support our reporting -- Follow the MFP.