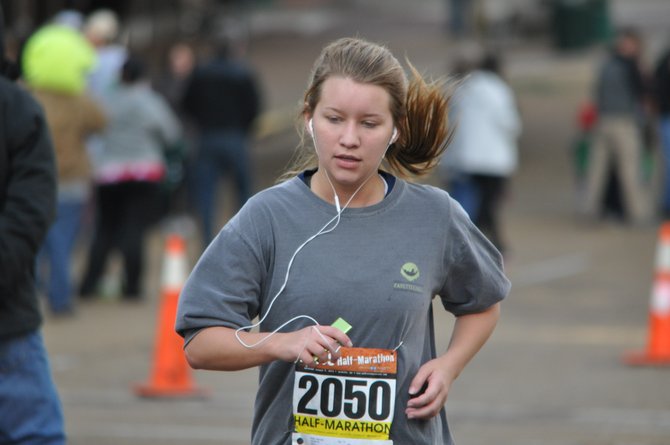 Each marathon has its own spirit, from Boston's grueling heartbreak hill to the quirky costumes in New York City to the sunny California attitude in San Francisco. The Mississippi Blues Marathon is known for the live music along the route, sure, but it isn't the only marathon to motivate runners with mini course concerts. But Jackson's signature marathon is becoming known as the friendliest race around.
"If you read reviews on marathonguide.com, which is kind of the go-to website for races, every other review will say, 'These are friendliest people I've ever seen,'" says John Noblin, director of the marathon.
Noblin says the race, which hits Jackson Jan. 11, 2014, is a huge tool in spreading a good word about Jackson to the rest of the country, as runners who might never have had a reason to travel to Mississippi come to participate.
"It's getting people to come visit," Noblin says. "We've got people registered from all 50 states this year—the first year that's happened. We've had people from every state across the years, but this year we have all 50 in one race. ... I've been here all my life, and it's a chance to show Jackson off, and show the good parts. I don't mean the good areas—we go all over town—I mean the hospitality and music and people."
This year, organizers changed the course, which will start and end at the Art Garden at the Mississippi Museum of Art. One thing Noblin is really excited about comes in the first mile or so of the race. As runners leave downtown, they will actually race through Jackson State University's campus, where the Sonic Boom of the South will be the first band to spur them on. Other bands and musicians of varying genres wait further along the route.
Last year, the race sold out before race day, and Noblin says they are on track to do the same this year. To find out more information, see a course map or to register, visit msbluesmarathon.com. A half-marathon option is available as well, and organizers have ramped up the kids' activities this year, partnering with schools in Hinds, Rankin and Madison counties. More than 2,000 children are already registered to run the 1-mile kids race.
Organizers are still looking for volunteers, especially course marshals. If you're interested, visit msbluesmarathon.com.
More stories by this author
Support our reporting -- Follow the MFP.