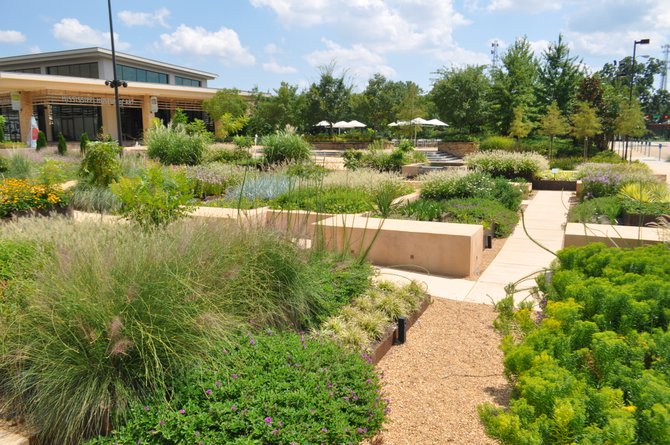 When it comes to the arts in Jackson in the last decade, art enthusiasts are quick to point out that the city has made great strides.
Betsy Bradley has seen the evolution first hand, having been a part of the art world in Jackson for the past two decades. "It's an exciting, fresh, energetic group of artists, different than it was 20 years ago," she says.
Ten years ago, Bradley became the director of the Mississippi Museum of Art, overseeing both its successful move to a larger and more creative venue in 2007 and the opening of the Art Garden last October, which paved the way for greater community involvement for the museum.
The idea of an involved arts community is hugely important to Bradley. "About 10 years ago there just seemed to be a lot of younger artists moving into the city or graduating from school and staying in the city," Bradley says.
"Before, it seems like people felt like they needed to leave Jackson to be in an artists' community. But these people are a community ... and they really have provided each other with a great support system, and several of them really have become successful entrepreneurs."
Artist daniel johnson, who prefers to spell his name with lowercase letters, believes having venues for artists to get to know one another and work together has been huge for growing an arts community. "The development of the Jackson Free Press for one (has helped)," johnson says. "Having a central place for events, and people who are covering the local arts scene just so that we can be aware of each other. ... The development of venues and gathering places, and print and online portals to discover each other and be in communication have been huge."
Malcolm White, executive director of the Mississippi Arts Commission, sees advancement in arts and entertainment of all types in Jackson.
"The organizations in Jackson who fund and see after and service the arts community are doing well," White says, listing the symphony, the international ballet competition, the Arts Council of Greater Jackson and New Stage Theatre as examples. "We've built the crafts center for the craftsman's guild, we've opened the new children's museum, we've seen a complete renovation and moving and prospering Mississippi Museum of Art in that period, we've built the Convention Center, we've had the revitalization of the King Edward (Hotel) and downtown in the last 10 years. We've seen the renaissance of Fondren; we've seen the birth of a lot of new festivals and events and gatherings."
Other thriving initiatives include the recent public-art project converting downtown traffic-signal boxes into street-corner paintings and the Crossroads Film Festival, which began 13 years ago and has grown into a huge event for the state.
In addition, neighborhood efforts to bring the arts into their communities have picked up. "It's great to see the level of support at the municipal level growing," Bradley says. "I think that neighborhoods like Fondren and Belhaven have found that having art just in the neighborhood and at the pedestrian level is an important way to create community. Now we're calling this creative placemaking, but I think that a lot of us have known for a long time that aesthetic design—good design, whether its in a park or a building or a utility station—all of that matters to the way our community connects with itself and with each other."
The collaborative nature of the art community in place today has also helped it thrive.
johnson notes the collaboration in higher education circles, such as the Millsaps College art and Belhaven University dance departments, and well as local musician Laurel Isbister Irby hosting an art show to accompany her album release, and the historic collaboration in the hip-hop community. He says growing that cooperation is important going forward.
"I would really like to see a continuation of this kind of self-publication DIY spirit that you see, especially in the hip-hop community, which I think historically is directed in that way. But this production of pressing your own albums and distributing it yourself. This notion where you have local poets who just print their own book and distribute it by themselves. Artists who, maybe they're represented by a gallery, but they're also participating in pop-up art shows.
"I would love to see that spirit continue, and it would be interesting to see local economies develop to facilitate that. To facilitate the production of the object and products that are associated with the art form."
—daniel johnson
"I would like to see more partnership council, where you have people from the business world or the art world or the academic world just get together once every other month and have a discussion," johnson says. "I know Midtown has a creative task force that meets with the Else School of Management at Millsaps. The Hinds County economic development meets there, the arts commission is there, the arts center is there, and I would like to see more of that type of consensus-building master plan conversation happening in a sustained way."
But there is one area in which the arts are failing: K-12 school. White believes the lack of arts education throughout Mississippi schools is setting our children up to be disadvantaged from day one. "In the last 10 years, we've seen less funding for arts in the schools. Mississippi, about 20 years ago, began to unceremoniously and sort of quietly eliminate (physical education) and the arts from the curriculum ... eliminating exercise, movement, joy, play and the arts from our classrooms. To which I say, 'Look at us now.' We're first on every list we want to be last on, last on every list we want to be first on."
"What is amazing is that in the last 10 years, all of the research, all the data, all the studies conclusively tell us that the arts are critical to a fundamental education," White continues.
"The brain has two sides and it's fine to learn data and to know science and to be good at solving and memorization and all that, but in order for a learner to have a complete education, they absolutely must have the arts. But yet, we've eliminated the arts, we've moved almost exclusively to testing and to teaching to the test, and the results ... I mean, I don't have to tell you where we are with education. The results have been devastating."
White points to programs such as Whole School, a system of teaching all subjects through the arts, and VSA, an art program for both children and adults with disabilities, as ways to reach kids through the arts. Both programs have lost a great deal of federal funding in the past two years.
Bradley is a bit more hopeful, pointing out that the private sector has in many ways begun to provide the art education lacking in the school district. "It's interesting because I think that we used to have a very narrow definition of what art education was," Bradley says.
"But I think there's been a new sense in the private sector that this is something that there is a real market for, so I feel like I see more arts summer camps and after-school lessons in all the disciplines—you know, music, dance and art and theater."
Despite how far the city has come, White asserts the need to continue bringing creative and energetic minds into Jackson. "Where are the visionaries?" he asks. "Why aren't we all over this creative economy? Why are we not encouraging the creative class to come to our community and set up shop and open small businesses? What can we do to attract a smart, young, diverse population?"
His questions linger in the air, hoping to be answered in the next 10 years.
More stories by this author
Support our reporting -- Become a JFP VIP.
The news business has changed dramatically in the past year, and we need your help more than ever to keep bringing you important stories about Jackson and the Metro. Become a JFP VIP with an annual membership or you can Sign up as a monthly supporter. Thanks for anything you can do to empower our journalism!