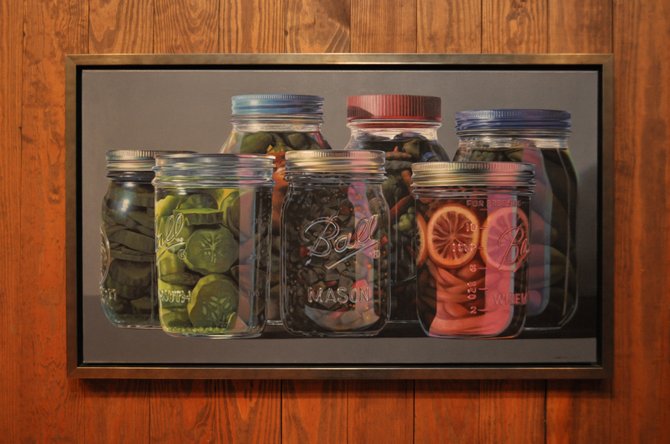 For artist Glennray Tutor, selling his comic book collection meant the difference between finally becoming an adult and continuing to be seen as a child by those around him. When he was 15, Tutor had a collection of about 300 vintage comic books which he treasured, but the adults in his life tried to convince him that they were nothing more than childish trifles.
At the time, he had a girlfriend, which he thought was a mature thing to do. With her, he found the perfect opportunity to be an adult and relinquish his tokens of childhood.
"I sold all my comic books like a fool to buy a girl a bottle of Chanel No. 5 perfume," he says, reflecting on the event. Within a week of receiving the gift for her birthday, she broke up with Tutor and found a new boyfriend.
"I was trying to enter the adult society. After that happened, I realized if that was what it was all about then I didn't want to be (an adult) after all," he says.
Now, at age 62, Tutor collects all sorts of things in his studio including jars, bottles, magazines and, of course, comic books. While it's hard to say, he estimates that his comic book collection numbers around 1,000, and he is still buying them. He houses his collections in the back of his studio, which he built behind his home in Oxford.
His fixation on comic books has manifested in his artwork and continues to do so today.
Glennray Tutor
Age: 62
Born: Kennett, Mo.
Family: wife, Marion, and son, Zach, 26
Education: Bachelor's of Art in art and English from University of Mississippi (1974) and Master's of Fine Art in painting from University of Mississippi (1976)
Occupation: visual artist
A New Height
In 1973, Tutor enrolled at the University of Mississippi. The Kennett, Mo., native graduated with bachelor degrees in art and English and went on to earn his Master's of Fine Arts in painting in 1976. He has lived in Oxford since that first year at Ole Miss, partly because he couldn't afford to leave and later because he began to fall in love with the town.
Early in his career, Tutor undertook a heavy artistic goal: "I was trying to present what appears to be a single image on a surface but make that image work in such a way that a viewer could go into that single image on a multitude of levels. It's almost a paradox," he says. "Could I take a single image and make it multi-leveled?"
At the time, he didn't know what photorealism was; he simply wanted to know if he could paint all of the detail that he saw. Later, however, he discovered an entire group of people painting and drawing under the genres of photorealism and hyperrealism. The first generation of photorealists during the late 1960s and early '70s included Chuck Close, Richard Estes, Audrey Flack and Ralph Goings. Tutor became friends with Goings, popular for his paintings of food stands and pick-up trucks.
For Tutor, photorealism was the solution to his problem: how to portray a single image on canvas but have it not function as a single image. He started trying to create photorealistic paintings in 1980, but says he wasn't satisfied with his efforts until 1983.
"The photorealists can paint better than Caravaggio. There are about 30 artists working in the photorealist realm that can paint better than any artist who ever lived up until this time," he says. In a way, it's true. Never before have people produced art that is so realistic. The entire concept behind photorealism, after all, is to create work that is indistinguishable from a photograph.
"I think it shows that man has made some progress," Tutor says about the phenomenon. "We can do more with technology that has ever been done. It only makes sense that we would be doing something further in the realm of art than ever before—same thing with literature and music."
Color and Light
Picture a black-and-white edition of a favorite heart-breaker comic strip, such as Thursday's "Apartment 3-G"—that perfect almost-kiss, the artful rendering of a teardrop. Now imagine placing an unblemished and translucent, multi-colored marble on one of the panels and putting them both in a late-afternoon ray of sunshine so that the marble's shadow casts its colors onto the black-and-white image.
Now imagine that you're seeing everything in close-up, eye-filling detail. That's the experience available in a Glennray Tutor painting. The colors are vivid, but never to the point of garishness. The canvas is filled with so much detail—whether it be marbles and comics, mason jars filled with preserved vegetables or jumbles of firework, vintage toys, crayons or more—that the eye doesn't at first know where to rest.
Tiny Brushstrokes
Some might call Tutor a perfectionist, but for him it's just professionalism. Tutor likens the preparation and presentation of his art with music. No one wants to hear wrong notes during a symphony performance or wrong lyrics during a concert, especially Tutor, he says.
"When I put my paintings out on the stage, I want it to seem humanly impossible to have been constructed," he says. That magic sense of awe is what Tutor has been striving for most of his life. The moment he figured out photorealism, he achieved his goal.
"I don't really admire paintings that don't seem like they required some sort of expertise to do. For a painting to really move me, it has to be something that the person had to train himself and work really hard to achieve," he says.
Tutor might take up to a month to finish a painting—working about eight hours each day. That's after making preliminary sketches and setting up still lifes.
"The big pleasure that I'm trying to make possible is that the person is looking at the completed painting and having that experience (of) not knowing how it was put together—not knowing how all those elements came together." He says that viewers would need a magnifying glass to see the brushstrokes in his paint.
Before getting into the technicalities of creating his works, however, Tutor considers something deeper. Like many artists, he uses his art to express his thoughts and feelings.
"A lot of people don't get into it on a philosophical or metaphorical level, but for me, that's when art starts to become fun and interesting," Tutor says.
Tutor's various still-life paintings are inundated with meaning. In fact, he believes he might be one of the first nationally known artists to imbed metaphors into pop imagery. Because of this, the late Barry Hannah, a Mississippi novelist, called Tutor's work "deep pop."
"Everything has always had more meaning to me than what it is," he says. He strives to put some sort of meaning into all of his work. "I'm trying to put melody in my painting ... something beyond just the technical, beyond the awe-inspiring component," he says. Even when he was working mainly on commission, Tutor wanted his paintings to say something more.
In Jackson
Glennray Tutor's paintings, "Still Life: A Season of Moment" and "Out of Sight," are currently part of the permanent collection at the Mississippi Museum of Art (380 S. Lamar St., 601-960-1515).
On Tuesday, Dec. 18 at 6 p.m., the museum will present the free event, "Unburied Treasures: Greatest Hits" featuring Glennray Tutor. He will speak about his photorealistic technique and his painting "Still Life: A Season of Moment." New York Times food columnist John T. Edge will read some of his writing, and Mississippi Symphony Orchestra concert master Marta Szlubowska and her family will perform. Visit msmuseumart.org for more information.
Flat and Round
Painting comic book panels didn't come naturally to Tutor. He first attempted it in 1979, but he didn't realize the perfect concept until about 1999. Even then, it took about three years of experimenting before he produced a complete painting.
Because he was obsessed with comic books, it makes sense that Tutor would find in them just the right imagery to say more broadly and more deeply what he wanted to convey in his work—such as the concepts of movement and time. The way the images were separated intrigued Tutor and hinted at what he was looking for. "I didn't read (the comic books). I didn't care about reading them. I was just hungry for that visual breakup of imagery," he says.
While he didn't read the comics' text, words still play an important part in his work. He spends lots of time determining what each character in the comic should be saying and where the words should be in the painting. "I also want them to be suggestive of something else, too," he says. He tries to imbue the images with both text and subtext.
Tutor has always been interested in cosmic and quantum reality. He ponders questions such as: How far out does the universe go, and how far into an atom can you go? His series of comic book paintings illustrate both the concept of flatness, with the comic book page, and the concept of three-dimensionality, with the marbles. "That idea opened the door for me to be able to use comic books. See, the comic book appears flat," he says. "So I'm playing around with these 20th-century concepts of Cubism and flatness, but I'm also inserting into the composition this apparently round three-dimensional object like the marble."
Mason Jars
Some of Tutor's earliest photorealistic paintings, around 1985, include mason jars. "It gave me a subject," he says. "I didn't know I could paint something like that—with all the glass reflections and the curvature on jar, the raised lettering on the glass, beans (inside the jar) reflecting all kinds of light."
One of the most famous of these paintings, "Still Life: A Season of Moment," hangs at the Mississippi Museum of Art. For Tutor, these jars became metaphors for bodies. We know that there's something inside, but we don't exactly understand what it is. "We've got it contained for awhile, and just like that jar of pickles, eventually what seems like it's going to last forever is going to break open," he says.
See more photos of Glennray Tutor's Oxford studio at jfp.ms/Tutorstudiotour.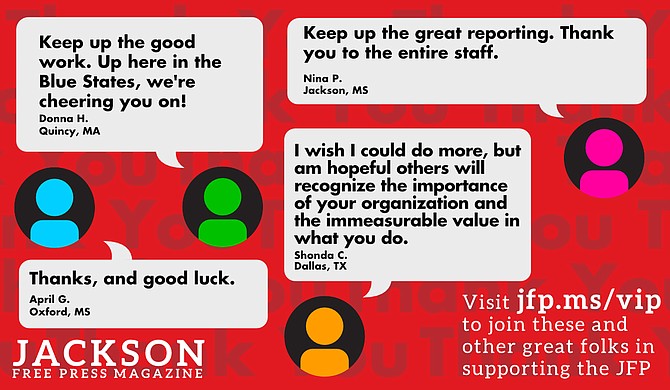 Thanks to all our new JFP VIPs!
COVID-19 has closed down the main sources of the JFP's revenue -- concerts, festivals, fundraisers, restaurants and bars. If everyone reading this article gives $5 or more, we should be able to continue publishing through the crisis. Please pay what you can to keep us reporting and publishing.