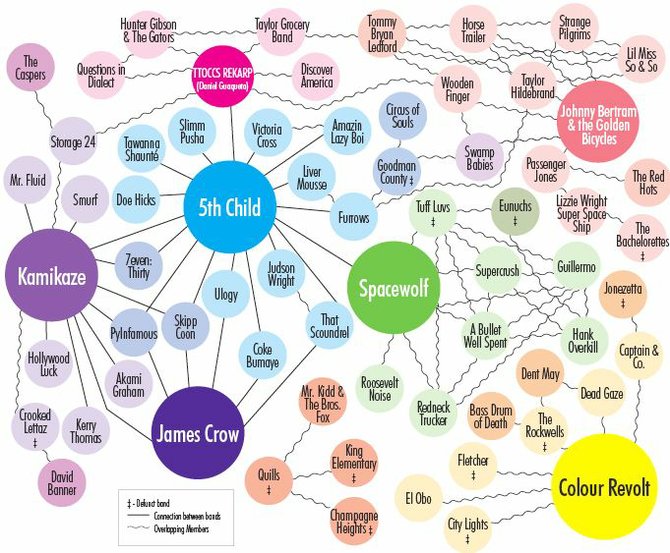 Like beer and crawfish or bluesician Jackie Bell singing along to rap, the capital city's music scene combines tastes and genres from across the board; collaborations are taking over.
Collaboration doesn't just mean a cross-pollination of genres in music. Creative forces—and their physical, visual or aural manifestations—may be successfully combined across disciplines like dance, culinary arts and design. Collaborations can be casual, unscheduled exchanges—similar to a jam session—or highly organized affairs.
"I think that feeding off of each other that is an artistic tool that not only musicians do, but everyone. When you're around other people that share your love for something or share your interest you tend to feed off each other and create a very interesting better product," musician Jamie Weems says.
Weems is the composer and bandleader for the Strange Pilgrims, which performs with Front Porch Dance, a Jackson-based contemporary dance company. During performances and rehearsals, the live band plays for the dancers while they improvise new routines. Sometimes the music comes first, but sometimes the dancers show the musicians certain moves to create a sound around.
The Jackson Arts Collective's annual showcase is a platform for interdisciplinary collaborative endeavors. It brings together creators of dance and music with different styles of visual arts, spoken word and improvisation, creating awareness within the arts communities.
Collaborations even have their own specific local label in Homework Town, conceived by JFP music columnist Garrad Lee and developed through Elegant Trainwreck Artists. Its first release, set for November, is a 7-inch vinyl with a Liver Mousse song featuring 5th Child on the A-side and a 5th Child track with Cody Cox on guitar and Caitlin McNally Cox, both of Liver Mousse, singing on the B-side.
"We were looking for a way to legitimize (the Blender Series) more," says Lee. He helped organize Blender this summer, which featured That Scoundrel, James Crow, 5th Child and Furrows. Instead of artists playing together by happenstance, Lee wants to give collaboration in Jackson more structure. "Putting on shows is real easy; that's no problem at all. It's more challenging to put out albums and records and sell them."
So what has spurred this increase of visible collaboration in the city? The ease and speed of electronic communication, by which bands and artists can effectively network, correspond and build relationships may have something to do with it. In addition, online platforms for presenting and consuming music—from YouTube to Facebook—give artists better coverage.
"I think a lot of it is accessibility and communication," Weems agrees.
No matter the reason behind it, collaboration is important to the city's musical future.
"I think collaborating is important here (in Jackson) since we have a tight-knit community that we've been building," Lee says, adding that "exposure" is a concern as well, because artists working together will attract different fan bases, increasing their publicity individually and collaboratively.
"Collaboration builds unity; it builds community," Lee says. "The more it unifies and the more people collaborate with each other and find a network of people to connect with—that's how we think you make a music scene stronger."
Support our reporting -- Follow the MFP.