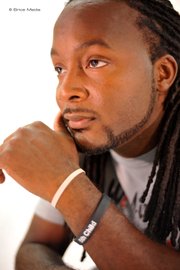 On Sept. 25, Jackson rapper, producer and audio engineer 5th Child (aka Stephen Brown) will release his newest album, "Love Letters and Suicide Notes." 5th is always ambitious with his projects, and this time he is stepping it up again, not only in the production of the album, but also in the promoting. He quit his job as a physical education teacher in February to focus on music full time, specifically to handle this new record. "It's my livelihood now," he says.
Handling all aspects of his album releases is nothing new for 5th Child. He typically makes the majority of his beats, he records and engineers everything in his home studio, and he puts up the money to press CDs. He definitely has the "creative control" that major-label artists salivate over. Because of his efforts, 5th Child has made a name for himself as one of Jackson's best hip-hop artists, loved for his passion, creativity and energy.
But, as with any driven artist, he is always looking for more. Many know 5th Child as a rapper and producer, but this time around, he is trying to step beyond those titles. "I don't want people to see me
as just a rapper or beat maker," he says. "I want people to know me as an arranger
and producer."
5th has taken extra time with this new record to do just that. Being the avid beat maker that he is, 5th always has a stable of beats and song ideas lying around waiting to be put to good use. For "Love Letters and Suicide Notes," though, he created beats specifically for the project at hand, so it would have a cohesive sound with unified themes. This led him into new places in search of samples and ideas and reinvigorated his love of digging through stacks of vinyl for things he had never heard before.
After creating the basic beats out of samples, he went back and added extra touches like live instruments and backing vocals.
The result is an album that is "way more calculated with more care taken," he says.
"It is more musical, and there is more artistry than anything I have ever done." Each song has intentions behind it and a set of "desired reactions to different emotions."
For instance, "Black Hoodie" takes a look at the response from the media to the Trayvon Martin shooting, specifically focusing on Geraldo Rivera's ridiculous assertion that young people of color are in some way to blame since they know what cops think of their hoodies but still insist on wearing them. "Closure," a song about running into an old flame who has let them herself go, has been conjuring up some good laughs. And "Out of Town Girls," which features Cody and Caitlin Cox of Liver Mousse on guitar and back-up vocals, respectively, gives me goose bumps every time I hear it. I have been lobbying for this collaboration for a year, and I am thrilled that it is going to see the
light of day.
So what brought about this kind of artistic renaissance for 5th? It was a visit to an old friend—sort of. His brother gave him a copy of "Beats, Rhymes, and Life," the documentary film on A Tribe Called Quest, for Christmas last year.
"I had not revisited Tribe's music, which I grew up listening to, in many years—especially since I had really started growing as an artist," he says.
The "warmth and grittiness" of the classic ATCQ songs really hit a nerve with 5th. He knew then that he had his inspiration and, as such, the new album has a distinctly '90s feel that in no way seems forced, but sounds every bit of what it is: a tight project that would feel just as at home in 1995 as it does in 2012.
"Love Letters and Suicide Notes" drops on Sept. 25 on iTunes, Amazon.com and at Morningbell Records (622 Duling Ave., 769-233-7468). Go to 5thchildmusic.bandcamp.com to download the first single, "Circles."
Support our reporting -- Follow the MFP.