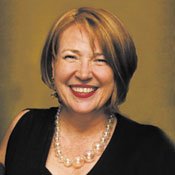 I don't manage to get out of the office often these days for lunch. But Friday I was in the mood for a Two Sisters veggie plate (probably had something to do with the staff party the night before, but I digress).
We slipped in there about 2 p.m. just before closing. As Todd and I sat down at our table in the main dining room, I looked toward Diann Alford's cash-register station and noticed U.S. Rep. Alan Nunnelee standing there with his wife. He was talking to Diann and glad-handing with others as they left the restaurant, and his presence was hard to miss.
As we media folk are wont to do, I watched him out of the corner of my eye as I enjoyed my black-eyed peas and cabbage and even thought about snapping a picture on my iPhone, but decided against it. In that small space, it might have made a scene.
When I got back to the office with my to-go banana pudding in a Styrofoam cup, I checked Tweetdeck for afternoon news and gossip. I noticed that some progressive folks I know (the same ones who fought personhood last fall and won) had urged people to go to Nunnelee's Facebook page at 1:30 that day and tell him what they thought of his recent legislative votes (as in: not much). They'd done that recently on Gov. Phil Bryant's page and rather hijacked it.
I went to take a look.
At Nunnelee's page, I realized that he--using the word "I" and next to his picture--had hosted a Facebook chat from 1:30 p.m. to 2:30 p.m. that day and, yes, a bunch of Mississippi progressives had let loose on him. But it wasn't their comments that interested me; it was the timing. He had "hosted" a live chat during the exact time he was eating lunch and gladhanding in Two Sisters in downtown Jackson, or someone who worked for him had.
I even posted (in a non-argumentative way, I promise) on his page that I had just seen him in Two Sisters (and with no obvious smartphone action), and another man he had talked to at the restaurant chimed in to say that he had seen him there and talked to him.
Now, this may seem like a small thing to many of you--of course, their handlers handle their social media, too--but at what point did a congressman get so big for his britches that he could promise that "I" will answer your questions, yet be nowhere near a keyboard.
Perhaps this wouldn't have irked me in just the same way had it not been during a week of similar annoyances. About a week earlier, JFP staff photographer Virginia Schreiber had a bizarre run-in at Fenian's with a group of Republicans, including Sen. Gray Tollison of Oxford (and now Jackson) and the chief of staff for Lt. Gov. Tate Reeves, Parks McNabb.
Long story short, Virginia was out at a pub with friends, and a group of Republicans (including Reeves himself) were out as well. So? She certainly wasn't working, but when she saw a group including the state's second-highest officer, she took out her phone and snapped photos of the group from across the room. Suddenly, Republican staffers were at her side, demanding her phone. It was a matter of "state security," McNabb told her, thereby insulting her intelligence, and then harangued her until she showed him the blurry photos and agreed to delete them. (Tollison himself even ordered her to sit down "in a way that doesn't make any woman want to sit down," as she wrote later in a narrative about that night that we're posting online linked to this column.)
Rattled, Virginia zipped her phone in her purse and when she looked for it again, it was gone. She looked all over the bar for it, getting management to help and even having it announced on the stage. She suspected that someone had taken it to look at her photos, but couldn't prove it. After a while, one of the Republicans "found" it and returned it to her.
Now, I'm not accusing them of taking it to check out her photos, but I know Virginia, and she is not one to drop her iPhone and not notice. And certainly not that night.
Virginia did not call me because it was late, but I sure wish she would have. There is no politician out there who (a) has the right to harass someone taking camera photos in a bar, whether or not she was acting as a journalist (she wasn't, but had the right to take pictures of an elected official out at a bar) and (b) has the right to talk to and upset a hard-working young woman like that, whether she was on duty or not. There is nothing funny about it and if someone ever pulls a stunt like that again with another of my staffers, I will be there in 10 minutes. Be warned.
Of course, it was a week of hearing about boys pulling disturbing stunts We learned about Mitt Romney's so-called "prank" back when he was a high-school senior. Five classmates independently recall him leading a group to hold down a classmate (who was allegedly gay) and cut off his bleached blond hair. Romney, somehow, can't recall that one prank among many that he was involved in, as he put it. Today, schools would treat that as a physical assault, as they should, and would call the police. Romney and his friends didn't get in trouble, but the victim was kicked out of school for smoking a cigarette.
What disturbed me the most about the news cycle around the incident wasn't that it happened so many years ago, or even that a presidential candidate did it. It was that he didn't bother to remember it (I really don't believe you forget such a thing unless you're becoming senile) and that he passed up an opportunity to use it as a leadership moment for a nation that has been riddled with bullying, anti-gay rhetoric and teen suicide (often resulting from one or both of those things).
A leader would own his teen "prank," giving us a reason to forgive him for them, not laugh as he claimed he didn't remember. His response gave me the same creepy feeling I got when a visibly rattled Virginia told me about her night at Fenian's: men of privilege trying to intimidate those who don't fall in line.
Perhaps worse are the folks who defend this kind of juvenile-yet-scary "boys will be boys" behavior. They say that all guys pull mean "pranks" when they're younger, and we shouldn't hold it against them.
Boys will be boys, after all.
I call B.S. on that. Men who would be leaders need to grow up at some point and take responsibility for their actions. They should not lie to constituents or demand that photographers turn over their iPhones to make sure they didn't catch them in an embarrassing moment. That just won't do, gentlemen.
Previous Comments
ID

167733

Comment

Ugh I didn't know taking photos of people in public places was now a matter of state security I am sure if Reeves had been asked to take a pic with some admiring GOP member there would've been no problem. As for Nunnelee those of us asking questions were already sure we were either being ignored or handled by a staffer. No big surprised but it is still insulting. What is more insulting is that he made a post stating it was him and its amazing what you can do with technology even though no one saw him using said tech. Give me a break.

Author

Laurie Bertram Roberts

Date

2012-05-16T12:30:45-06:00
ID

167735

Comment

Thank you for this eye opener. I wish everyone had taken out their smart phones at that moment of confrontation and snapped a few!

Author

ScoutandBoo

Date

2012-05-16T16:00:16-06:00
ID

167737

Comment

It is a shame that the privileged and powerful in Mississippi will never appreciate the irony in their patronizing and bullying behavior while decrying the "nanny state" and an "intrusive government". Mississippians are realizing the gap between rhetoric and reality. Many in power will act with force and deception and enshrine the insult in law if possible. Let's hope they apologize. To scare a citizen for taking pictures of a public official in the community signals a frightening tendency to authoritarianism...and that should frighten all of us.

Author

daniel johnson

Date

2012-05-16T19:44:03-06:00
ID

167740

Comment

This Republican "bullying" has gotten out of hand. How dare these jokers take an iphone away from anyone. This sounds like some of the behaviors of extremist in the Middle East. We are losing many of the ingredients that make up a democracy. I have heard many stories about kids being bullied; however, Romney's cutting of a kids hair is among the lowest of the low.

Author

justjess

Date

2012-05-16T20:36:07-06:00
ID

167741

Comment

Good God, I used to think Grey Tollison was one of the good guys. Looks like IF he was, he's crossed over to the dark side. I deeply regret every time I voted for him and I wish I could take them all back. Never voted for Tate, so have no regrets there. I am wondering what authority they thought they were working under? Himmler's personal orders? Give me a break.

Author

C.W.

Date

2012-05-16T21:08:47-06:00
ID

167747

Comment

Update: Rep. Nunnelee's communications director, Jordan Russell, called me this morning to respond to my column. He said that my timeline was wrong, and that Nunnelee was supposed to be done with his chat by the time I saw him at the front of and then outside Two Sisters at and just after 2 p.m. He said Nunnelee was "actively engaged in the process from start to finish" as he was dining (and then apparently from the timing of the posts above, as he was talking to folks up front and oustide. Russell confirmed that Nunnelee was not posting himself in the chat; it was Russell who did the posts as Nunnelee and using the word "I." Russell said Nunnelee was monitoring the comments from Two Sisters and then texting Russell who then answered some of the many questions asked from his office in D.C. When I asked if he meant that Nunnelee was "multitasking," he said yes. When I asked if Rep. Nunnelee ever does his own social media, Russell said that he does sometimes, and that it's a mixture of people who respond, including himself. Russell also offered that with "50 questions," (Nunnelee) cannot post an answer to every single thing, but he was actively engaging." During the chat, Russell posted about 10 times, if I counted correctly, as Rep. Nunnelee. The last one was at 2:08 p.m.

Author

DonnaLadd

Date

2012-05-17T09:20:12-06:00
ID

167749

Comment

Also, am I the only one who finds it sad that politicians get handlers to do their social media *in their names*? I mean it's one thing to have an Office of Alan Nunnelee Facebook page and have staff post. But under your name, using "I"? Seriously? If Nunnelee had to be in Jackson for his son's graduation and then having a fine lunch at Two Sisters, then why not schedule the chat at a time when he could actually sit in front of his computer and consider the answers carefully and then type answers himself? This is such pure disconnection from constituents that it's not even funny. It reminds me of media that allow politicians (or anyone) to have a list of questions and then write the answers and send them back -- usually in email. This is in no way an interview; it's handing a public figure a list of questions for their handlers to answer. There is nothing authentic about it, and it's not journalism. It's too bad papers like The Clarion-Ledger do it all the time. At the JFP, we do not allow email interviews for obvious reasons. I even used that example with Mr. Russell on the phone today, as well as pointing out that a variety of staffers can post to the Jackson Free Press Facebook page, but I would never allow someone to do my personal posts for me. And if I won't, why don't a public servant get to do that? Isn't this a tad misleading for the people who pay their salaries? Just because this habit might have caught on political circles in no ways makes it right.

Author

DonnaLadd

Date

2012-05-17T09:54:42-06:00
ID

167750

Comment

You may recall a similar incident happened in the police officer's shooting in Pearl two weeks ago. Two brothers were recording what was happening and a Pearl police officer demanded their phone and they were arrested. Things like this are happening all too often across this country. It's just that it doesn't make news. Where's Radley Balko when you need him?

Author

golden eagle

Date

2012-05-17T10:09:13-06:00
ID

167751

Comment

Agreed, golden. If we don't call out these kinds of authoritarian efforts by public servants, we blink and live in a police state where elected officials suddenly think they can order other people, including media, around.

Author

DonnaLadd

Date

2012-05-17T10:42:41-06:00
ID

167752

Comment

This is a perfect example of Russell trying to close Nunnelee's gate after his cows are out. They have been caught, red handed and the only thing to do is to tell the truth. Keep up the great work you do, Donna, for the JFP with so much diligence and integrity: Keep the spot-light on and continue making these folks accountable when they don't!

Author

justjess

Date

2012-05-17T11:14:21-06:00
ID

167753

Comment

There weren't 50 questions many of the posts were comments about the lacks of response initially there were only about 5-10 questions and there was plenty of time for them to be answered. I am saying this because I was there for the entire chat from 1-2:30pm. In fact he had made a post an hour or so in advance asking for questions and many of the questions that were asked on the official thread were asked in advance so he had time to formulate an answer. Let me also say that the few answers that he posted didn't even directly answer the questions asked. So his excuses are garbage. Also I think it is inexcusable for him to represent a page as being him and then it is really his staff. If it is his office say it is his office but if he says he's going to have a question and answer session with his constituents he could at least take the time to do it himself.

Author

Laurie Bertram Roberts

Date

2012-05-17T11:18:39-06:00
ID

167765

Comment

As always, your columns would have more bite if they were more even-handed. Republicans are the only politicians you have seen behave in this manner? Really? I would trust your columns more if you were focusing on the bad behavior of all politicians, not just republicans.

Author

traceyw

Date

2012-05-18T09:10:13-06:00
ID

167766

Comment

That makes no sense, Tracey. The people I'm talking about doing this stuff last week were Republicans, and high-ranking ones. What? I'm supposed to make up that we observed Democrats doing the same thing last week, including bullying Virginia, just to pretend to be "even-handed?" No, that would make us liars who don't want to offend people with the truth. I guess you haven't seen all the swipes I've taken at Democrats Bill Clinton and John Edwards (lying cads of the highest order who tried to use their positions to cover up their sexual shenanigans) or of Ronni Musgrove in the past (among other Mississippi Dems) for playing dumb political games, or our dogged investigation of Democrat Frank Melton that landed him in both a state and federal trial. So don't come here spewing the "you're not even-handed because you pick on my guys" crap. I don't give a damn about party; I care about fairness, truth and elected officials not abusing their power. That's called speaking truth to power, and I don't care why partisan flag it's hiding under.

Author

DonnaLadd

Date

2012-05-18T10:30:08-06:00
Support our reporting -- Follow the MFP.