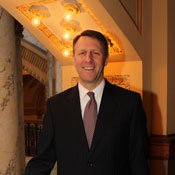 JACKSON — On Wednesday, May 2, a friend asked me to go to Fenian's. I agreed and prior to leaving my house I asked who else would be there. She told me House members would probably be there as it might be the last night of session.
I left my house and got to Fenian's around 9:30 p.m.. When I arrived, I sat in the back room with her surrounded by a group of five or six legislators. The point of interest seemed to be the musician that night who was quite rambunctious and rough around the edges.
Over the next 20 to 30 minutes, more legislators trickled in until the room had a large group of senators, representatives and Lt. Gov. Tate Reeves. At this point I was chatting with Toby Barker, a representative from Hattiesburg. We commented on the large group forming in the corner and how packed this side of the bar was getting. At this point, we both decided to take a picture with our iPhones. We turned around and simultaneously snapped two to three photos each. However, the photos were too dark and blurry to see anything so I closed my camera app and continued chatting.
A few minutes later, I was near the bar talking with some people and was approached by a tall young man. He demanded to see my phone! I sort of laughed and said no. He then demanded to see my phone and asked me if I was a member of the press. I told him I wasn't that night. He said I had taken photos and that he needed to see them. He then ordered me to get my phone out.
It was in my hand so I showed it to him, not knowing if he was going to snatch it from my hands or not. He asked me to come to another part of the room and sit down next to him. I told him no. He then identified himself as Parks McNabb and flashed me a plastic ID card in his wallet although he did not give me any more specifics on who he was or his position. He then said that this was "a matter of natio—," but then he broke off and corrected himself saying, "state security."
Then he started getting very irritable and again demanded to see my phone. Seeing as the pictures were dark and blurry, of no use to anyone, and given his attitude and stature, I showed him the pictures and deleted them from my phone. At this point, my friend who had invited me came up and tried to calm the situation, saying it was a misunderstanding and that I was her guest. He then calmed down and offered to buy me a beer, which I declined.
Everything seemed to settle down for a while until I noticed Sen. Gray Tollison talking about me to my friend. I walked up to them and asked if he wanted to speak to me, and he immediately started asking why I was there and why I was doing what I was doing. He stood up and then got further exasperated with the idea of me being there. As it was a bar I frequent and a live-act music night, I had no idea what he meant by demanding to know my reason for being there.
Tollison then went on to say that he and others wanted to relax and didn't want to worry about me taking pictures of them all night. He must have been referring to the picture I took with Rep. Toby Barker and this is what he called snapping pictures all night long. He then put his drink down and raised his voice saying he was just going to leave.
I told him to calm down and explained there was no malicious intent, that I simply took a picture of this side of the bar to text to Rep. Steve Holland (whom I've known for several years) and show him the big party he was missing. I then further explained that the picture was dark and blurry and had been deleted. At this, Sen. Tollison calmed down. He stated he liked me and that I was all right, and he began discussing charter schools with my friend.
I then handed the cell phone to my friend who was trying to smooth over the situation and asked her to put it in my purse while I went to the restroom, which she did. My purse was behind her near the opposite end of the table.
On returning, I came back to her and Sen. Tollison pulled out the chair beside him and told me to sit down in a way that doesn't make any woman want to sit down. He then pointed at the chair and said "sit down" again. I declined and quickly moved away from him to go to my purse. When I got there, I realized my phone wasn't in there. My friend was startled when I told her it was nowhere to be found, and she explained her back had been turned away from the purse. She seemed to know immediately what had happened.
I said it was just too much of coincidence. When I said that, Rep. Kevin Horan (who was sitting across the table at the bar since my arrival) asked again what happened. We had talked earlier that night, and I explained that my iPhone had been taken form my purse. He immediately asked me to calm down and give him a few minutes to let him talk to some people. I talked to my waitress and explained the situation and asked her to keep an eye out for it.
Rep. Holland had just arrived in the midst of the cell phone going missing and I told him about the situation that an unfolded. He didn't take all the news too well. Someone had gotten the performers' attention who had been on a break and asked him to mention the missing iphone over the mic. Five to 10 minutes into all of this, Lt. Gov. Tate Reeves decided to leave with his security guard.
I had made my way through the bar at this point looking for my phone on the floor, to see if anyone had dropped it to be found. I thought of just leaving since I didn't see how I would get it back. When I expressed this, I was told again now by more than just Rep. Horan to essentially wait it out and give them some more time to talk. Talk with whom? I was told it would simply "turn up."
A few moments later, Rep. Toby Barker, the young man I had taken the photos with in the beginning, came from behind me and asked if this was my phone, putting it in front of me. He said he found it on the floor back there as he vaguely motioned to the part of the bar behind us. I had my phone back. I went through it to assure nothing had been deleted or sent. From what I could tell it was in the same state as I had left it. I sat down to pay my tab and get out of there.
As I was waiting. Rep. Kevin Horan expressed his regret for it having happened to me. He said that it was just the way it is and addressed the paranoia politicians have especially after all of the money that goes into the campaigns. I agreed that it was sad really and thanked him for his help in getting it back to me.
Previous Comments
ID

167742

Comment

First of all, this is insane. Secondly, you should've called the cops the second the bootlicker swiped it from you. YOU'D have been the one that ended up in jail, of course, but it'd have been a great story.

Author

SalPairodice

Date

2012-05-17T06:34:03-06:00
ID

167754

Comment

They're all a bunch of fascists, concerned with protecting themselves and those with the money who got them elected in the first place. America the free my ass.

Author

Kevin Slark

Date

2012-05-17T12:49:49-06:00
ID

167756

Comment

Why would we expect any different? These people have to be the worst of the worst to keep the offices they hold, it's the nature of the system so why would we expect decent behavior from them? The sad part is if they were subjected to the behavior they dish out to others they'd be freaking out. I live down the street from Fenian's and as much as I like my hood I'd have never left my purse there either especially after he demands the thug made. Security my butt, that's a thug there hun. If I were Fenian's management I'd be ashamed to have those people back in there. But all people know these days is money money money. What's right and wrong and decent doesn't matter.

Author

Jenni Watson

Date

2012-05-17T13:22:18-06:00
ID

167757

Comment

What a bunch of arrogant jerks. People should start snapping photos of them everywhere they go.

Author

kudzuking

Date

2012-05-17T13:38:44-06:00
ID

167758

Comment

I agree with you, kudzuking. And let's not discuss the incredible ego it takes to assume that any picture taken in your vicinity is about you.

Author

Jenni Watson

Date

2012-05-17T13:41:09-06:00
ID

167761

Comment

BTW, Virginia realized today that she left out something that Sen. Tollison said to her when he ordered her to sit down: "Sit down girl young enough to be my daughter."

Author

DonnaLadd

Date

2012-05-17T15:25:39-06:00
ID

167775

Comment

its all just disgusting. I didn't realize that Fenians had now became a private bar that only Tate and the approved people could hang in it's always been a pretty chill place. Pretty arrogant to assume that the pics were of or about them or that she even gave a damn about them. ugh

Author

Laurie Bertram Roberts

Date

2012-05-18T22:12:38-06:00
ID

167779

Comment

"Sit down girl young enough to be my daughter." has never stopped him from hitting on them before.

Author

jbreland

Date

2012-05-20T10:07:07-06:00
ID

167780

Comment

The proper response is put the camera in video mode and ask loudly "Let me see your badge." Followed by "Am I under arrest?" There are several apps that can let you move it up quickly. And I wish I had links - Radley Balko has had them in the past.

Author

Pilgrim

Date

2012-05-20T10:39:46-06:00
ID

167799

Comment

Next time just call Metro Mix at the C-L and have them come and take some pretty pictures for the newspaper. Hell, the got some on karaoke night Monday.

Author

Rico

Date

2012-05-22T15:53:27-06:00
ID

167800

Comment

... because if there is anything The Clarion-Ledger can muster the resources to do, it's show up any night of the week and take drunk pictures. Meantime, they crib our sports stories. Nice.

Author

DonnaLadd

Date

2012-05-22T16:26:23-06:00
More stories by this author
Support our reporting -- Follow the MFP.