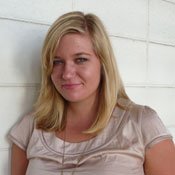 I was a junior in high school when my mom came into my room visibly shaken. "I can't keep doing this. There is going to come a time when we are going to leave, and I need you to help me get your sisters and not say a word," she pleaded.
"Oh mom, you're just saying that--everything will be fine tomorrow, you know how Dad is," I replied.
Growing up, I had learned to tune out the raging fights and flying objects. When I woke up on Christmas morning a few years earlier, I wasn't disturbed to find an alarm clock embedded in my parent's bedroom wall. "He didn't really mean to throw it. It must have slipped out of his hand," I told myself. But didn't all Dads throw things and get angry sometimes?
When my mom came in my room that night, it was my job to talk her down. I pointed out that she wouldn't have any money since my dad controlled her credit cards and bank account. Plus, homecoming was only a few weeks away, and I had snagged a football player as a date that year.
My dad served my mom with divorce papers on Sept. 11, 2001, as an I'll-show-you-who's-boss gesture. Shortly after, he tried to reconcile with my mother. This, however, was her big break. She wasn't willing to stop the proceedings. She scraped money together and hired her own lawyer who told her not to leave the house because a judge could consider that terms of abandonment. Already fearful that without a college degree or any income, she would lose custody of her children, she stayed in the house despite continued threats and insults by my father.
"Just what are you going to do? You can't get a job, you don't have any skills," I heard him say.
On homecoming night, I posed for photographs with my parents, although they weren't speaking. Our homecoming party gathered at my house, where my parents presented themselves as the quintessential upper-class family.
The night was full of possibilities. I had found the perfect red dress, and I was certain that my date, Scott, and I would become an official couple that night after months of flirting. My mom threatened Scott with serious repercussions if he kept me out even a minute past my midnight curfew.  
As I drove home at 2 a.m., I nervously thought of every excuse I could to explain my lateness. I just knew my mom--the more authoritative parent--was going to ground me, cut off all phone and computer privileges, or even worse, forbid me from seeing Scott again. As I pulled up to the house, every light was on. "Great, they are waiting for me," I thought.
I surrendered to my fate and took a deep breath as I opened the door. No one was waiting. I made way to my parents' bedroom, the basement and the living room. My sisters and parents had vanished, and no one answered their cell phones.
Something was not right.
I fell asleep and woke up to my mom's frightened voice on the phone. "Is he still there?" she asked nervously. She was at a neighbor's house, and wanted me to bring the car and a change of clothes.
I found my mom sitting on our neighbor's couch with mascara stains under her eyes. She had bruises on her arms and was holding her head. She hadn't been to sleep, yet. I didn't ask for details because I knew she was physically and mentally exhausted. All I knew was that this time, it was bad.
My heart sank--this wasn't happening to our family.
Later, the details came out in the form of police reports, court proceedings and from my 10-year-old sister who had witnessed it all. As the divorce became a reality, and my father could no longer hide our family's financial debt (our home would be foreclosed on in the next few months and our cars repossessed), he began to lose control.
Shortly after I left with my date, my father entered the living room to find my mom on the phone. He thought she was making fun of him, but she insists she was on the phone laughing with her sister, who was on the other end. That's all it took for him to snap.
When I went back home later that morning, my father was there. Moments later, the police knocked on our door, and he went with them to the police station.
I went back to Scott's house to watch football. I mentioned nothing of the incident. I just sat silently trying to hide my shock. My mother taught us not to bring up our dirty laundry in front of others.
After that incident, a court order prevented my dad from entering the house. My mom entered into a domestic-violence victims program and started to believe in herself. She found a job, and learned how to manage her own money.
Though she lost everything in the divorce, she gained the freedom and independence that she hadn't had in 18 years.
My dad is not a villain, and that's why I made excuses for him while growing up. He's handsome with a larger-than-life personality and a strong drive to succeed. From an early age, he was exposed to violence and dysfunction but never found a way to process what he saw. Since the divorce, he has apologized to our family and tried to make amends.  
Denial is what enables domestic abuse to go on for so long or escalate to a life-threatening situation. We don't want to believe that it's happening to our family, neighbors or friends. I was too young at the time to fully understand the situation, but I learned not to brush off signs of violence or give an abuser the benefit of the doubt.
I asked my mom permission to write this column, as it divulges extremely personal information about our family. She agreed, telling me: "I always hoped that my story would help someone else." She said her friends and family feared for her safety during that time.
The JFP is dedicated to telling these stories, in hopes that we can prevent the inexcusable death of another woman in Mississippi and free those from the mental prison of abuse. The only way to do that is for more strong women to speak up and our state leaders to take the issue seriously.
Previous Comments
ID

160208

Comment

Wow! That was a lot to take in. I'm sorry your family went through that. What steps would show the state leaders were taking the issue seriously?

Author

KendallVarnell

Date

2010-10-06T11:53:05-06:00
ID

160210

Comment

For one thing, they can change the rules for abandonment as grounds for divorce. If you leave because you fear for your life or the lives of your children, you're not "abandoning" your husband. You're trying to do the best thing for your family.

Author

JDLW

Date

2010-10-06T13:35:42-06:00
ID

160213

Comment

Agreed, JDLW. The divorce laws in our state are horrendous for women being abused. Sandy Middleton preaches about this constantly, and it was a big part of Ronni's last installment on domestic abuse. By the way, cheers to Lacey and her mother for their willingness to share this story to help others.

Author

DonnaLadd

Date

2010-10-06T15:12:39-06:00
ID

160216

Comment

Powerful story. Thanks for sharing. Hope this has made you a stronger person.

Author

golden eagle

Date

2010-10-06T22:31:29-06:00
ID

160233

Comment

My parents were divorced in 1961 when it was very unfashionable to do so. When I was 12 my mom came into my bedroom and said quietly, "We're going on a little trip, be quiet daddy is busy". We left silently and for the first time in my twelve years on the planet I found out that my parents had problems! Silent but deadly as comedians and advertisers might say! It was as if I had been tasered for a month all at once. It seems that no matter the family circumstances it is all very hard for kids to swallow what has happened. I sometimes think kids from the "silent divorces" may have more of a guilt problem coping with their parents own personal failures than not--but I'm not everyone, I just know what I experienced. You are not alone, unfortunately.

Author

Mr Fat Back

Date

2010-10-07T14:11:23-06:00
More stories by this author
Support our reporting -- Become a JFP VIP.
The news business has changed dramatically in the past year, and we need your help more than ever to keep bringing you important stories about Jackson and the Metro. Become a JFP VIP with an annual membership or you can Sign up as a monthly supporter. Thanks for anything you can do to empower our journalism!