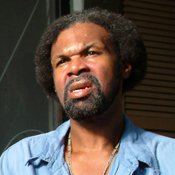 JFP Coverage of Defense Witness Christopher Walker
Full JFP Melton Blog/Archives/Tweets here
Follow JFP & Melton trial on Twitter
FEDERAL COURTHOUSE—This morning's federal trial of Mayor Frank Melton and ex-bodyguard and police officer Michael Recio began in downtown Jackson with defense attorney John Reeves, representing Mayor Frank Melton, requesting accommodations be made for two defense witnesses: Daniel Smith and Christopher Walker. Smith, who is serving time at the Hinds County Detention Center in Raymond, is expected to testify about drug use at 1305 Ridgeway St. Reeves requested that Judge Dan Jordan allow him to pick Smith up and bring him to the courthouse to testify, to which Jordan asked: "Why don't you send a law clerk? I think it's real risky for you not to be here."
Reeves suggested that the law clerk was more essential then he is in the courtroom and that Cynthia Stewart, defense attorney for former bodyguard Michael Recio, could handle the defense instructions, but he conceded anyway. The law clerk appeared to be holding back laughter at this.
The defense also requested that U.S. Marshals transport former Melton mentee Christopher Walker to Jackson today. Walker, who lived with Melton at one point, is in a Lafayette, La., prison for aggravated assault. The estimated total travel time is six hours, three here and back. Reeves did not indicate whether he and Stewart planned to call Walker on Tuesday.
Ridgeway duplex tenant Evans Welch appeared in the courtroom this morning with his parents, and Stewart ushered him into a witness room. Welch is expected to testify on behalf of the defense today. Welch, a diagnosed schrizophenic, has told the Jackson Free Press in separate interviews in 2006 and in late 2008 that he did not ask Melton to tear down his home, although the defense seems to be angling toward making that argument. The defense is probably hoping that the jury will not find Welch sympathetic.
Before Jordan called the jury, both Reeves and Stewart moved that he dismiss all charges for insufficient evidence. The government had no evidence that the defendants had a prior agreement to destroy the Ridgeway duplex or that they acted with a "bad purpose" to disobey the law, Reeves and Stewart argued separately. The judge denied their motions on the conspiracy and deprivation of rights charges, but he held over the decision on the gun count until after the defense presents its case.
Stewart also reiterated her motion to sever the two cases, arguing that all of Melton's alleged admissions of guilt unfairly prejudiced Recio. Jordan told her he thought the jury could consider the two defendants separately. Comparing Melton and Recio's trial to others in the 5th Circuit with multiple defendants, Jordan noted that proceedings have moved quickly so far, with prosecutors wrapping up their case in three and a half days.
"I think it's fairly straightforward," he said.
The court re-convened at 2 p.m. with Reeves starting his opening statement: "The evidence will show that Mayor Frank Melton did not just pop in that house willy-nilly."
In the afternoon, Reeves called Daniel Smith, who was transported there from the Hinds County Detention Center. Smith, sworn in wearing handcuffs, said he bought crack at duplex day of raid and told Melton about it. On cross-examination, however, the government established that although Smith had told Melton about his crack purchase, he was never investigated or arrested for buying narcotics. The defense declined to re-direct.
Recio's attorney Stewart then called JPD Officer Quincy Russell, who arrested Welch during the duplex attack. Russell told the court that he had found two crack pipes and a push rod on Welch. The judge had ruled earlier that the defense could not introduce a crack pipe Russell said he found on Welch.
Police did not find any drugs in the duplex, and Welch was released a few days after the arrest from the Hinds County Detention Center.
The government established that Russell was dispatched to transport Welch, but that Recio was told to do arrest and complete paperwork, which was not normal procedure.
After Russell's testimony, the judge dismissed the jury until 8:30 Wednesday when the defense plans to continue.
Previous Comments
ID

143664

Comment

"Willy-nilly". Now there's some high brow, sophisticated legal term of art.

Author

Bulbs

Date

2009-02-17T14:57:12-06:00
ID

143665

Comment

**typo alert** in late 2008 that he did not Melton to tear down his home

Author

Izzy

Date

2009-02-17T15:02:11-06:00
ID

143666

Comment

...and Mr. Reeves, melton did not "just pop in that house willy-nilly." He popped into the home of Evan Welch with malace and forethought; an act he would never, even in his wildess drunken dream, do across I-55.

Author

justjess

Date

2009-02-17T15:03:34-06:00
ID

143667

Comment

Thanks, Laurel. Fixed.

Author

DonnaLadd

Date

2009-02-17T15:09:12-06:00
ID

143668

Comment

This is just toooooo stupid. Even if Welch testifies that Welch asked melton to tear his land-lord's home down, why in the hell would he ask him to tear his personal things up? If this story is true, even from a paranoid schizophrenic, where and what were the post arrangements for this man who had experienced a lifetime of mental challenge? melton said that he was a Social Worker in Texas. This type of management goes against any type of professional training to include law enforcement. TRANSLATION: melton, Recio, Kids & Company violated the Civil Rights of Evan Welch and the Civil and Criminal Rights of the property owner. PS. Since melto had to urinate (remember he urinated on the ground behind the house according to testimony) why didn't he use the toilet before destroying it?

Author

justjess

Date

2009-02-17T15:18:52-06:00
ID

143671

Comment

Melton may not have popped in "willy-nilly", but he did go in drunk.

Author

golden eagle

Date

2009-02-17T16:35:52-06:00
ID

143675

Comment

plus, Welch didn't own the house, right? It's hard to believe this defense is serious!

Author

Izzy

Date

2009-02-17T18:35:27-06:00
ID

143676

Comment

So here we go again with Meltonian logic: He calls a defense witness, Daniel Smith, who claims he bought crack at the duplex and then told Melton. The mayor then leads a raid on the house, where only crack pipes were found. No drugs, no evidence of sales. Melton did not investigate Smith or try to do anything about the crack, and now he is a witness for the defense, and Evans Welch's (and Jennifer Sutton's) house is in shamble.

Author

DonnaLadd

Date

2009-02-17T19:04:31-06:00
ID

143679

Comment

So what does it mean that Russell testified to finding two crack pipes and a push rod on Welch if the judge had ruled such evidence inadmissable. Am I missing something? Did the judge declare a mistrial and tell everyone to go home? ;) This is the first I've heard that Welch had multiple crack pipes, which you think would have come out previously. Perhaps memory fails, but I had only ever heard about the push rod. Not that it necessarily matters. Maybe the mixup arose because Recio filled out the paper work? It was Russell's lucky day! I know that Ward is typing along like a hurricane, but I would love to hear more about Reeves' opening statement. Will Welch testify tomorrow?

Author

Brian C Johnson

Date

2009-02-17T19:54:46-06:00
ID

143682

Comment

I bought drug, "Crack" it's illegal but I don't get arrested? I call Melton instead of the police why? The issue is not about drugs, it's about going into a house with children, drunk and tear up a person house who did not have knowledge of the supposed drug use in the apartment. Why didn't Melton notify the owner of the property so that person could be evicted from the apartment instead of tearing it up? Why did Melton go back to the apartment the second time after the so called bogus arrest of Welch, (which we call cover you butt arrest)when there was no reason to continue destroying the apartment? Melton bragging about destroying a person personal belonging when he knew that this person had some mental problems is unexcusable and shameful. I can't see why a person would brag over destroying all that Welch owned. I also can't understand why Melton went to the man Grandfather house to force Welch to testify and had to be asked to leave several times and he ignore the grandfather wishes. I know this if it was my house and he didn't get out when I told him too when he did leave he would be taking a size 12 whit himin his butt.

Author

Tony Davis

Date

2009-02-17T20:51:44-06:00
ID

143691

Comment

I apparently am not up on drug lingo - what is a "push rod"?

Author

Puck

Date

2009-02-18T09:35:17-06:00
ID

143692

Comment

PLEASE, PLEASE, PLEASE HELP ME WITH THIS ONE. IS IT TRUE THAT DANIEL SMITH WAS TAKEN OUT OF SHACKLES AND GIVEN A JSU (JACKSON STATE UNIVERSITY) WARM UP SUIT TO APPEAR BEFORE THE JURY FOR HIS TESTIMONY FOR THE DEFENSE? I WON'T COMMENT UNTIL I HAVE THE ANSWER TO WHY A CONVICTED FELON COULD BE GIVEN UNIVERSITY CLOTHING. PLEASE LET ME KNOW!

Author

justjess

Date

2009-02-18T09:39:35-06:00
ID

143695

Comment

...and the sad thing is, melton might walk. It doesn't look as if he is going to plea. As I have said so many times, melton's pawns are all black. The area of the home he destroyed is in the black-belt. Because of the negative evaluation of black folks by far too many, it becomes a believable story that melton is "FIGHTING CRIME." The only thing, in my opinion, that this case has going as it relates to a conviction is the testimony of Jim Hood. This is a cultural entity that just might work looking at the racial makeup to the jury. melton might be saved vicariously because there are some folks who don't want Recio to fall. Recio is married to Bracy Coleman's daughter. I wonder why she is not the person walking with her spouse into the court room. I think I know the answer.

Author

justjess

Date

2009-02-18T10:21:20-06:00
ID

143713

Comment

I'm not an expert, but the definition of push rod from urbandictionary.com is: "A small, but long cylindric object used to push crack residue to end of the pipe enabling one last hit before the hunt for the next rock continues."

Author

Brian C Johnson

Date

2009-02-18T14:30:30-06:00
More like this story
More stories by this author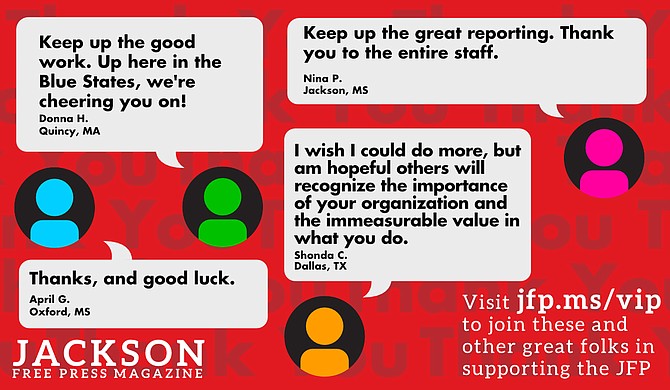 Thanks to all our new JFP VIPs!
COVID-19 has closed down the main sources of the JFP's revenue -- concerts, festivals, fundraisers, restaurants and bars. If everyone reading this article gives $5 or more, we should be able to continue publishing through the crisis. Please pay what you can to keep us reporting and publishing.