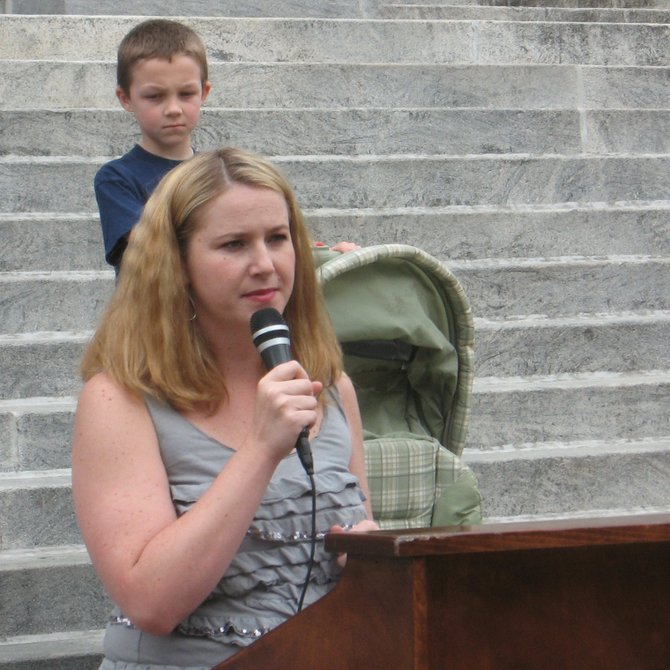 When she was 18 years old, Ashley Sigrest was raped and got an abortion. Now a mother of three, Sigrest volunteers with Personhood Mississippi and hopes to outlaw abortion in Mississippi.
"Everyone will tell you that rape is a good excuse for an abortion, but unfortunately I had to learn the hard way that it is not," she said at a press conference last week. "After my abortion, I fell into a deep depression because I finally understood that what I chose to do to my unborn child was far worse than what my rapist chose to do to me. My rapist did take advantage of me, he did hurt me, but what my abortion did was far greater."
About 15 women and nine children gathered on the Capitol steps Thursday afternoon, surrounded by about 25 strollers meant to represent abortions. Sigrest said women who oppose personhood do not speak for all women.
"We are the women for personhood, and we want to share our side with you," she said.
Anne Reed, who also spoke at the press conference, said she had an abortion when she was 17, but is now involved in anti-abortion advocacy and Bible study for women who have had abortions.
"Abortion is war on women," she told the JFP after the press conference. "... Abortion damages a woman in every way--physically, psychologically, emotionally, spiritually--in every way."
Les Riley, president and founder of Personhood Mississippi, announced that the group is starting another petition drive to put personhood back on the ballot. He said Personhood Mississippi has signed an agreement with the conservative nonprofit law firm Liberty Counsel to work together on any future legislation or litigation.
Women who oppose personhood efforts were also at the Capitol last week. After the press conference, Laurie Roberts, a volunteer with the Jackson area chapter of the National Organization for Women, said giving a fertilized egg the distinction of a person takes away reproductive choices from women about abortion, and medical treatments during pregnancy and birth control, among other things.
Roberts said at an earlier event opposing personhood that several years ago, she was pregnant and started bleeding due to a miscarriage. She wanted an abortion, but doctors at the Catholic-run hospital she went to would not operate while the fetus still had a heartbeat.
She ended up in the hospital, had the surgery and received several pints of blood. She now has seven children.
"Even people who are pro-life, many of them are not for a Mississippi that does not have exemptions for abortion for the health of the mother and rape, so for a lot of people, an abortion-free Mississippi is too extreme," she told the Jackson Free Press last week.
Four personhood resolutions failed to make it out of committee in the Legislature last week. Other anti-abortion legislation remains.
More stories by this author
Support our reporting -- Follow the MFP.