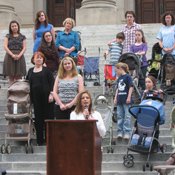 Personhood may be dead in the Mississippi Legislature, but supporters of last fall's ballot initiative to define embryos as human beings are stepping up their efforts to put another personhood amendment before voters.
Last week, Personhood Mississippi supporters announced that they would begin collecting signatures for another ballot initiative.
At the press conference March 8 to make the announcement, personhood supporter Ashley Sigrest spoke about her experience having an abortion after she got pregnant through rape at age 18.
"Everyone will tell you that rape is a good excuse for an abortion, but unfortunately I had to learn the hard way that it is not," Sigrest said. "After my abortion, I fell into a deep depression because I finally understood that what I chose to do to my unborn child was far worse than what my rapist chose to do to me. My rapist did take advantage of me, he did hurt me, but what my abortion did was far greater."
About 15 women and nine children gathered on the Capitol steps last Thursday afternoon, surrounded by about 25 strollers meant to represent abortions. Sigrest said women who oppose personhood do not speak for all women.
"We are the women for personhood, and we want to share our side with you," she said.
Anne Reed said she had an abortion when she was 17, but is now involved in anti-abortion advocacy and bible study for women who have had abortions.
"Abortion is war on women," she told the JFP after the press conference. "... Abortion damages a woman in every way—physically, psychologically, emotionally, spiritually—in every way."
Les Riley, president and founder of Personhood Mississippi, announced that the group is starting another petition drive to put personhood back on the ballot. He said Personhood Mississippi has signed an agreement with the conservative nonprofit law firm Liberty Counsel to work together on any future legislation or litigation.
Personhood USA announced a similar partnership earlier this week.
Liberty Counsel is based in Orlando, Fla., and is affiliated with Liberty University, which was founded by the Rev. Jerry Falwell. It has argued in favor of anti-abortion laws and represented students who want to distribute religious literature on campuses. It has also argued against gay marriage.
Since four personhood resolutions in the Legislature failed to make it out of committee, Riley said Personhood Mississippi would go back to voters.
"We think the people have spoken; we just don't think they said, 'We don't want this.' They said, 'We want something better.' ... Ultimately, we're going to win the hearts and minds of the people, because it's the right thing" he said. "Social change is not something that happens overnight."
Riley said the group will be activating its political action committee to support personhood efforts. The PAC will also tell voters which politicians supported Initiative 26 before the election, but didn't support anti-abortion efforts in the Legislature.
Laurie Roberts, who volunteers with the Jackson area chapter of the National Organization for Women, stood near the Capitol steps with others who oppose personhood amendments.
"When you give a fertilized egg the distinction of a person, you automatically take away reproductive choices," she said after the press conference. "And that's not just choices in abortion. That's choices in how you treat women for pregnancy; that's choices in birth control, and they can say that those amendments to those bills took care of that, but we know that it didn't."
Riley said after the press conference that a constitutional amendment is not designed to answer every possible scenario, including which forms of birth control could be affected. Opponents of a personhood amendment say it could outlaw any forms of birth control that might prevent the implantation of a fertilized egg, including the pill.
"The bottom line is we don't want to affect any forms of birth control that don't take human life. That's a question we need to ask, isn't it?" Riley said. "... I think anything that it can't be proven that it intentionally takes a life will probably be very hard to (make illegal), but if it intentionally takes a life, obviously that's something entirely different."
Roberts said many Mississippians who are against abortion will not vote for an amendment that does not protect birth control and in vitro fertilization methods, so another initiative is unlikely to pass.
"I think that their battle is going to be a little bit different this time, because people are more educated," she said. "They think that everyone was confused, but I think Mississippians are a lot smarter than people give them credit for. ... Even people who are pro-life, many of them are not for a Mississippi that does not have exemptions for abortion for the health of the mother and rape, so for a lot of people, an abortion-free Mississippi is too extreme."
Although she had not told many people about her abortion before last fall, Sigrest now supports personhood and other anti-abortion efforts, and encourages other women to do likewise. She said she is not against birth control or IVF, however.
"I got involved right before the election to share my story, and since then have really been out about everything to tell them the truth and to share my side with everyone," Sigrest said.
Anti-Abortion Legislation
While all four personhood resolutions died in committee, several other anti-abortion bills remain in the Legislature.
• HB 16, the Child Protection Act, includes a section that would allow parents to sue anyone who helps a minor get an abortion without parental consent. It also requires physicians to preserve fetal tissue from abortions on girls younger than 14 and submit the tissue to the Bureau of Investigation.
• HB 790 requires the prescribing physician to be in the room when a woman takes abortion-inducing drugs. It also requires physicians to make all reasonable efforts to see the patient for a follow-up visit.
• HB 1196 says that a person who performs abortions must first determine whether a fetus has a detectable heartbeat. He or she must inform the woman in writing if there is a heartbeat.
• HB 1390 requires all physicians associated with an abortion facility to have admitting privileges at a local hospital. It also requires them to be board certified or eligible in obstetrics and gynecology.
Legacy Comments
Here is the bottom line on "Personhood" amendments : Do you want your government telling you what to do based on someone else's religious beliefs?
2012-03-16T17:17:58-06:00
More stories by this author
Support our reporting -- Become a JFP VIP.
The news business has changed dramatically in the past year, and we need your help more than ever to keep bringing you important stories about Jackson and the Metro. Become a JFP VIP with an annual membership or you can Sign up as a monthly supporter. Thanks for anything you can do to empower our journalism!