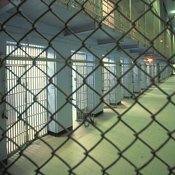 Widespread fighting has broken out at another Corrections Corporation of America-run private prison in south Mississippi, leaving 23 inmates injured. It was the second violent riot at a CCA-owned prison in the state in less than a month.
The Wilkinson County Correctional Facility employees announced multiple fights broke out in the prison around 8:45 p.m. Tuesday. A press release from the prison said the fights started in multiple housing areas.
Representatives at the prison, CCA's corporate headquarters in Nashville, Tenn., and the Wilkinson County Sheriff's Office all declined requests for an interview. Wilkinson County Correctional Facility public information officer Angela Smith said Thursday she had no updates on the situation since the prison's Wednesday morning release.
Officials took three inmates to a local hospital for treatment, and two of them returned to the prison by Wednesday morning. Prison staff treated the other 20 injured inmates at WCCF. No staff members were injured.
Prison security forces contained the riot and secured inmates in their housing areas within an hour of the initial fights, the press release stated. The WCCF emergency response team and officials from the Mississippi Department of Corrections responded to the incident and were on site. The facility was still on lockdown as of yesterday, which means all inmates are secured in their cells.
A major riot rattled Adams County Correctional Center in Natchez--another CCA-owned and operated prison--on May 20. Over the course of several hours, a group of 100 to 300 inmates seized control of part of the facility. Prisoners held up to two dozen staff members hostage. Catlin Carithers, a correctional officer, climbed to the roof of one of the buildings at ACCC, where prisoners followed him and reportedly beat Carithers to death.
An inmate at ACCC reported to WAPT that they were rebelling against conditions at the prison. "They always beat us and hit us. We just pay them back," an unnamed inmate told a reporter from a stolen cell phone during the riot. "We're trying to get better food, medical (care), programs, clothes, and we're trying to get some respect from the officers and lieutenants."
Adams County Sheriff Chuck Mayfield told the Associated Press that gang fights started the riots at ACCC.
Read more on the riot at ACCC at http://www.jacksonfreepress.com/news/2012/jun/06/private-prisons-public-problems/
More stories by this author
Support our reporting -- Follow the MFP.