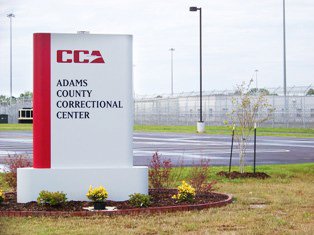 What we know about this past weekend's events at the Adams County Correctional Center, a private federal prison in Natchez, is that a group of prisoners briefly took control of parts of the facility, held approximately two dozen staff members hostage and beat several employees. One correctional officer, Catlin Carithers, died during the uprising.
What remains unclear is precisely what caused the riot at the prison, which Corrections Corporation of America--the nation's largest for-profit prison operator--runs for the U.S. Bureau of Prisons. The 2,567-bed facility houses immigrants, mostly from Mexico, who re-entered the U.S. after being deported, which is a felony.
On Sunday, a reporter with Jackson-based WAPT interviewed an inmate who also sent the television station cell-phone photos of scenes during the riot.
According to the news station's report, the man said: "They always beat us and hit us. We just pay them back. We're trying to get better food, medical (care), programs, clothes, and we're trying to get some respect from the officers and lieutenants."
Bill Chandler, executive director of the Mississippi Immigrant Rights Alliance, said the organization has received similar complaints of abuse and racism from guards from inmates and loved ones.
He read part of one email from an inmate to the Jackson Free Press: "The guard that died yesterday was a sad tragedy, but the situation is simple: If you treat a human as an animal for over two years, the response will be as an animal."
"Most of the correctional officers were not harmed...Most of them that were taken hostage were shaken and afraid, but none of them was harmed."
Media reports suggest that after an initial disturbance, events escalated when corrections staff started using tear gas on the prisoners. Adams County Sheriff Chuck Mayfield told the Associated Press that a gang fight sparked the melee.
Chandler is dubious about Mayfield's account because none of the letters he received mention anything about a gang war, nor did the inmate who called WAPT.
Mayfield was not available for comment when contacted this morning. However, Adams County Sheriff's Department spokeswoman Emily Ham said the sheriff had received briefings from prison officials.
Emilee Beach, spokeswoman for the prison, said the investigation into the cause of the riot was ongoing and she couldn't comment. Beach did say that while the presence of gangs was common at correction facilities, "I can't say that that is a huge problem here."
Beach said the prison's contract precludes her from giving specific information about its medical staff.
"We have a full complement (of doctors and nurses). We're like a mini hospital in here," she said. "We have an excellent medical department that can take care of any needs."
MIRA's Chandler said that such private prisons are often wrought with troubles. CCA, which trades publicly on the New York Stock Exchange, has had its share of controversy in recent years.
The company, which operates local jails and state and federal prisons, has been the subject of numerous lawsuits alleging physical and sexual abuse as well as failure to provide adequate health care at its facilities.
"These private prisons lead to problems. They're there to make a profit, not to rehabilitate people," Chandler said.
More like this story
Like independent media outlets around the world, the Jackson Free Press works hard to produce important content on a limited budget. We'd love your help! Become a JFP VIP member today and/or donate to our journalism fund. Thanks for considering a JFP VIP membership or one-time support.