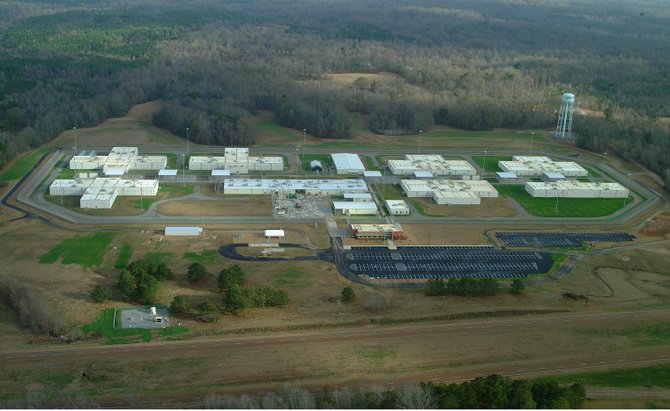 A Federal Bureau of Investigations report about the cause of a May riot at a privately run federal prison in Natchez refutes initial reports that a gang fight sparked the melee.
Casey Markovitz, an agent with the FBI's Jackson field office, submitted an affidavit that is part of a federal government criminal complaint against an inmate who participated in disturbance in which correctional officer Catlin Carithers was beaten and killed and several other staff members and inmates were also injured.
Markovitz's affidavit states that Mexican inmates at the Adams County Correctional Center, which houses immigrants who reentered the U.S. after being deported, were upset about what they believed was disrespectful treatment from prison staff, inadequate health care and poor-quality food.
Early reports, most notably from Adams County Sheriff Chuck Mayfield, indicated that a fight between Mexican gangs started the melee at the prison, which Nashville-based Corrections Corporation of America owns. Prison and immigrant-rights advocates doubted claims of gang involvement from the beginning, telling the Jackson Free Press at the time that reports of abuse from inmates were common.
The FBI's affidavit bolsters those claims. The report states that leaders of the Paisas wanted to submit a list of grievances to Warden Vance Laughlin and instructed its members to disobey staff instructions. The group also prepared a list of corrections officers they no longer wanted working at the facility.
Although Paisas have a leadership structure and represent the majority of inmates in the prison, the group is not gang-affiliated. Paisas had recently selected new leaders to better communicate complaints to prison officials, according to the affidavit. Its new leaders--Ernesto "Neto" Granados and Juan "Bobby" Arredondo--allegedly ordered fellow Paisas to refuse to return to their cells until the prison agreed to their demands.
"The Paisas were further instructed by their new leaders to destroy the prison if staff made any attempts to break up the riot. ... In addition to destroying the prison, Paisas planned to assault the correction officers," the affidavit states.
More stories by this author
Support our reporting -- Follow the MFP.