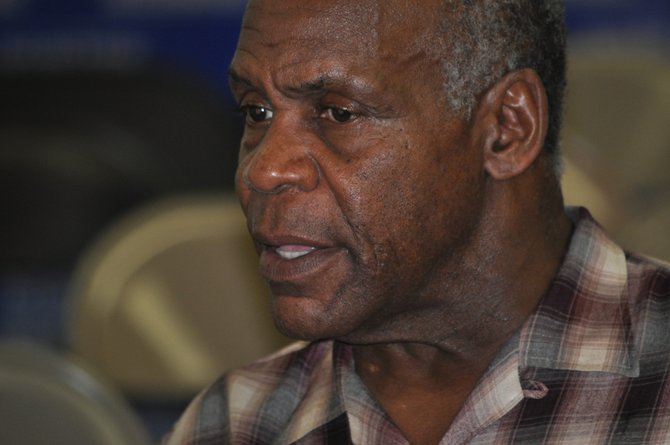 CANTON - Actor Danny Glover told a half-dozen Nissan workers at the United Auto Workers office here last Friday that he had a special, personal reason for meeting with them and encouraging them in their push for a union election.
"When I see people win, they stand a little taller," he said during one of a day-long series of meetings with workers, community activists and UAW representatives. "I do have an ulterior motive. I want people to win. People lifting themselves up—I'm always blown away by that."
The veteran movie star has thrown himself into the effort to secure an election at the 3,300-worker plant for representation by the UAW. He said he's already talking about Canton during television appearances and at other functions. Veteran labor organizer Bruce Raynor accompanied him in Jackson.
Glover talked of how labor unions have helped workers through history, about Mississippi's history and the labor movement's ties to the Civil Rights Movement. He cited the examples of leaders such as A. Philip Randolph of the Brotherhood of Sleeping Car Porters and slain Mississippi civil-rights activist Medgar Evers.
"I'm here to be a part of what you're doing. No movement is immune from support from the outside. ... You are not alone," Glover said. "... I think about Medgar Evers. He was only 37 years old when he died. Medgar Evers would be right out here supporting you."
Workers told Glover that they face a 1960s-like fear among many at the Nissan plant.
Overcoming fear and old attitudes is the great challenge in any organizing campaign, Glover said. That's why it's important for workers to know they have support in the community and beyond. "We're never alone," he said. "People need to know they don't have to be afraid."
Glover, who grew up in San Francisco but whose mother was a southerner from Georgia, said he comes from a union family. "I had health care all my life because the union created the situation where I could have health care," he said.
Union members "work hard," he continued. "You're not asking for a handout. The idea that all of you want to sit around and do nothing is ludicrous."
Glover reminded workers that they "are all part of a much larger legacy" and to remember if they vote in a union "it is your union."
Finally, he left them with a prediction: The world is going to know about Canton. "Your story is going to resonate."
More stories by this author
Support our reporting -- Follow the MFP.